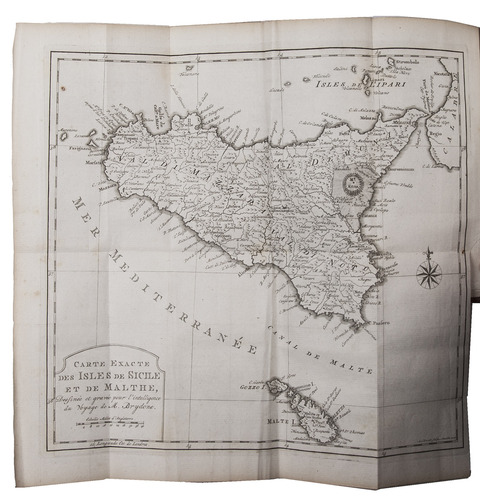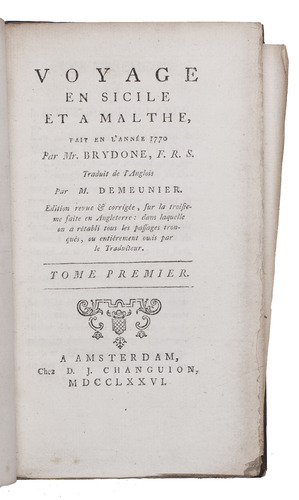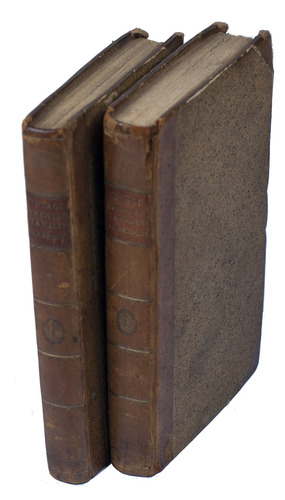 BRYDONE, Patrick.
Voyage en Sicile et a Malthe.
Amsterdam, D.J. Changuion, 1776. 2 volumes. 12mo. With folding engraved map by A.v. Krevelt, and an engraved plate. Contemporary half calf, sprinkled paper sides. [4], 16, 300, [4]; [4], 260, [4] pp.
€ 450
Rare issue of the second or third Dutch edition in French of Patrick Brydone's letters to William Beckford giving an account of his travels through Sicily and Malta, translated into French by Jean-Nicolas Démeunier. After the publication of Brydone's letters Sicily became part of the Grand Tour and attracted numerous tourists. The work was first printed in English in 1773 and went through several editions and translations. The first edition of this Dutch edition in French was published in 1775 and followed by two other editions in 1776. This copy is a re-issue of the Harrevelt edition published in 1776 and is identical except for the title-page. Some minor foxing. Good copy of an account of a voyage to Sicily and Malta. STCN (1 copy of Harrevelt issue); WorldCat (3 copies of this issue); cf. Cox I, p. 142; Graesse I, p. 561.
Related Subjects: