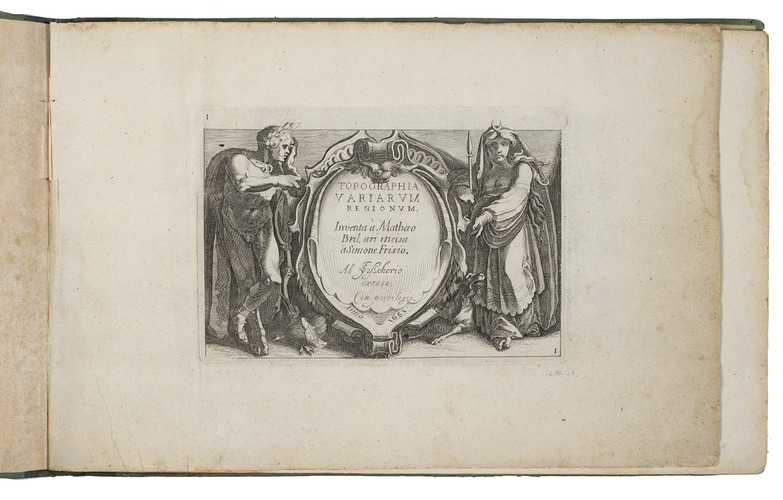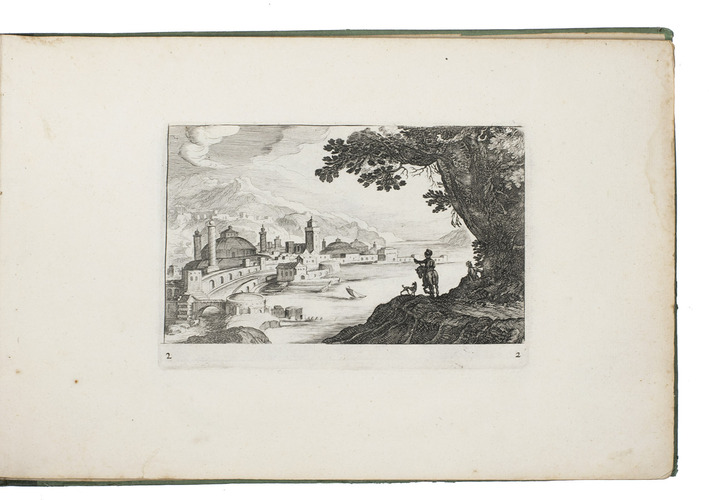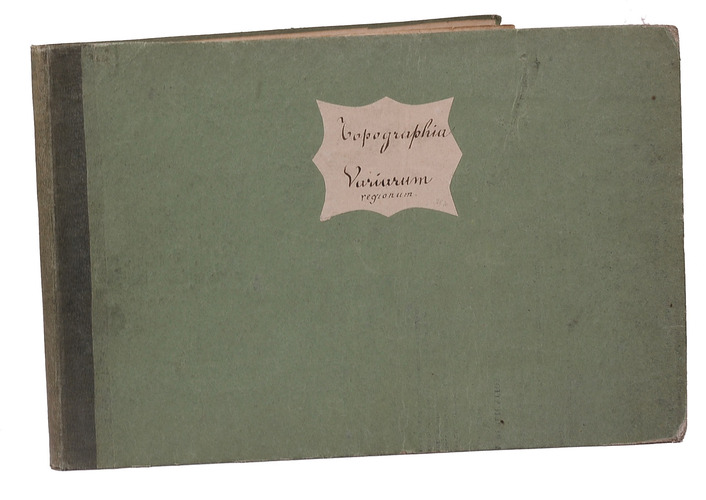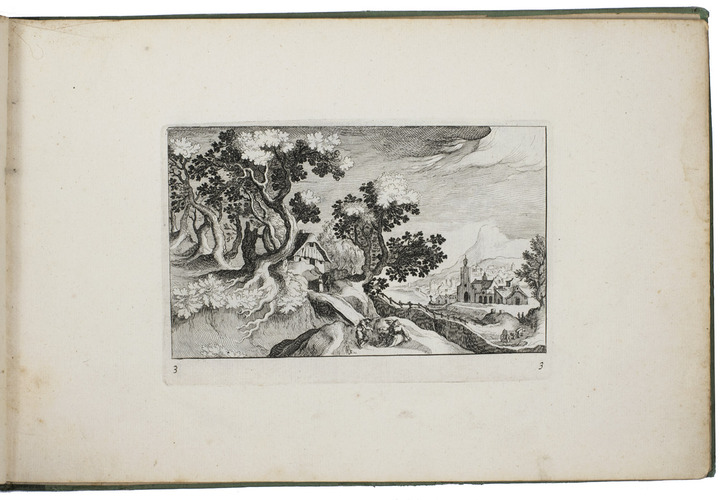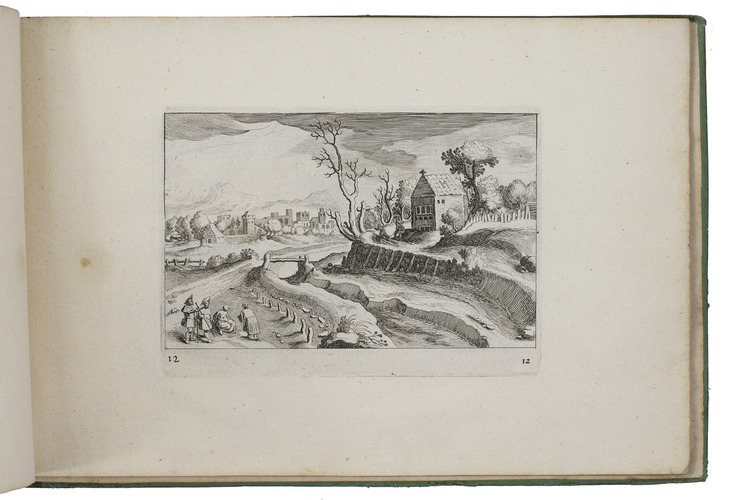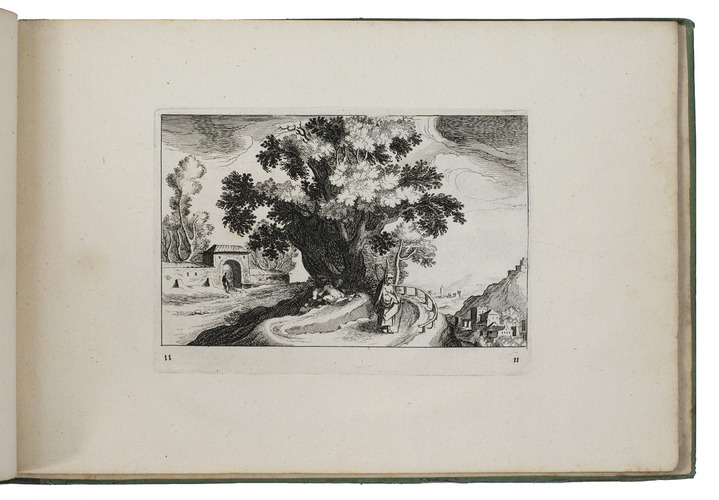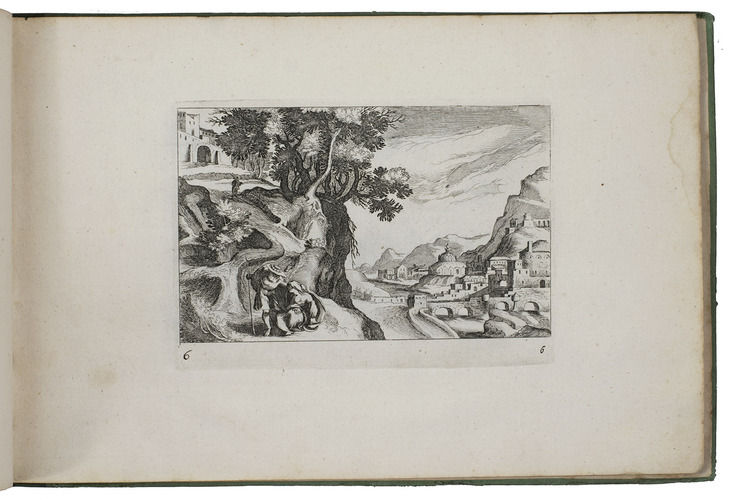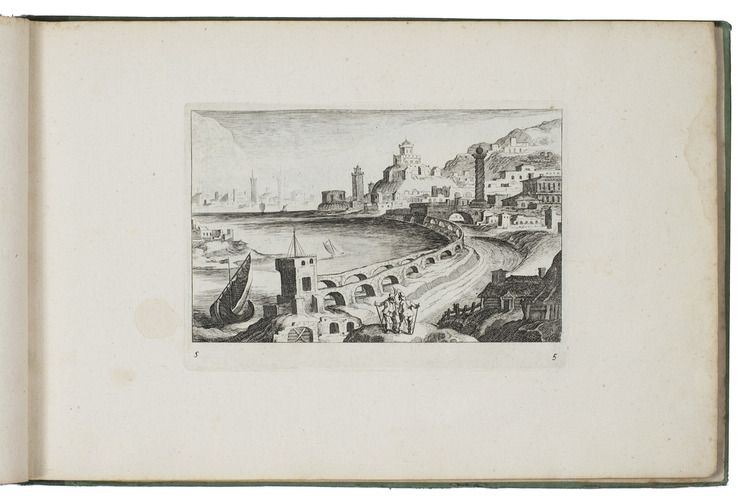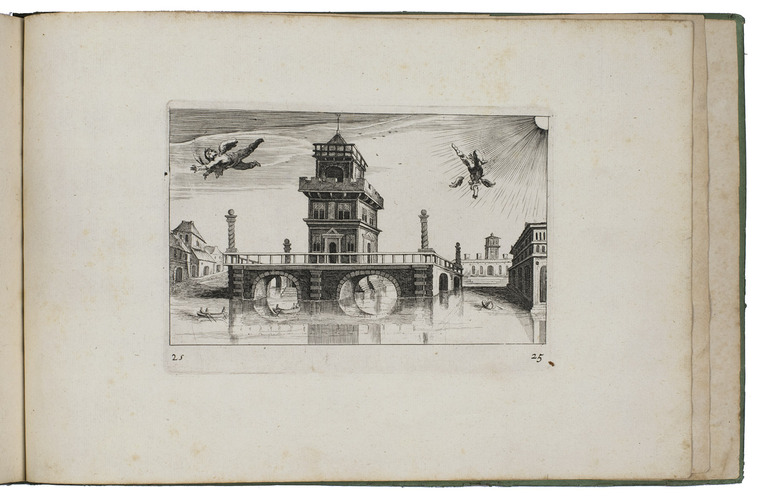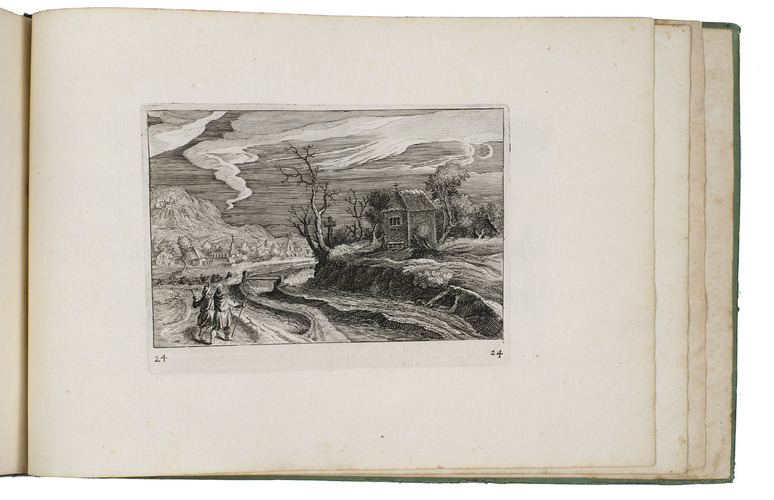 BRIL, Matthaeus.
Topographia variarum regionum, inventa à Mathaeo Bril, aeri incisa à Simone Frisio. Ab C.J. Visscherio excusa.
[Amsterdam], Claes Jansz. Visscher, 1651. Oblong 8vo. Engraved title-print, and 24 engraved topographic views numbered 1-25 (11 x 16 cm; plate size 10 x 15.5 cm). Half green cloth (1840s?), green paper sides made from waste paper with a mirror image letterpress text (showing through from the underside or offset?), difficult to read but probably in French, with a heading in fat-face roman capitals, plain paper label with manuscript title in ink on front board. 25 engraved ll.
€ 3,950
Third or fourth known copy of the second edition of the very rare first volume of a finely executed print series of craggy landscapes and Italianized city views by Mathaeus (Mattheus) Bril, etched and engraved by Simon Frisius and first published by Hendrick Hondius, both at The Hague, in 1611. Some views contain New Testament scenes: prints 14-15 (Nativity), and 18 (Jesus? with 2 companions) and print 11 a half-hidden erotic scene. Visscher in Amsterdam acquired Hondiuss plates, replaced his name in "Ab H: Hondio|excusa," with his own ("CJVisscherio", with the CJV forming a monogram) and changed the year after "Anno" to 1651 (the first edition has "1611" in mirror image). He retained the "Cum privilegio." from the first edition. Mathaeus Bril the younger was born in Antwerp, ca. 1550 and died at Rome in 1583. He was the son of the painter Mathaeus Bril the elder and older brother of the painter Paulus Bril (1554-1626). Mathaeus is less famous than his brother due to his premature death.
The present mountainous landscapes no doubt took inspiration from his journeys through the Alps, but other features occasionally remind us of the Low Countries. Hondius published a companion volume in 1614 with nearly the same title, Topographia variarum regionum. Inventa à Matheo Bril Hagæ-Comit. "Ab H Hondio excusa. 1614." (with "Cum privil." at the foot of the plate). Visscher acquired its plates as well and published an edition in 1652, but the Herzog Anton Ulrich Museum in Braunschweig has a 1652 edition with imprint "P. de Reyger excudit", perhaps because Visscher died in that year. While the present 1611 title-print (even in its 1651 state) still uses V for U, the 1614 title-print uses the modern round U.
With a small and insignificant marginal water stain on the fore-edge of some leaves (not approaching the plate) a few marginal tears (that in print 15 ending on the plate edge) and the title-print very slightly browned, and with some creases (barely affecting the image), otherwise in fine condition. The inside front hinge has separated from the bookblock (along with the title-print). KVK & WorldCat (Hamburg copy? plus 3 or 4 copies of the 1611 ed., incl. 1 with only 2 ll. incl. title-print); New Hollstein, Simon Frisius 98-122, all state II (2 copies); skd-online-collection.skd, item 988713 = inv. no. A 30449 (Dresden copy); cf. agnes.queensu.ca (1611 ed., only 8 prints incl. title-print); http://hdl.handle.net/10934/RM0001.COLLECT.113174 to 113198 (1611 ed.); www.britishmuseum.org/collection/object/P_2AA-a-77-1 (1652 Visser ed. of 1614 2nd vol.); A. Mayer, Das Leben und die Werke der Brüder Matthaeus u. Paul Bril (1910), p. 73, reproducing 1 print in an unnumbered plate (1611 ed.); www.metmuseum.org/art/collection/search/390779 (1611 ed., title-print only); STCN 146533305 (1 copy of the 1611 ed.; 397519982 records 1 copy of the 1614 2nd vol.); Wurzbach, I, p. 183, item 1 (1611 ed. & 1614 2nd vol.).
Related Subjects: