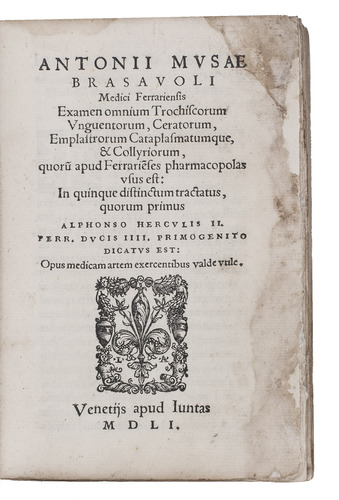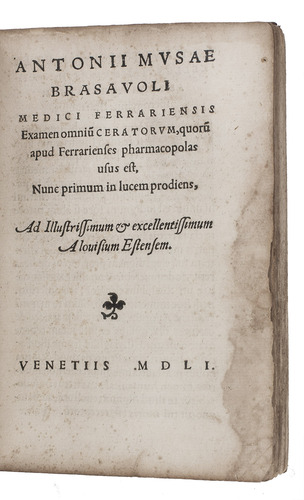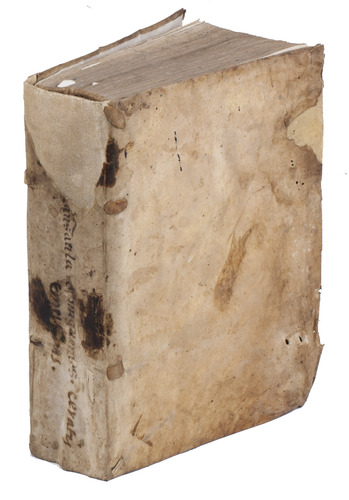 BRASAVOLA (BRASSAVOLA), Antonio Musa.
Examen omnium trochiscorum, unguentorum, ceratorum, emplastrorum, cataplasmatum, & collyriorum : quorum apud Ferrarienses pharmacopolas usus est : ...
Venice, (colophon: Lucas Antonius Juntas), 1551. 8vo. With a woodcut device on title-page. Contemporary limp vellum, restored. 296 ll.
€ 9,500
First edition of a work with five treatises by Brasavola, covering ointments, bandage, an eye salve and medication in the form of pills. The Italian botanist and physicist Antonio Musa Brasavola (1500-1555), was an expert on the works of Galen and was heavily influenced by his work. Galen's work set the template voor Islamic medicine. Each treatise, except the first, has an individual half-title.
Large waterstain in the outer margin, not affecting text, some owners notations in ink and some occasional spots. Contemporary binding damaged, but restored. Overall a fair copy. Durling 687; not in Adams.
Related Subjects: