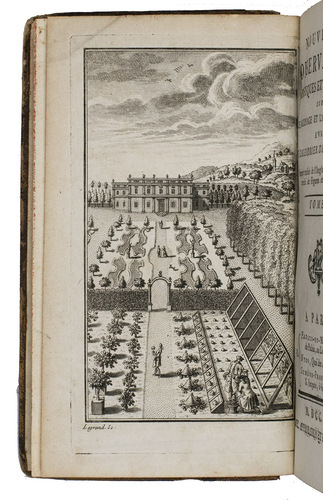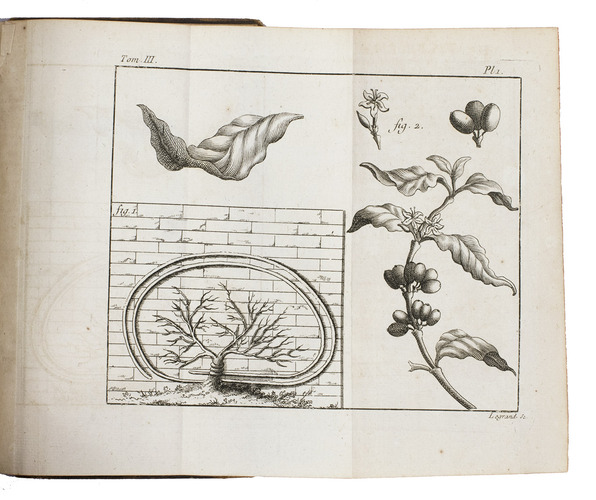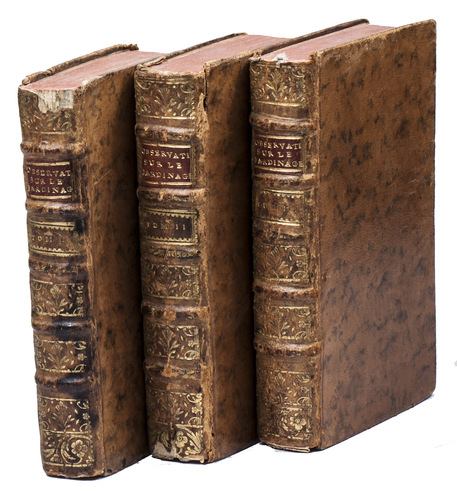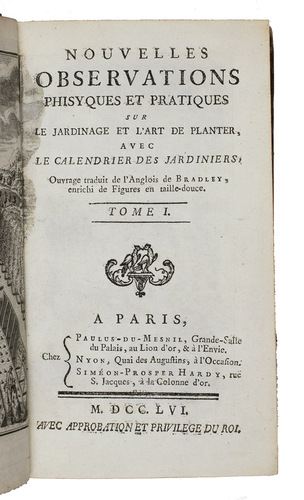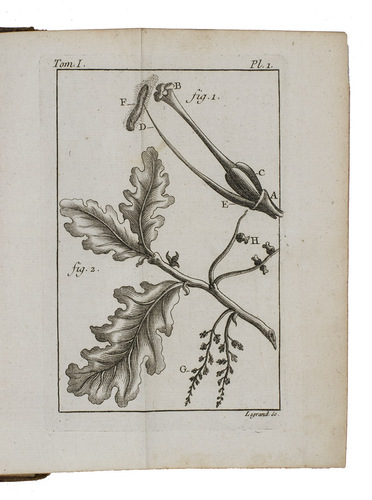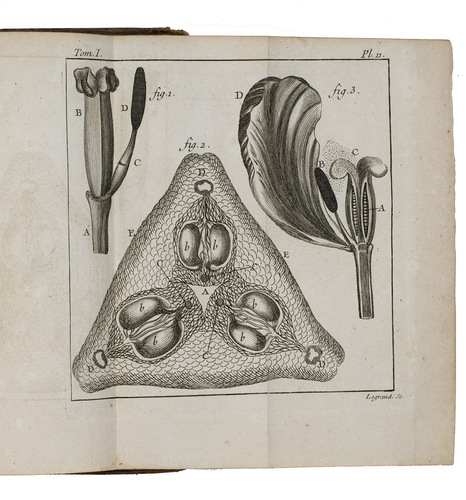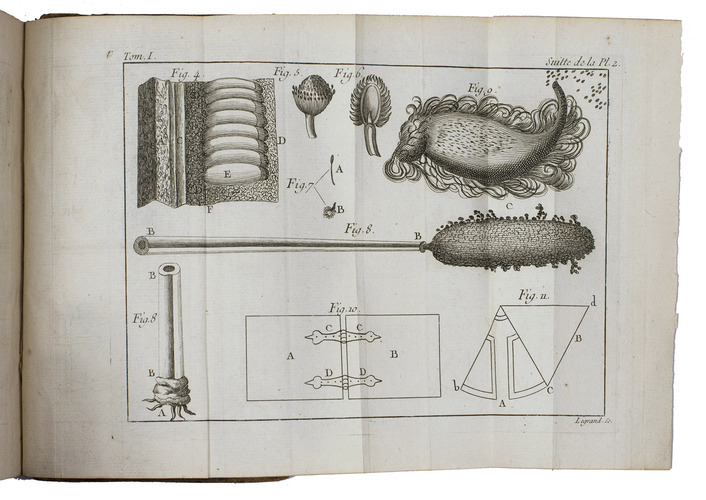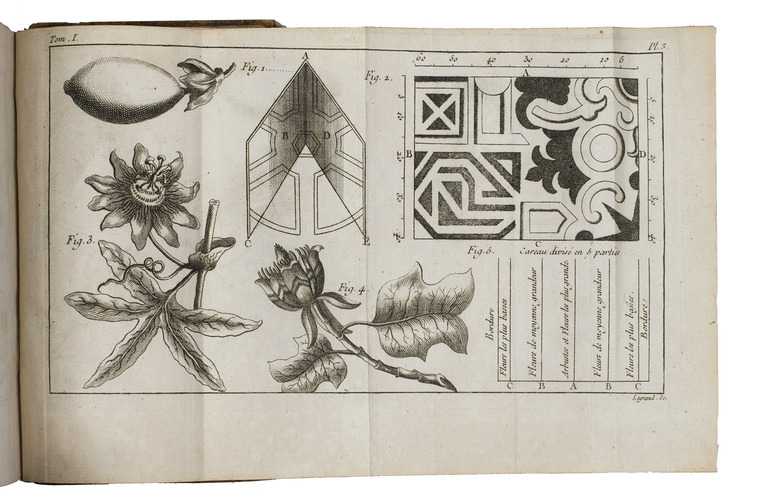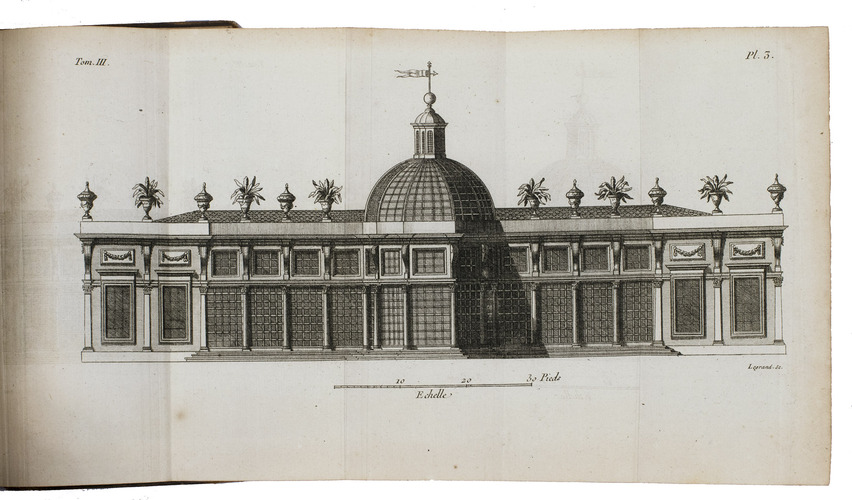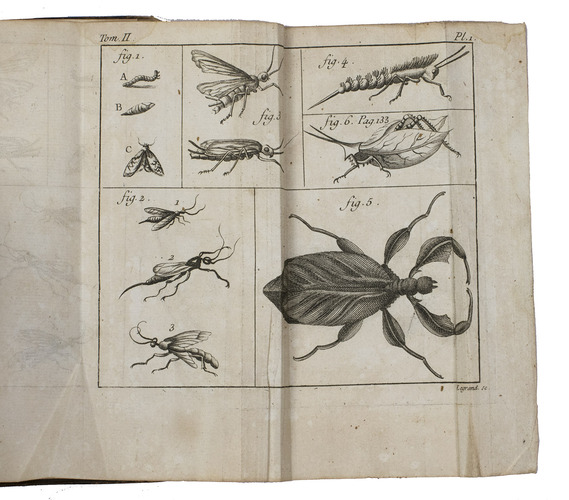 BRADLEY, Richard.
Nouvelles observations physiques et pratiques sur le jardinage et l'art de planter, avec le calendrier des jardiniers. Ouvrage traduit de l'Anglois de Bradley, enrichi de figures en taille-douce.
Paris, Pierre-Aug. Paulus du Mesnil, Jean-Luc Nyon, & Siméon-Prosper Hardy (colophons: printing offices of Moreau (vol. II) and Aug. Mart. Lottin (vol. III)), 1756. 3 volumes. 12mo. Engraved frontispiece depicting the gardens of a country estate, and 12 numbered folding engraved plates by Pierre-François Legrand, showing all kinds of flowers, garden lay-outs, insects etc., including 3 very interesting plates of a greenhouse (plan, interior and exterior views) in vol. 3 Contemporary mottled tanned sheepskin. frontispiece plus XXXVI, 358, [2]: [4 blank?], [5], X-XVI, 510, [2 blank]; [2], 12, "442"[=440] pp.
€ 1,950
First and only edition of the French translation of two horticultural and botanical works by the English botanist Richard Bradley (1688-1732), the first professor of botany at Cambridge University (1724). He was elected a Fellow of the Royal Society in 1712. Bradley "deserves pre-eminent notice as one of the most voluminous writers upon agriculture and gardening" (McDonald, Agricultural writers, pp. 170-171).
This French translation, made by Philippe-Florent de Puissieux (1713-1772), is based on Bradley's New improvements of planting and gardening both philosophical and practical (London 1717; sixth edition: London 1731), and on his Gentleman and gardeners calendar (London 1718).
The translation is adapted to French circumstances and conditions, especially regarding the proper dates for planting, cropping, etc. the various plants and trees.
Spines damaged (mostly at the heads and feet, but with the loss of the headbands), hinges and board edges worn; some minor foxing and with a crease in the half-title of vol. III, but still in good condition. Oxford companion to gardens, p. 70; Pritzel 1076; cf. Hünersdorff, Coffee: a bibliography, pp. 174-175.
Related Subjects: