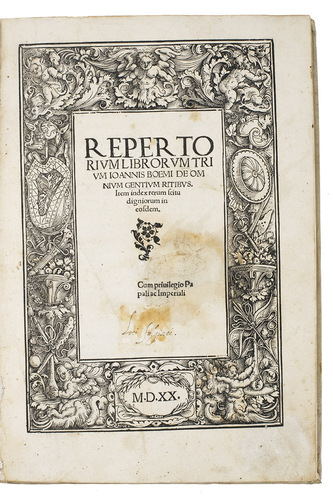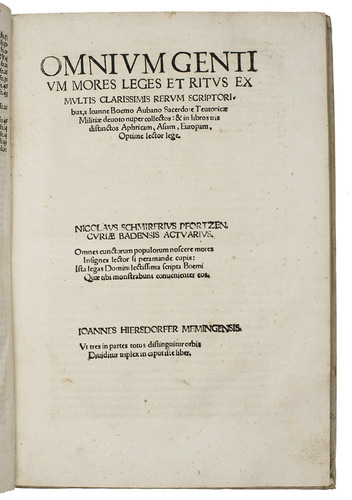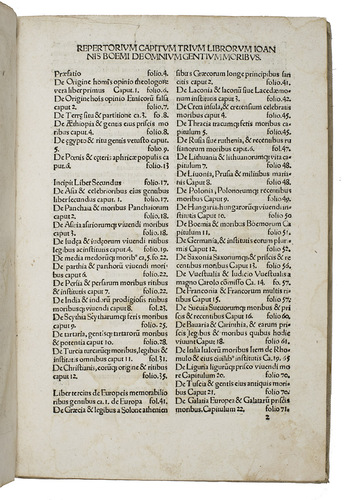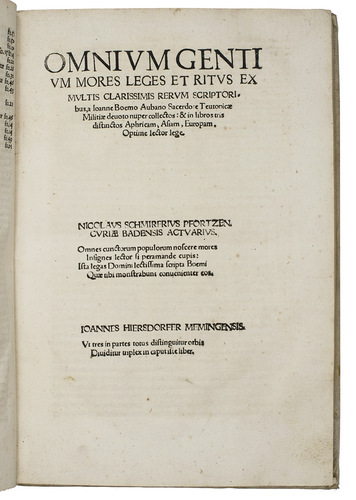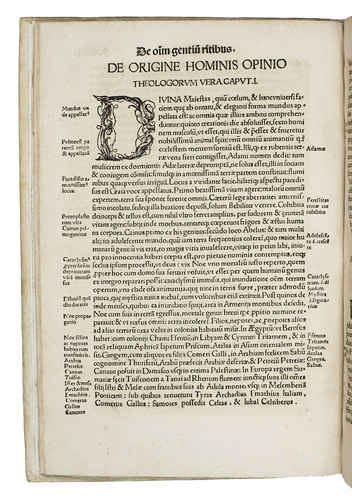 BOEMUS (BÖHM), Johannes.
Omnium gentium mores leges et ritus ex multis clarrissimis rerum scriptoribus ... nuper collecti: & in libros tris distinctos Aphricam, Asiam, Europam, optime lector lege. [Half-title:] Repertorium librorum trium Ioannis Boemi de omnium gentium ritibus. Item index rerum scitu digniorum in eosdem. Cum privilegio Papali ac Imperiali M.D.XX.
[Colophon: Augsburg, Sigismund Grimm & Marcus Wirsung, July 1520]. Folio. With the letterpress half-title in an elaborate woodcut border with a trophy of arms, putti and mermen. 17th century vellum with 3 raised spine-bands. [6], LXXXI, [1] ll.
€ 5,750
First edition of a pioneering and highly influential foundational work of anthropology that went through almost fifty editions in 100 years and was widely read throughout Western Europe. Written by the "father of scientific ethnography" (NDB), who based his information on several sources from antiquity, as he indicates in the title. It is the first printed compendium of the religion, laws and customs of the peoples of Africa, Asia and Europe. The chapters are classified by region, including Egypt, Assyria, Persia, India, Russia and Ethiopia. The part on India stands out among the rest because of the addition of new information drawn from recent explorations by Ludovico di Varthema, first published in 1510 (just ten years earlier).
Although the many later editions of this foundation stone of anthropology are widely available, the present first edition is very rare on the market. It is also remarkable typographically, with the largest series of ornamented roman initials (A, C, D, M and P) absolutely stunning: Grimm and Wirsung appear to have introduced it in 1518. The two sets of roman titling capitals are also well-made. Grimm and Wirsum had introduced the largest, certainly movable type but perhaps cut in wood, in 1518. It may be the fourth series of large titling capitals used north of the Alps (after one used by Ratdoldt and two probably cut by Peter Schoeffer the younger).
Near contemporary owner's inscription in ink on the title-page "... Fulginei". Stains on the title-page due to a removed label and an attempt to erase a stamp. A few leaves browned, the last 10 stained.
Otherwise in good condition. Adams B2270; NDB II, 403; Palau 31247; Sabin 6117; USTC 690593; VD16, B6316.
Related Subjects: