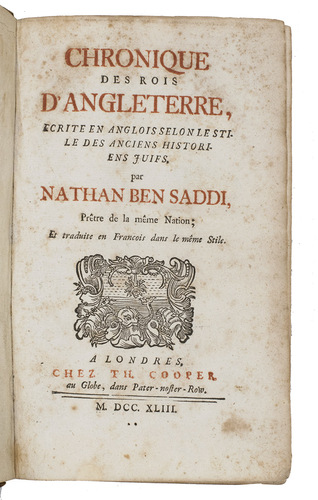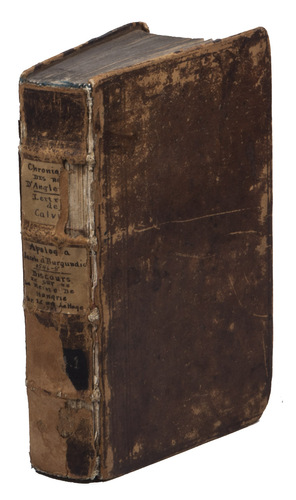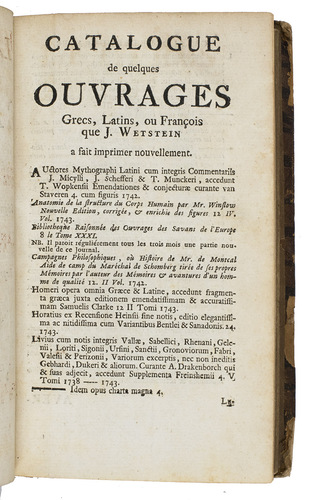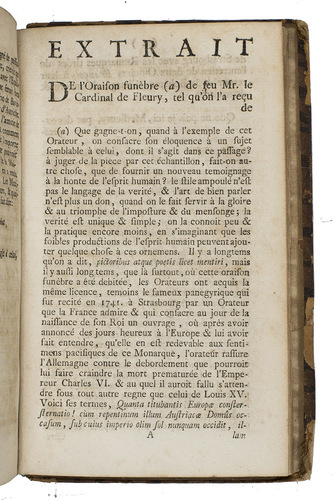 BEN SADDI, Nathan (= Robert DODSLEY).
Chronique des rois d'Angleterre, ecrite en Anglois selon le stile des anciens historiens Juifs.
London [= Hanover?], Thomas Cooper [= Johann Wilhelm Schmidt?], 1743. Title in red & black with engraved vignette (a seascape with a sea creature in the foreground), headpieces and tailpieces. 144; [4], XXIV, 191, [1 blank], [2], 192-228; 108; 16 pp.
€ 2,500
Ad 1: One of two probably simultaneous issues of the rarer of the first two French editions, all dated 1743, of a chronicle of the kings of England that covers the period 1066-1603, first published in English in 1740.
Robert Dodsley (1703-64) was a poet, playwright and bookseller. Other sources ascribe it to Lord Chesterfield. "Dodsley could not have written a work showing so much wit and literary force" (DNB). The present French translation is attributed to Louis Charles Fougeret de Monbron.
Ad 2: Letters from Calvin addressed to Jacques the Bourgogne and Yolande de Brederode written between 1543 and 1553. They offer a case study in the interaction of politics and personalities that shaped the European reform movement in general and the position of Calvin in connection with the worldly powers of Europe in particular. Jacques de Bourgogne, who encountered evangelical ideas in Louvain, married into one of Holland's most prominent protestant families, was denounced as a heretic for receiving a Reformed preacher at his chateau in Brabant, sought refuge in Cologne, Strasbourg and Basel, and finally settled, with Calvin's help, in a village near Geneva. De Bourgogne's odyssey is exemplary for the upheavals experienced by a generation that heeded the reformer's call, preferring exile to renouncing their new faith under pressure in their native lands.
Ad 3: Very rare first and only edition of an up-to-date account of the political situation at the courts of Europe in the 1740s. The goal of the author, described only as A. C. and not identified, is to achieve a stable peace in Europe and to guarantee the authority awarded in the Pragmatic Sanction of 1713. This was a legal mechanism designed to ensure that the Austrian throne and Habsburg lands would be inherited by Emperor Charles VI's daughter, Maria Theresa. It was part of the law of the house of Austria. Hungary which had an elective kingship, had accepted the house of Habsburg as hereditary kings in the male line without election in 1687, but had not accepted semi-Salic inheritance. The Emperor-King agreed that if the Habsburg male line became extinct, Hungary would once again have an elective monarchy. The Kingdom of Bohemia also followed this rule.
Ad 4: Extremely rare extract of the funeral oration for André-Hercule Cardinal de Fleury, French Bishop of Fréjus (1653 - 29 January 1743) and cardinal who served as the chief minister to Louis XV. The additional remarks are abstracted from a conversation between two French officers on their return from the Bohemian campaign. Fleury found the nation poorly prepared when in 1733 war was forced upon France.
Library bookplate on inside front cover. Binding worn, some parts of the spine gone, front hinge slightly cracked, otherwise in good condition.
Related Subjects: