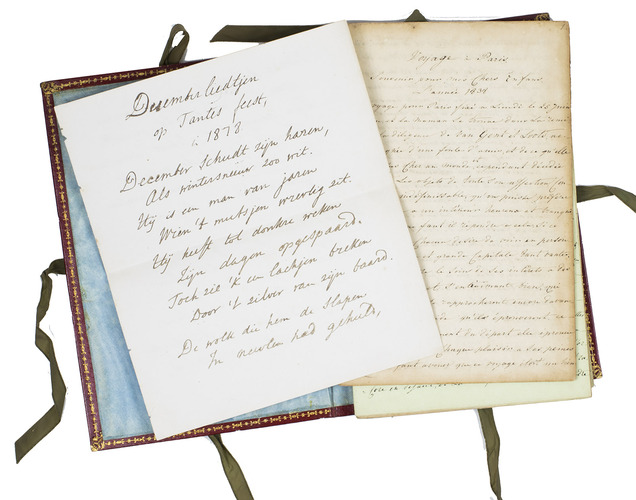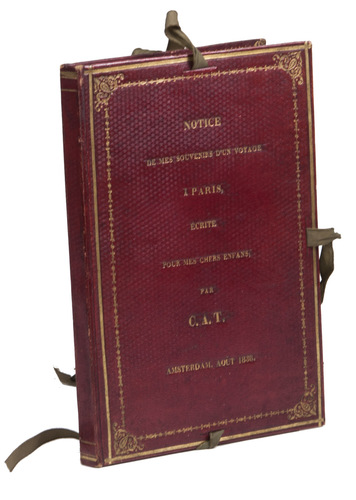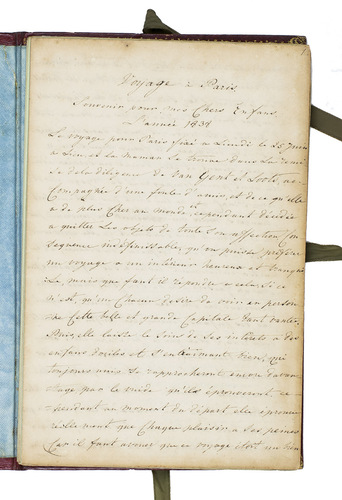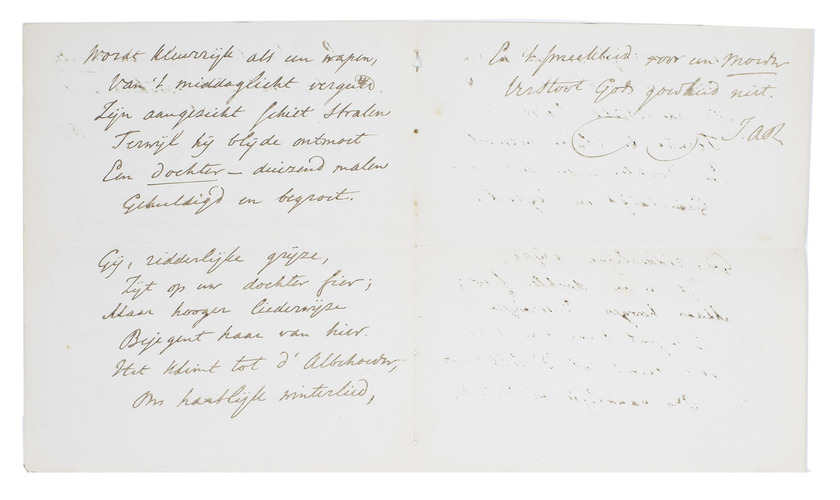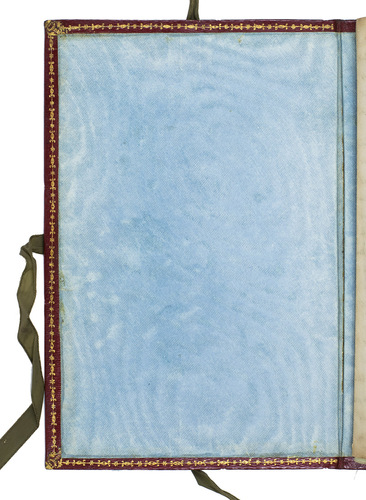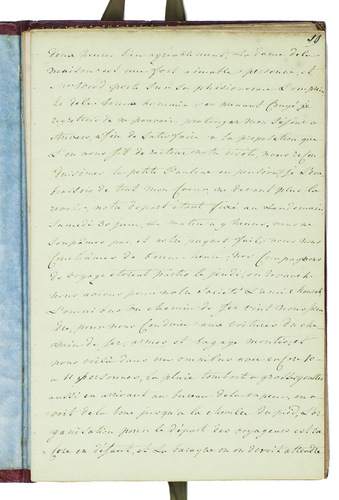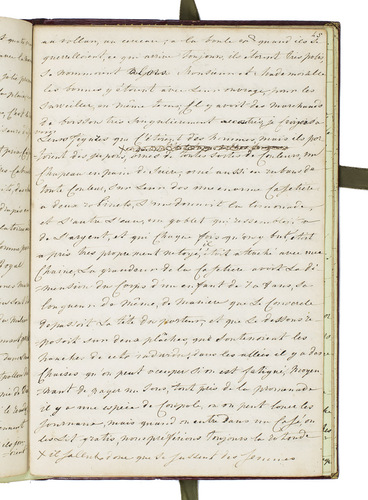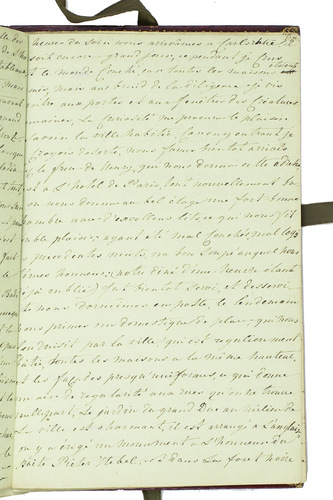 ALBERDINGK THIJM, Catharina & Josephus Albertus ALBERDINGK THIJM.
Notice de mes souvenirs d'un voyage à Paris, écrite pour mes chers enfans.Amsterdam, 1838. Small 8vo. Manuscript in French, written in ink in a regular and readable hand on 7 quires of writing-paper, some with a slight green cast.
With: ALBERDINGK THIJM, Josephus Albertus. Decemberliedtjen op tantes feest, in 1878. Manuscript poem, signed J.A.Th. 4to. Folded.Loose quires in a contemporary red morocco portfolio with gold-tooled title and ornamental frames on covers, richly gold-tooled turn-ins and silk paste-downs. With 3 pairs of green silk ties. 135, [4 blank]; 4 pp.
€ 1,750
Album with manuscripts in French and Dutch from the notable Amsterdam literary family Alberdingk Thijm. More than half gives a full account, in French, of a tourist trip to Paris in 1838 by Mrs. Catharina Alberdingk Thijm (1793-1864) and her friends. Without their children they enjoyed the amusement and culture of fashionable Paris. It starts with their departure from Amsterdam, on Monday, 25 June 1838, with a Van Gendt & Loos diligence (stage coach). They changed coaches in Rotterdam at five o'clock in the morning, and at Zwijndrecht boarded a steamer for Paris, still quite a novelty, as the author notes. She makes many interesting comments, for instance quoting epitaphs of tombstones, and at one point noting that the beautiful promenades of the Boulevard d'Italiens and the Rue Richelieu offer no shade, because the trees had been cut down to serve as barricades in the Revolution of July 1830. The account ends with the author returning home after a stay of about six weeks in Paris, and with notes about her intention to present her children with her journal, hoping they will kindly overlook any faults in construction or otherwise.
Extra inserted is a manuscript poem in Dutch by Josephus Albertus Alberdingk Thijm (1820-1889), Catharinas son, written at the occasion of a party given in honour of an old aunt, dated December 1878, and signed with the initials J.A.Th.
The Alberdingk Thijm family produced some of the foremost Dutch writers of the 19th-century. The author of the present poem, Josephus Albertus was a Romantic poet and must have been one of the children for whom Catharina wrote her travel account. He was the father of the writers Catharina and Karel (pseudonym Lodewijk van Deyssel).
In very good condition.
Related Subjects: