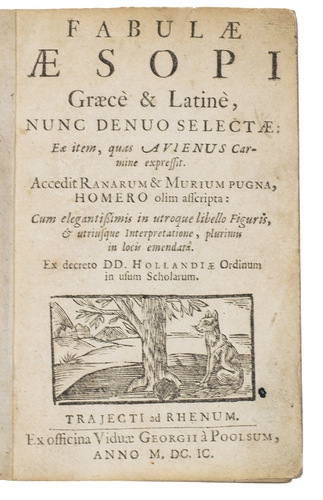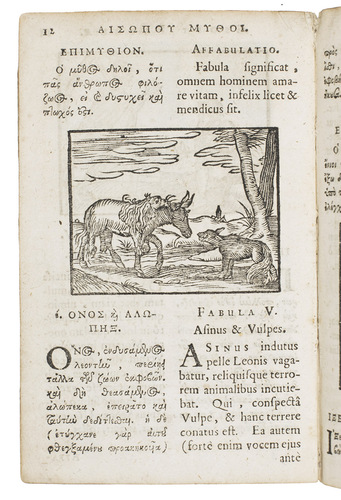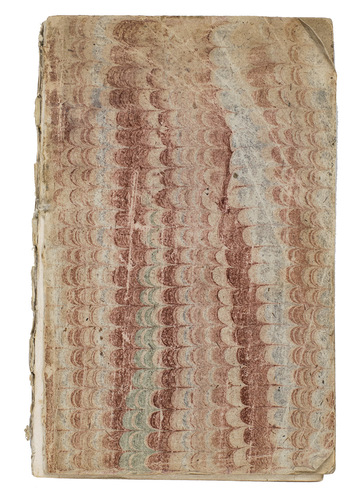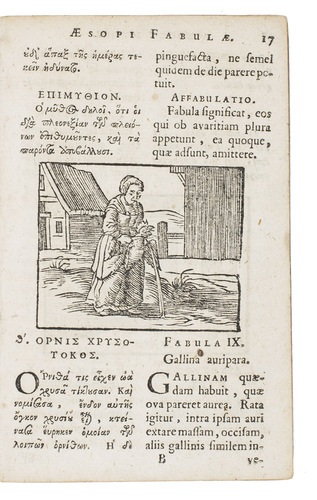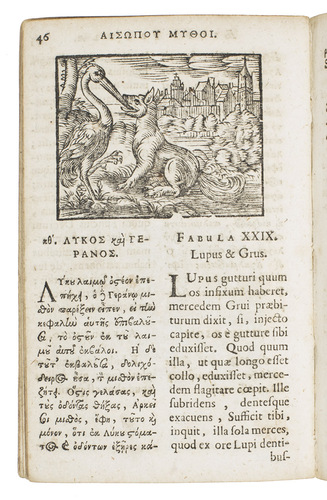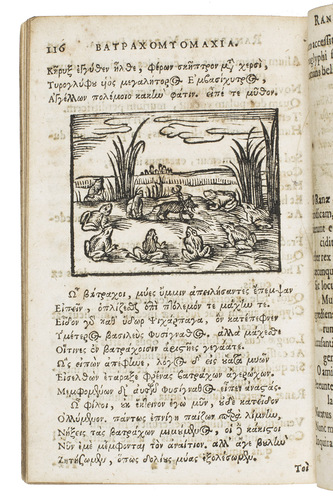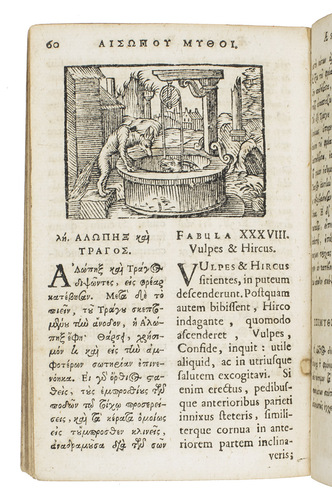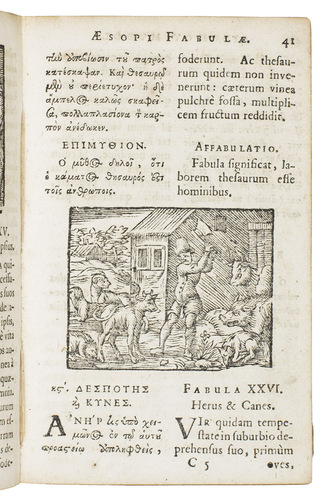 AESOP.
Fabulae Aesopi Graecè & Latinè, nunc denuo selectae: ea item, quas Avienus carmine expressit.
Utrecht, widow of Jurriaen Poolsom, 1699. Small 8vo. With a woodcut of a wolf sitting next to a tree on the title-page and 47 woodcuts in the text (ca. 5 x 6 cm). Marbled wrappers.
€ 1,750
Rare Greek and Latin school edition of Aesop, with the same contents and 47 woodcuts as the 1685 edition published by Jurriaen Poolsum in Utrecht (Bodemann 65.4), one of the many editions based on the original Heinsius school edition of 1626, published by Johannes Maire in Leiden with a woodcut series by Christoffel van Sichem II (ca. 1577-1658). Landwehr counts 15 editions between 1626 and 1727. The unsigned woodcuts in the present edition closely follow the Van Sichem series.
The Aesop fables are printed in two columns with the Greek (left) and Latin (right) prose texts; Avianuss Latin verse rendition of the fables follows in one column. The added "Brachomyomachia", or "Ranarum & murium pugna", a spoof of Homer (here attributed to him as in many early editions), gives the Greek verse text (left) and Latin verse translation (right) on facing pages, illustrated with 6 woodcuts.
First quire loose, part of the last leaf torn out.136 pp.Fabula docet 16 (p. 99); Landwehr, Emblem & fable books F025 (cf. p. 312); STCN (2 copies); cf. Bodemann, 65.1-5 (related eds.).
Related Subjects: