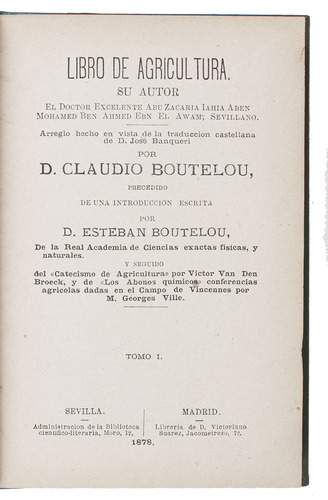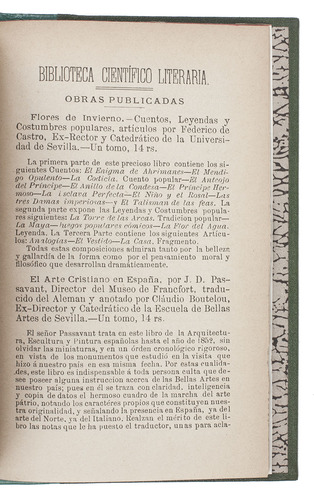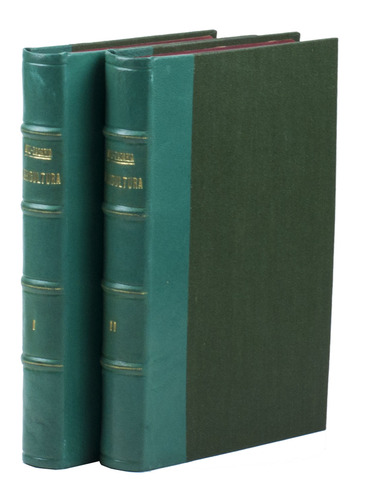 ABU ZAKARIYA ibn al-AWWAM.
Libro de agricultura. ... Tomo I[-II].
Including:
BROECK, Victor van den. Catecismo de agricultura.
VILLE, Georges. Abonos químicos conferencias agrícolas.
Seville, Biblioteca Científico Literaria; Madrid, Victoriano Suarez (colophon: printed by Salvador Acuña y Comp., Seville), 1878. 2 volumes. Imperial 16mo (18 x 11.5 cm). Later half turquoise sheepskin. 512; 552 pp.
€ 1,750
Second Spanish edition of a classic 12th-century Arabic treatise on agriculture, known in Arabic as Kitab al-filaha. Most of the book deals with agriculture, including fruits, vegetables, grains (including rice), legumes and cotton, with discussions of soils, the benefits of letting fields lie fallow, crop rotation, fertilizers, irrigation, pruning, grafting, ploughing, making preserves, and plant diseases. The last few chapters discuss animal husbandry, including horses and animal diseases. It was the most comprehensive Arabic treatise on the subject, incorporating large parts of the most important earlier works on the subject, most notably the work of Ibn Wafid. Zakariya also made use of classical Greek sources.
With bookplates. Slightly browned and with two or three leaves with minor marginal defects, but still in good condition. Bindings very good. A comprehensive practical guide to agriculture, originally written in Arabic ca. 1185. REBUIN (4 copies?); cf. Schnurrer 425 (1802 ed.).
Related Subjects: