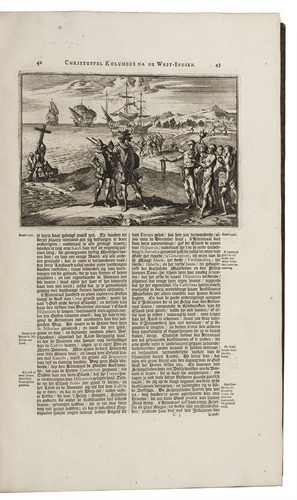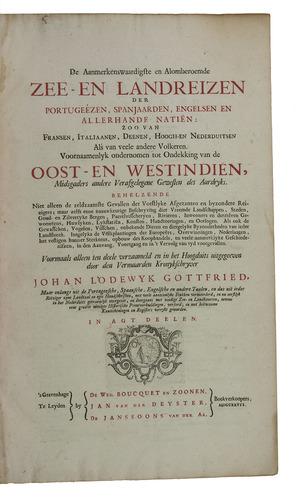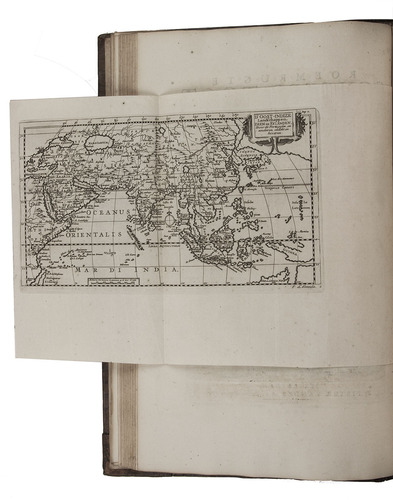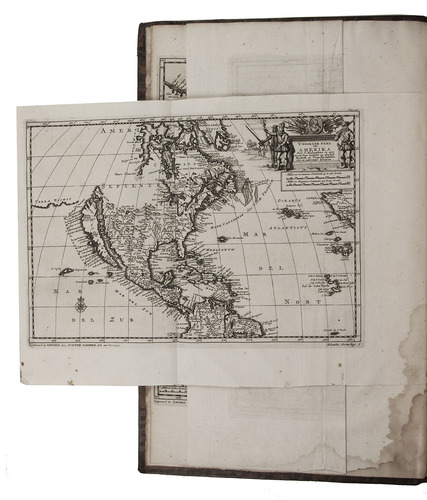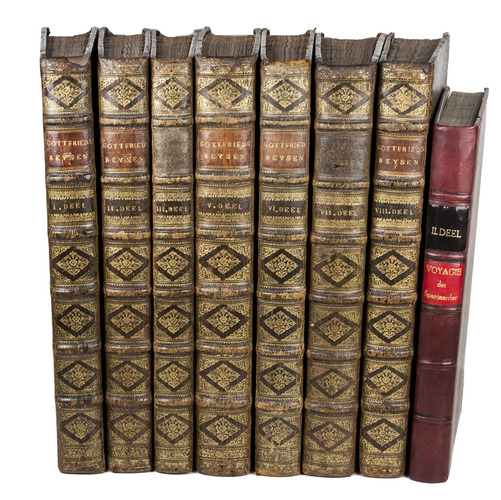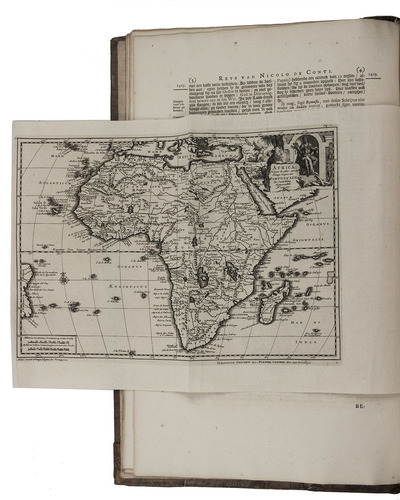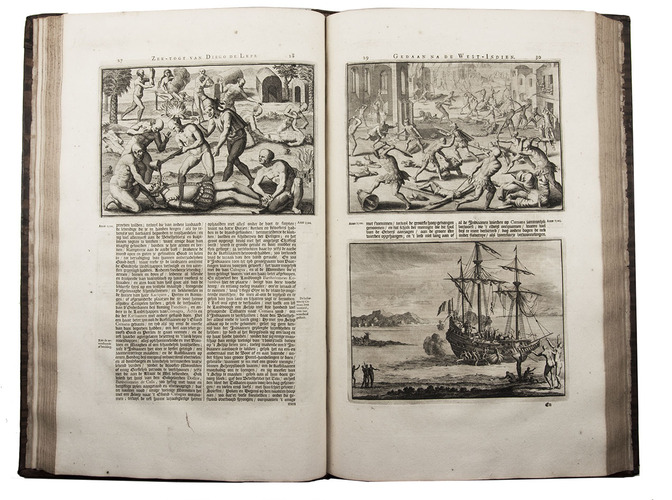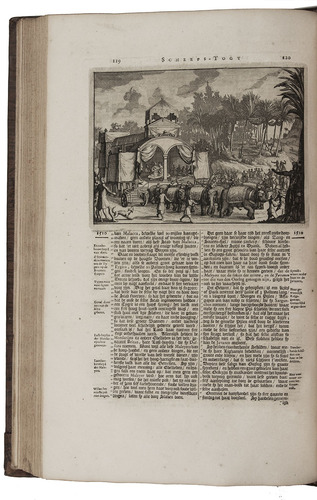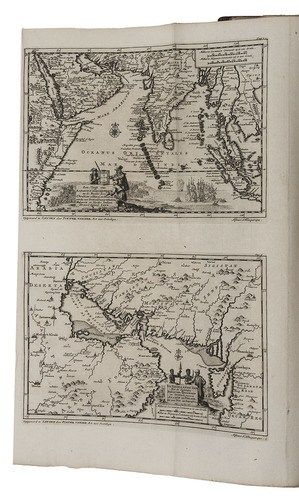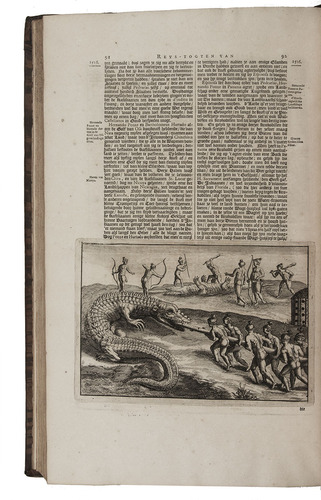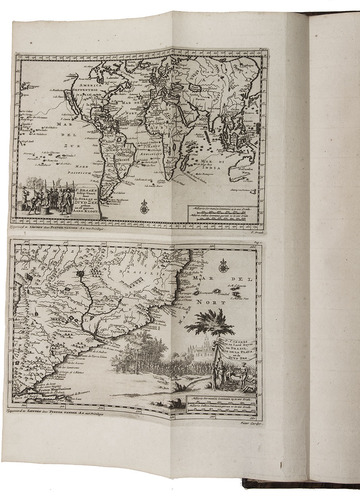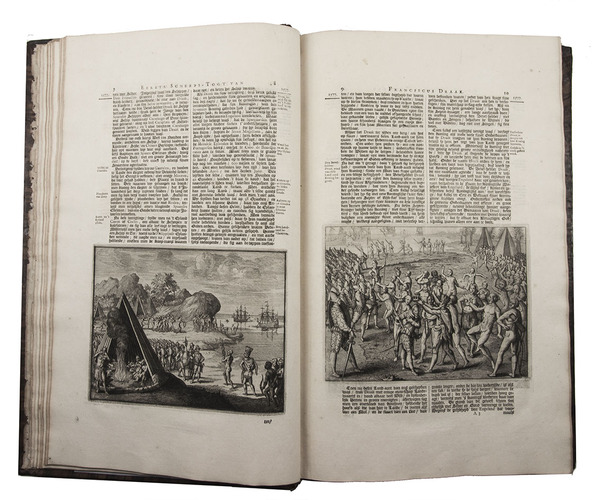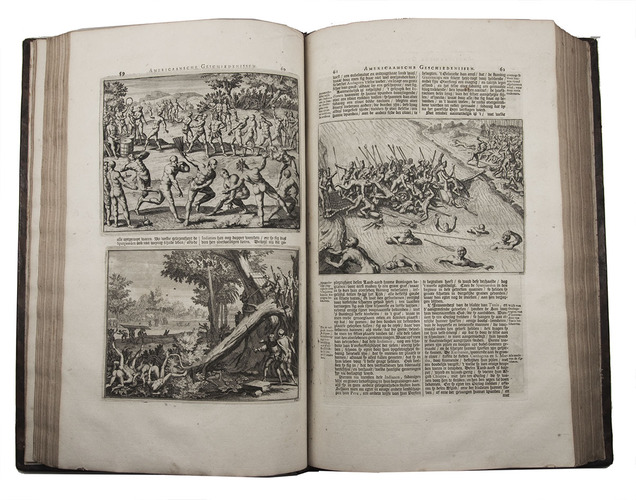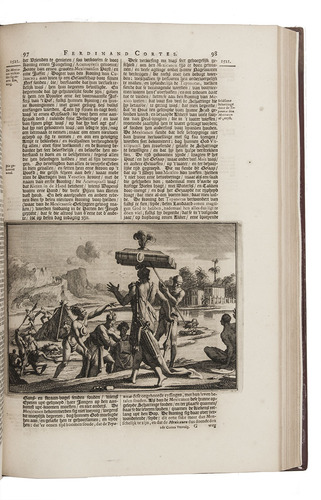 AA, Pieter van der (editor) and Johann Ludwig GOTTFRIED.
De aanmerkenswaardigste en alomberoemde zee- en landreizen der Portugeezen, Spanjaarden, Engelsen en allerhande natiën: zoo van Fransen, Italiaanen, Deenen, Hoogh- en Nederduitsen als van veele andere volkeren. Voornaamenlyk ondernomen tot ontdekking van de Oost- en Westindiën, midsgaders andere verafgelegene gewesten des aardryks.
The Hague, widow of Engelbrecht Boucquet and sons; Leiden, Jan van der Deyster, and Boudewijn and Pieter van der Aa, 1727. 8 volumes. 1mo and folio. With 7 (of 8) engraved frontispieces (lacking that of volume 4), 4 engraved dedications, 117 engraved maps on 61 leaves, 7 engraved plates and 502 engravings in text. Further with 127 (of 128) title-pages (including a general title-page, a title-page to 7 (of 8) volumes, lacking that of volume 4, and 118 for the separate works). Volume 1-3 & 5-8: contemporary mottled calf, gold-tooled spine and board edges; volume 4: modern calf.
€ 65,000
Folio-edition of Van der Aa's voluminous collection of important voyages to the East and West Indies and other countries, undertaken by all European countries, other than the Dutch. Including voyages by Acosta, Balby, Cabot, Cavendish, Chester, Columbus, Cortes, Coutinho, Da Cunha, Drake, Evesko, Frobisher, Gallonye, Da Gama, Garay, Garcia, Gilbert, Jenkinson, Harcourt, Herberer, Magallanes, Mildenhal and Cartwright, Mouette, Petelin and Andrasko, Raleigh, Saris, De Soto, etc.
The work is partly based on Johan Lodewijk Gottfried's rare Historia antipodum (1631), but largely extended by Pieter van der Aa, known for his ambitious projects. Where other publishers were primarily concerned about the profits, Van der Aa wanted to publish outstanding books. For the present series of travels he either reused and revised older Dutch translations or had the original accounts translated for the first time into Dutch. In 1706 he already started publishing the translated voyages both in small (8vo) and large instalments (folio), and a year later he published a 28-volume set of the 8vo editions. The folio editions were afterwards issued and divided in four large collections of two volumes each. The present issue, is a reissue of these four collections with their own independent tile-pages and frontispieces, and ads a new general title-page and list of subscribers.
Some occasional spots, a couple minor restorations and a few wormholes; a very good set, but with the fourth volume from a different and heavily trimmed set, in a modern binding and lacking the frontispiece and the title-page to the volume. The seven volumes with contemporary bindings slightly worn along the extremities and with some minor wear on the sides, but otherwise very good. Cordier, Sinica, cols. 1942-1943; Muller, America 1889; Sabin 3 note; Tiele, Bibl. 10; for Van der Aa: P.G. Hoftijzer, Pieter van der Aa (1659-1733), Leids drukker en boekverkoper (1999).
Related Subjects: