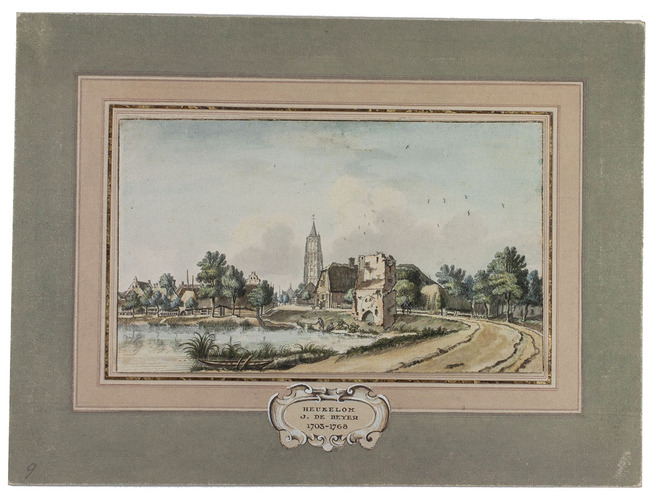 [HEUKELOM]. [BEIJER, Jan de].
View of Heukelom.
Heukelom, 8 August, 1750. 13 x 21.5 cm. Original watercolour highlighted with white.Detached from a 19th-century paperboard support with hand drawn decorative frame and cartouche with the title "Heukelom J. de Beijer 1703-1768" (24 x 32 cm).
€ 9,500
Highly detailed watercolour view of the village Heukelom (Netherlands), likely by the famous draughtsman and engraver Jan de Beijer (1703-1768), dated on the back in and 18th-century hand: "Het steedeke Heukelom van de oude veerpoort te zien: 8 Augustus 1750". The drawing is unsigned, but close comparison with other views of Heukelom by De Beijer confirms the attribution to him.
The present drawing depicts the village from the side of the ruins of the old ferry gate (Oude Veerpoort). The tower of the church (since demolished) is in the centre. A horseman is approaching from behind the ruins of the Veerpoort, on the road on the dike along the river Linge. Two anglers are fishing in the Linge.
Jan de Beijer travelled in this region in early August 1750: on August 7 he worked in Leerdam; on the 8th he was in Asperen and Oisterwijk on the north bank of the river Linge just opposite Heukelom, and - as the present watercolour shows - crossed the river to draw his views of Heukelom; on the 9th he was in Spijk and on the 10th in Gorinchem (see Romers, p. 27).
Fine watercolour in good condition, cut tight on the frame of the drawing. With unidentified collector's mark on verso ((?)ph). Cf. Romers, J. de Beijer Oeuvre-catalogus (1969), p. 13 and nos. 1109-1112; for the artist: Thieme-Becker 3, p. 566; Van der Aa, B, pp. 83-84; Wurzbach I, p. 95.
Related Subjects: