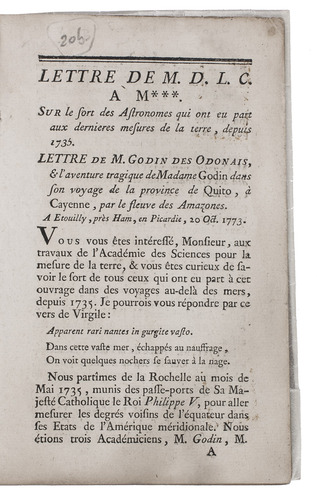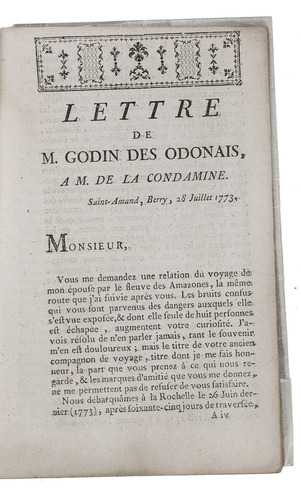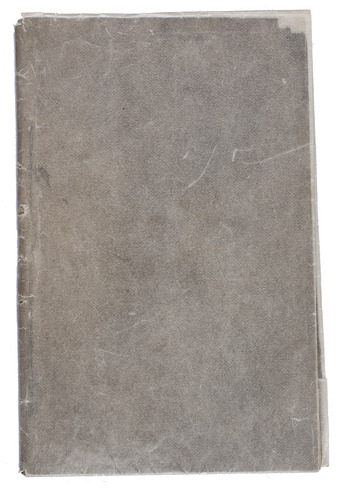 [CONDAMINE, Charles Marie de la].
Lettre de M.D.L.C. à M*** sur le sort des astronomes qui ont eu part aux dernières mesures de la terre, depuis 1735.
Including: Isabelle GODIN DES ODONAIS. Lettre de M. Godin des Odonais, & l'aventure tragique de Madame Godin dans son voyage de la province de Quito, à Cayenne, pas le fleuve des Amazones.
[Maastricht, 1778?]. 8vo. Contemporary wrappers. 30 pp. (= p. 329-359 of the original work).
€ 2,500
Rare offprint of 2 letters, originally published in Charles Marie de la Condamine's Relation abregée d'un voyage fait dans l'interieur de l'Amérique méridionale (Maastricht, 1778). The first letter gives an acount of Condamine's journey aimed at measuring the circumference of the earth. The second is a letter by the French Isabel Godin des Odonais (1728-1792) to Condamine. In this letter, she describes her terrible journey from the province Quito (Ecuador) to Cayenne (French Guiana) via the Amazon. At first Isabel would join her husband, Jean, on his expedition to measure the earth, but couldn't because she got pregnant. When Jean wanted to return home, he was refused permission by the Spanish and Portuguese authorities because he was a Frenchmen. Isabel decided to sail with a small crew down the Amazon, a 3000-mile journey. Most of the crew either died or abandoned Isabel, and after being on her own for nine days, she met some Indians who helped her to reach Cayenne.
With a few faint stains on some of the last pages, otherwise in good condition. Ferreiro, Measure of the earth, pp. 270-271; Garraux, p. 164 ("Pièces fort rares et non citées dans Brunet, ni dans les catalogues spéciaux sur l'Amérique"); Sabin 38482.
Related Subjects: