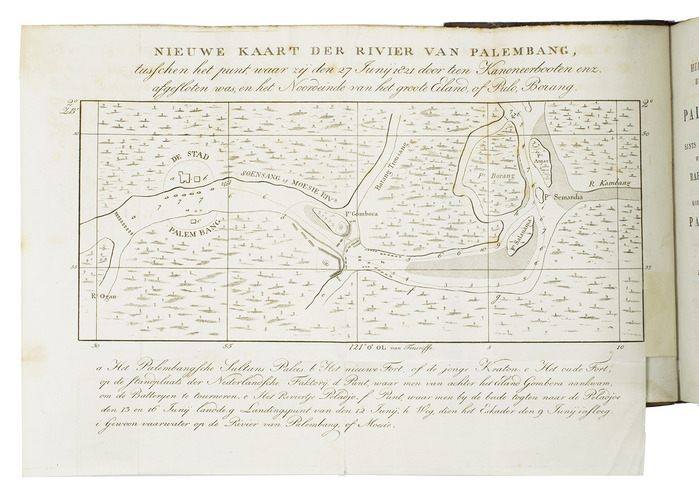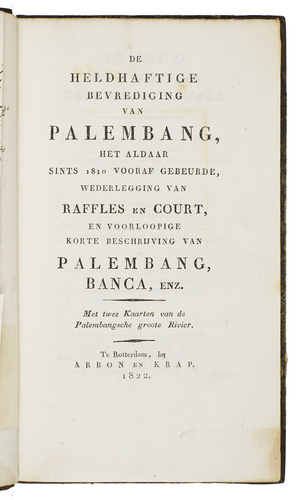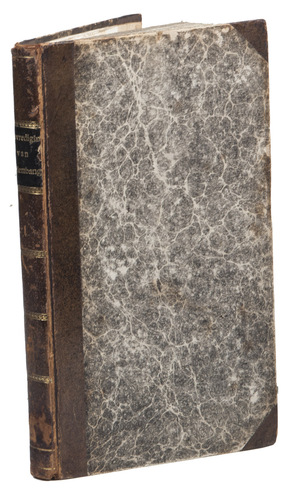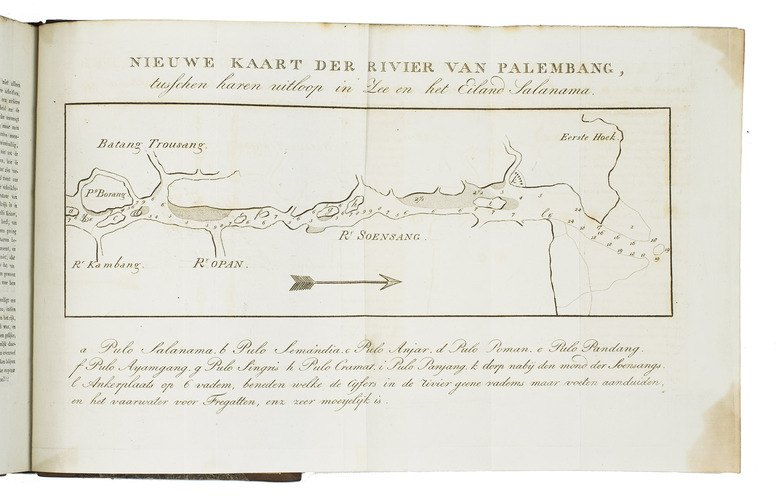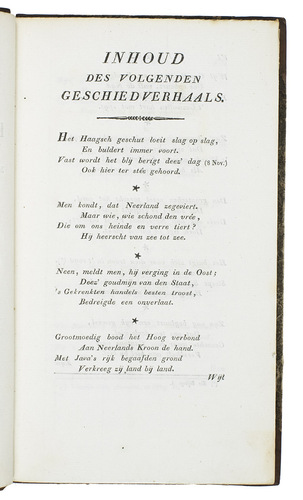 [BRUINING, Gerbrand].
De heldhaftige bevrediging van Palembang, het aldaar sints 1810 vooraf gebeurde, wederlegging van Raffles en Court, en voorlopige korte beschrijving van Palembang, Banca, enz.
The Hague & Rotterdam, Arbon & Krap (back of half-title: printed by Gebroeders Giunta d'Albani, The Hague), 1822. 8vo. With 2 folding engraved maps: (1) Nieuwe kaart der rivier van Palembang, tusschen het punt, waar zij den 27 Junij 1821 door tien kanoneerbooten enz. afgesloten was ... (26 x 33.5 cm including the engraved text above and below the map); and (2) Nieuwe kaart der rivier van Palembang, tusschen haren uitloop in zee en het eilant Salanama (22 x 30 cm including text).Half calf, black spine label, marbled sides. VIII, 188 pp.
€ 1,850
A lively report, including an overview of the historical circumstances (1810-1821) of events that took place only a year earlier around Palembang, a town in the southeast part of the island of Sumatra (North of the Lampongs (Lampung)). It includes an extensive description of Palembang and the island Bangka.
The Dutch Governor-General Baron Govert van der Capellen decided in 1818 to reconquer Sumatra beginning with Palembang (and the tin mines on Banka and Bilition of course). The first expedition, in 1819, failed, but in May 1821 the second, led by the well-known military commander in the East Indies General De Kock, had more success. The Sultan was banished and his son became the local ruler, receiving the Sultanate in fee from the Dutch Government.
These important events are the subject of the present anonymous treatise, in fact written by Gerbrand Bruining (1764-1835), a patriotic vicar in Nieuwkoop and Zevenhoven and from 1811 librarian of the Biblioteca Thysiana in Leiden. He must have worked at an incredible speed for the present book, printed in 1822, includes letters and reports from July 1821, including a letter by the Governor-General Van der Capellen to General De Kock on 10 July 1821. Astonishing, since it took more than half a year for news from the East Indies to reach the Netherlands! The events Bruining reports are also very important: at last some bits of good news from the distant colonies in the East Indies, something to be proud of after a long period of only depressing and even alarming reports and messages.
Library bookplate of Doctrina & Amicitia, the well-known Patriotic (anti-Orangist) (reading society) in Amsterdam, on the front paste-down. Binding slightly rubbed, only some minor foxing and some brown stains in the corners, neither affecting the text. Otherwise in good condition. P.H. van der Kemp, "Palembang en Banka in 1816-1820", in: Bijdragen tot de taal-, land- en volkenkunde van Nederlandsch Indië, 51 (1900), pp. 333-764; M.O. Woelders, Het sultanaat Palembang, 1811-1825 (1975); P. Hagen, Koloniale oorlogen in Indonesië (2018), pp. 278-285.
Related Subjects: