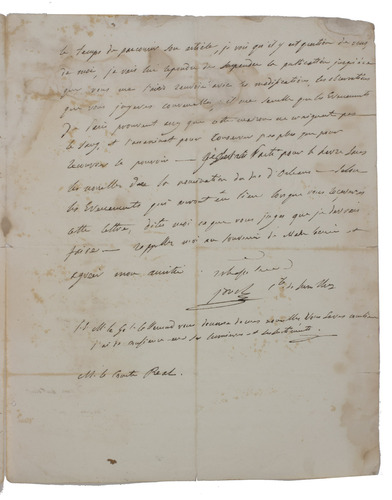 [AUTOGRAPH]. BONAPARTE, Joseph.
[Letter to Count Pierre François Réal].
Pointe Breeze, New Jersey, 27 September, 1830. 4to (25 x 20 cm). Manuscript letter in French, in brown ink on wove paper (3 sides of folded leaf), signed and dated. [3] pp.
€ 2,250
Autograph letter by Joseph Napoléon Bonaparte (1768-1844), the elder brother of Napoleon I of France, who made him King of Naples and Sicily (1806-1808), and later King of Spain and the Indies as Joseph I of Spain (1808-1813). After the fall of Napoleon I, Joseph styled himself "Comte de Survilliers" and fled to America in 1816.
In the present letter Bonaparte thanks the politician Pierre François Réal (1757-1834) for his messages on the recent July Revolution (27-29 July 1830, called "Les Trois Glorieuses"), the overthrow of the French Bourbon monarch Charles X at Paris. Bonaparte shows himself disappointed in the role of the Marquis de La Fayette (1757-1834), the famous French general and political leader who had played such a great role in the American Revolution.
Some soiling and waterstains, a large tear in the folding of the leaf, some folds and some tears in the margins. Still in good condition. Cf. NBG XXXVII, cols. 447-448, & 41, cols. 790-793.
Related Subjects: