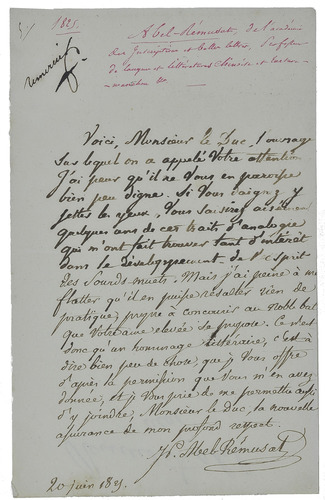 [AUTOGRAPH]. ABEL-RÉMUSAT, Jean Pierre.
[Autograph letter, signed, revealing his work for deaf mutes to a critic].
[Paris], 20th June 1825[?]. 1 leaf (20 x 12.6 cm). In French. [1] p. text.
€ 750
Autograph letter by the French sinologist and physician Jean Pierre Abel-Rémusat (1788-1832), member of Conseil de Perfectionnement des Sourds et Muets ("Counsel for the Development of the deaf mutes") since 1824. In the letter Abel-Rémusat humbly reveals his work to a critic "Monsieur le Duc": ''J'ai peur qu'il ne vous en paraisse peu digne. Si vous daignez y jeter les yeux, vous saisirez aisément quelques uns de ces traits d'analogie qui m'ont fait trouver tant d'intérêt dans la développement de l'esprit des sourds-muets.''
With biographical notes in manuscript in red ink at top of leaf. Right edge of leaf cut short, slightly affecting text. In very fine condition. For the author: NBG XLI, cols. 968-975.
Related Subjects: