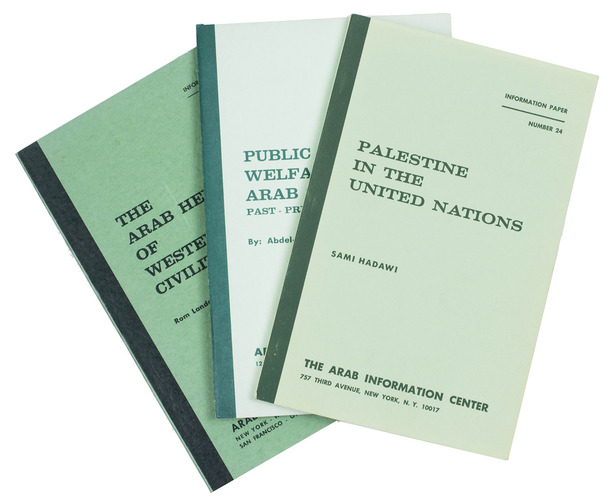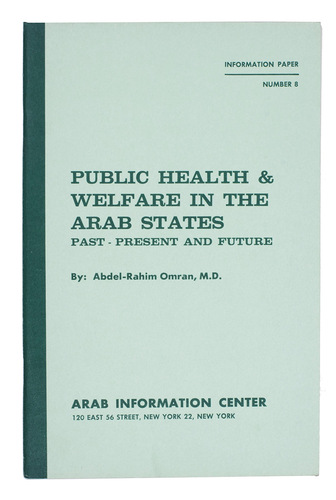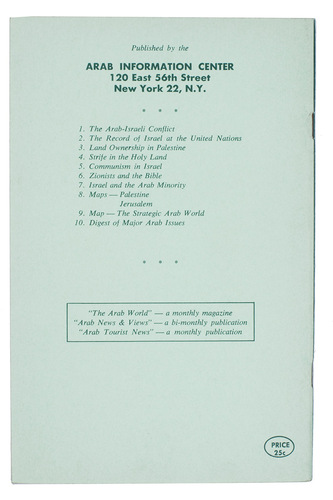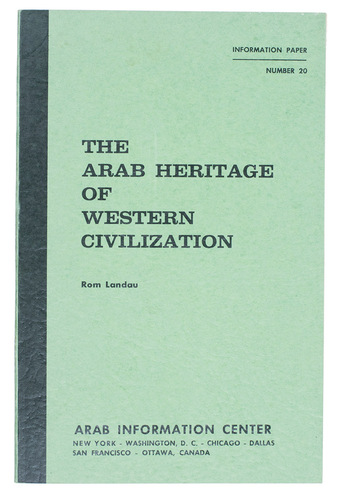 [ARABIA - EPHEMERA].
[A collection of ephemera regarding the Arab states].
New York & London, The Arab Information Center, 1951-1962 8vo. Comprising:
(1) EL-KHATIB, M. Fatallah (foreword). Basic Documents of the Arab Unifications. New York, Arab Information Center, June 1958.
(2) OMRAN, Abdel-Rahim. Public Health & Welfare in the Arab States: Past, Present and Future. New York, Arab Information Center, November 1959. The booklet opens with a history of the Arab contributions to medicine followed by modern statistics.
(3) WRIGHT, Esmond. The Arab World. Current Affairs no. 125. London, Bureau of Current Affairs, 3 February 1951.
(4) [MENU]. P&O menu. On board the S.S. Arcadia, Sunday 25 March 1962.
2 booklets, a magazine and a menu, all in original publishers wrappers. 43; 32; 19, [1]; [4?] pp.
€ 1,800
Set of four publications, two of which by the Arab Information Center in New York. Together with other Arab information centers in various cities in the Americas, Europe and Asia, the New York office belonged to the Press and information department of the League of Arab states. As well as the monthly newspaper Arab World, the office published numerous research reports on various aspects of the individual member states and the Arab world at large.
Ad 1: The most important documents concerning the unification of Arab states. These documents include: the Proclamation of the United Arab Republic, the Proclamation of the Arab Union, the Provisional Constitution of the United Arab Republic, the Charter of the United Arab States and the Constitution of the Arab Union.
Ad 2: An overview of both the history of Arab medicine and the current state (in 1958) of the demographics and healthcare in various states of the League.
Ad 3: A short overview of the Arab world.
Ad 4: Menu offered during a cruise in the Gulf, on board the S.S. Arcadia.
The staples in ad 1 somewhat rusted and ad 2 with an owners stamp. All in very good condition. MacDonald, The league of Arab states, pp. 135-138.
Related Subjects: