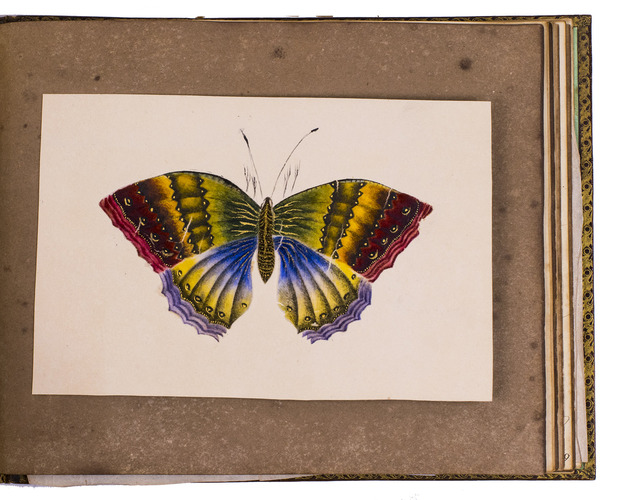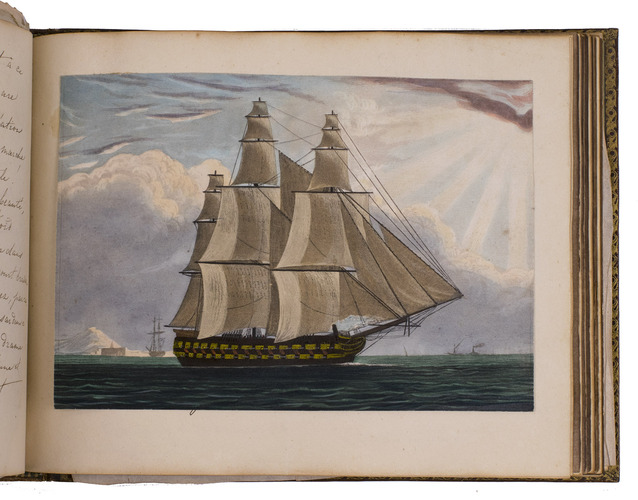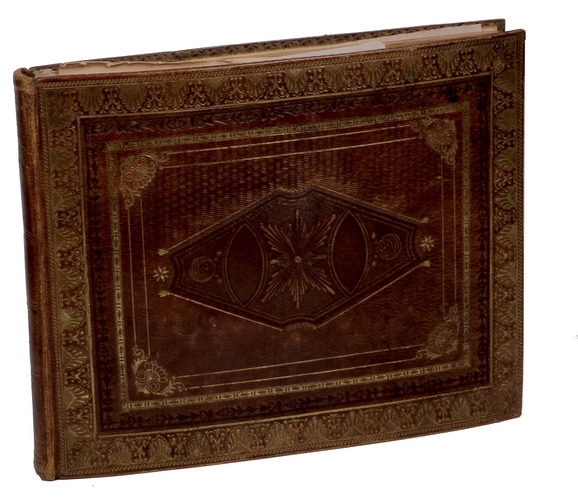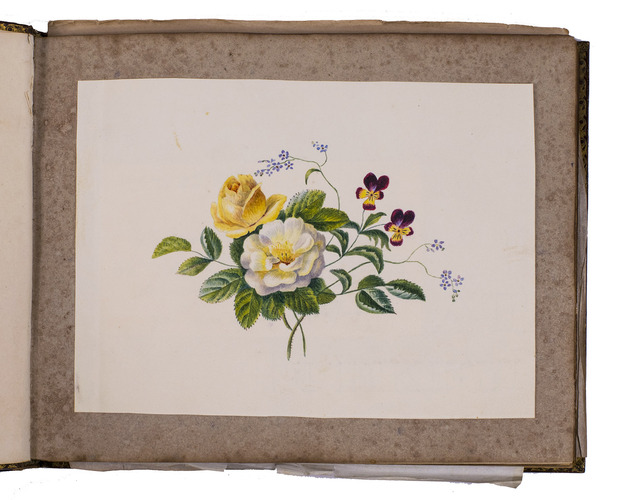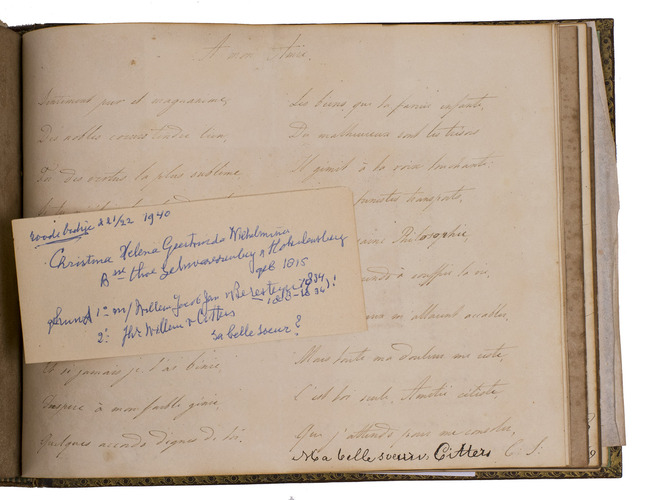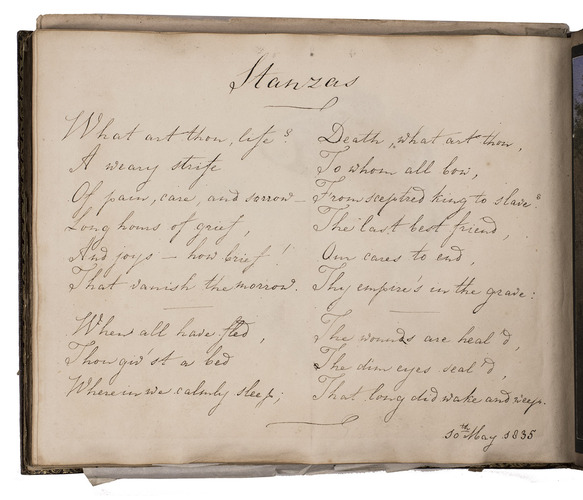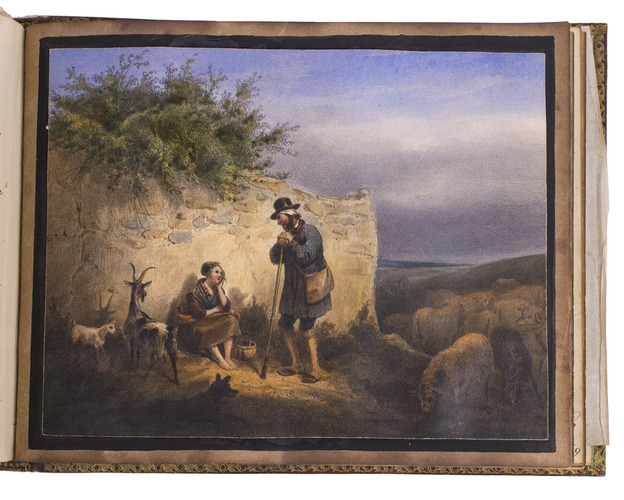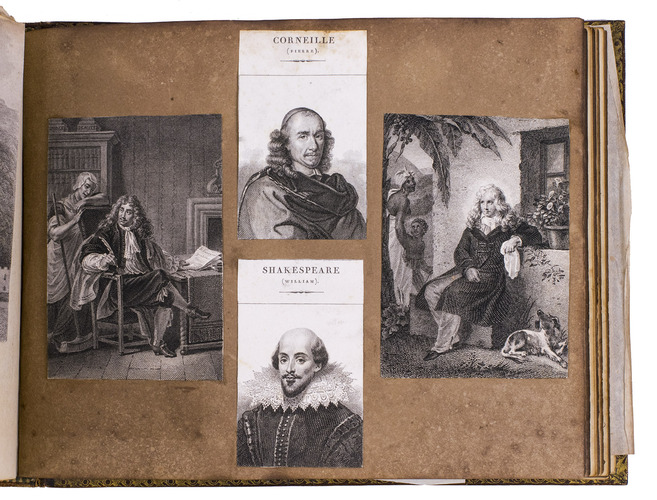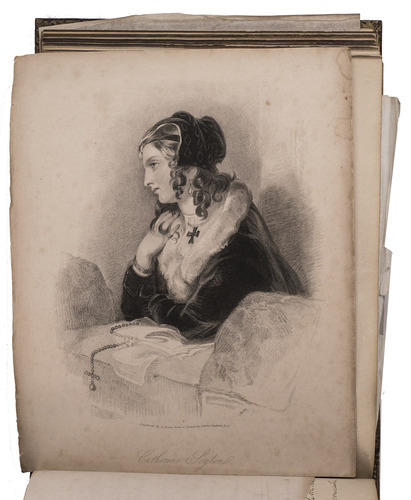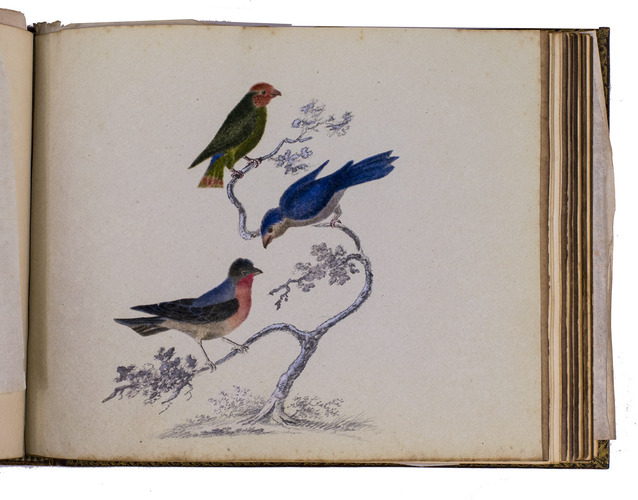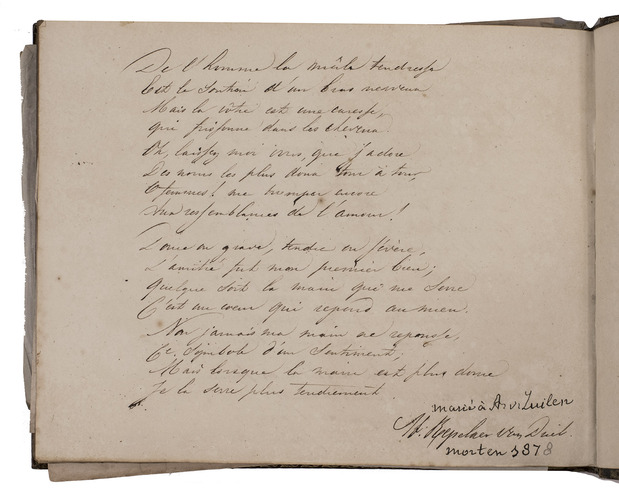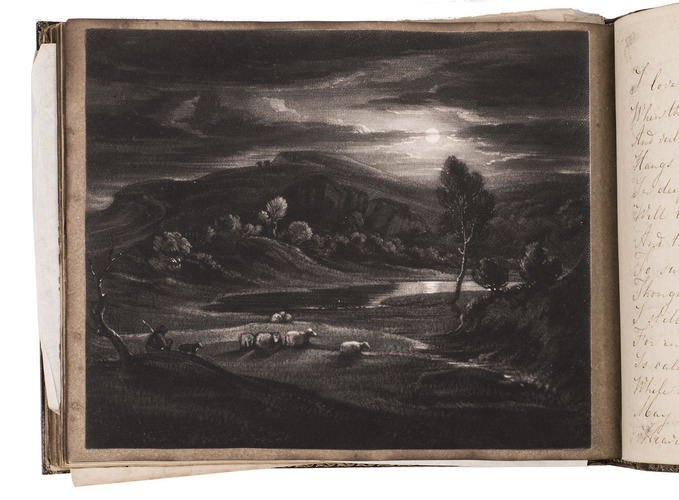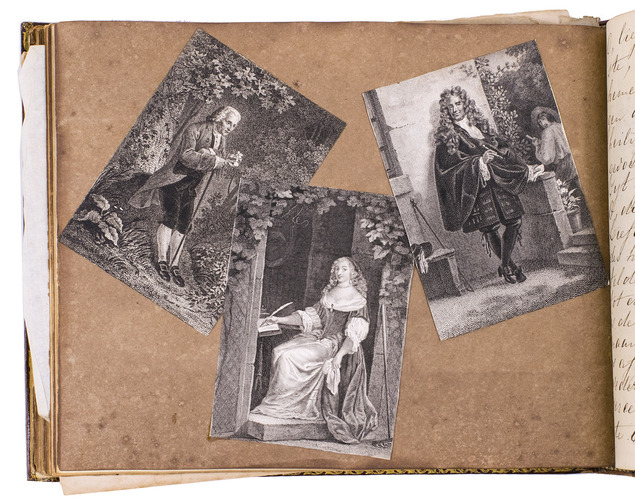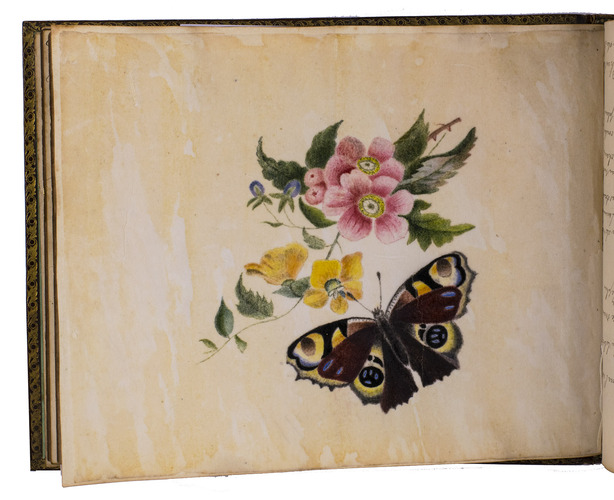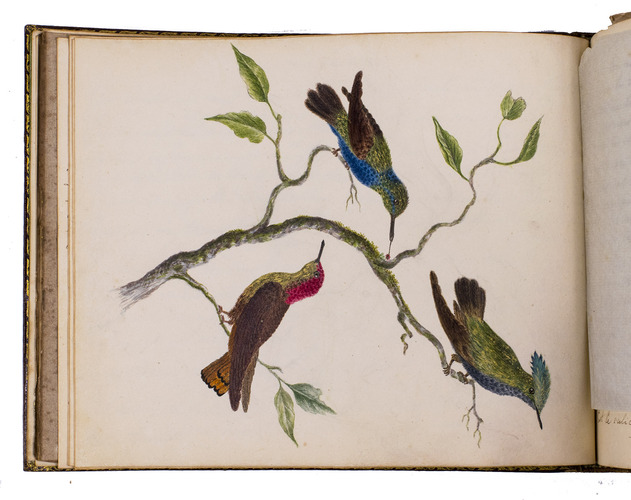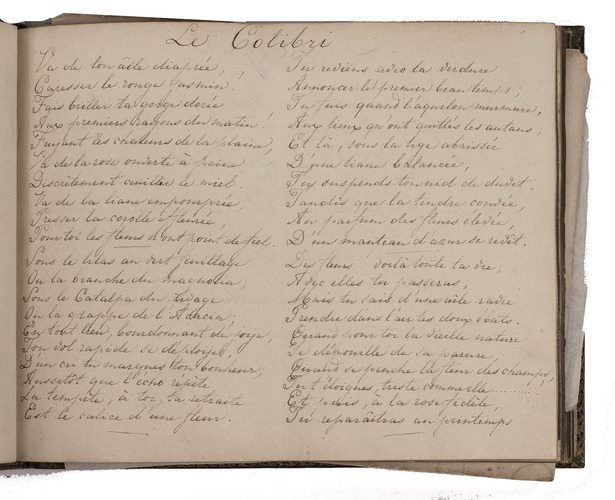 [ALBUM AMICORUM & SCRAPBOOK - THE NETHERLANDS].
[Album amicorum of a Miss van Boetzelaer (?)].
Heerenveen, 1831-1849. Oblong 4to. Manuscript with many contributions in French and English, a single contribution in Dutch and a four-line verse in German, mainly written in the same hand, probably of the owner of this album. With 45 mounted or occasionally loosely inserted drawings, paintings and prints in various formats, some coloured by contemporary hands. Contemporary gold- and blind-tooled brown morocco, each board richly decorated with frames and an oblong lozenge-shaped centrepiece, gilt edges. [96] ll.
€ 3,850
A beautiful example of a richly decorated and illustrated album amicorum, a book of poetry and a scrapbook in one. Alba amicorum were a popular and pleasant pastime at this time, as the first sentence of the album immediately makes clear: "Albums are all the rage, and scrap-books too". Although the album contains many poems by various poets, possibly mostly copied by the owner of the album herself, a girl from a noble family, probably Miss van Boetzelaer (?), the album also contains many contributions by others, particularly women. Examples are F. Testa, Adèle B., J. van Winter, H.v.W., A. van der Goes, H.G. v.d. G., J.C. van Beresteyn, H.J.B., C.B., A. de Schwartzenberg et Hohenlansberg, H. Repelaer van Driel, A.G. v. B. en A. de la B. The contributors probably made the drawings and watercolours to accompany their written entries and the owner mounted them in the album herself. Some of the most remarkable among the richly illustrated contributions are a loosely inserted mountain landscape in watercolour by Johannes van Ravenswaay (1815-1849), a bouquet with flowers in gouache by Wilhelma van Boetzelaer (an English teacher at the royal military academy at Breda) and another bouquet by A.J. Taets d'Amerongen née de Boetzelaer. Another beautiful drawing of three hummingbirds is executed in gouache and decorated with gold by Suzette van B., who wrote several contributions for this album. Also beautiful are a still life with fruits drawn by Mimi Stratenus, two gouaches of butterflies on pith paper by C. Bicker Borski and Christine van Berestyn, and gouache paintings of a rose by Elisa Hanbury and a butterfly by Dorothée Palland Sandberg. Also mounted in this album are engraved portraits of William Shakespeare (1564-1616) and Pierre Corneille (1606-1684), probably reflecting the poetic tastes of the albums owner. This album is not only a beautiful example of the alba amicorum culture among noble women, which flourished for centuries, but also a book for a woman made primarily by women, reflecting an important part of the culture of noble women in the first half of the 19th century.
Some occasional spotting and browning, and the large number of insertions has overfilled the binding, so that it bulges slightly , but otherwise in good condition. A very interesting album amicorum with many contributions, drawings and prints by women, in a beautiful contemporary binding.
Related Subjects: