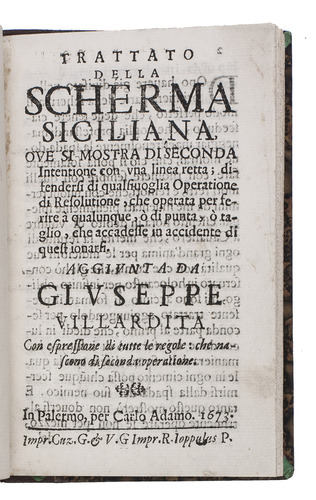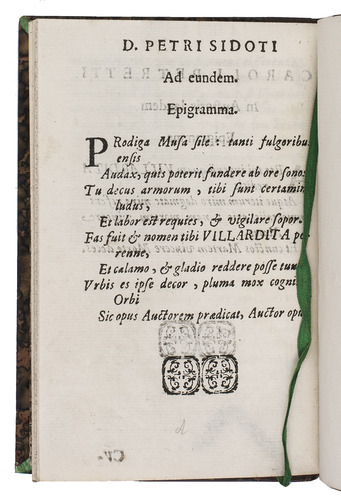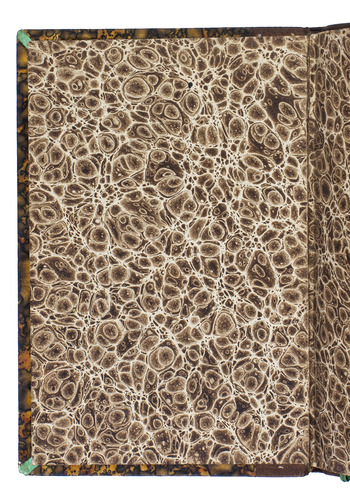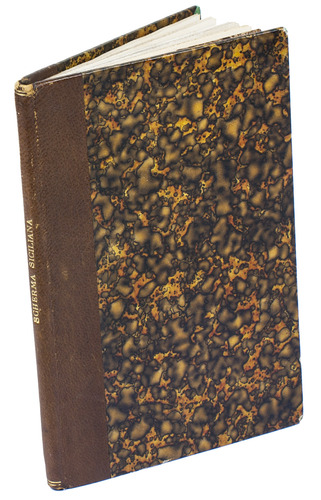 VILLARDITA, Giuseppe.
Trattato della scherma Siciliana, ove si mostra di seconda intentione con una linea retta; difendersi di qualsivoglia operatione di resolutione, che operata per ferire à qualunque, ò di punta, ò taglio, che accadesse in accidente di questionarsi. ... Con espressione di tutte le regole: che nascono di seconda operatione.
Palermo, Carlo Adamo, 1673. Small 8vo. Late 19th-century half tanned sheepskin with short-title in gold on spine, "Gustav" chemically marbled sides, shell-marbled endpapers, green ribbon marker. 16, [4] pp.
€ 4,500
Very rare first and only edition of the second part of a handbook of the Sicilian-Neapolitan school of fencing, published as a continuation of Villarditas treatise, La scherma Siciliana ridotta in compendio (Palermo, 1670). While the first part dealt primarily with offense, the present second part deals primarily with defence. We have located only three other copies (part 1 is nearly as rare).n Palermo, per il Bua, e Camagna. 1670." and imprimatur "Imp[rimatur]. Cuzol[inus]. G[ubernator]. V[icarius]: G[eneralis]. Imp[rimatur]. de la Torre Reg. Praesid." The main text oddly begins on A3r, and the catchword "LA" on πA8v doesnt match the opening word "LETTORE" on A1r but seems to point to "LA SCHERMA ..." on A3r (the catchword "Hessio-" on A8v does point to "Hessiodo" on B1r). These irregularities are apparently the same in all copies, though some catalogues fail to note the two series of page numbers.
In very good condition. Gelli, p. 189; Jaquet & Miskolczi, eds., Acta periodica duellatorum, 3 (2015), p. 64, note 5; KVK & WorldCat (3 copies); M. Parise, Tratt. teorico-pratico della scherma (1884), p. 15; Thimm, Fencing and duelling, pp. 324-325; Vigeant, Bibl. de l'escrime, p. 131; not in Catalogo delle edizioni Siciliane del xvii secolo; ICCU.
Related Subjects: