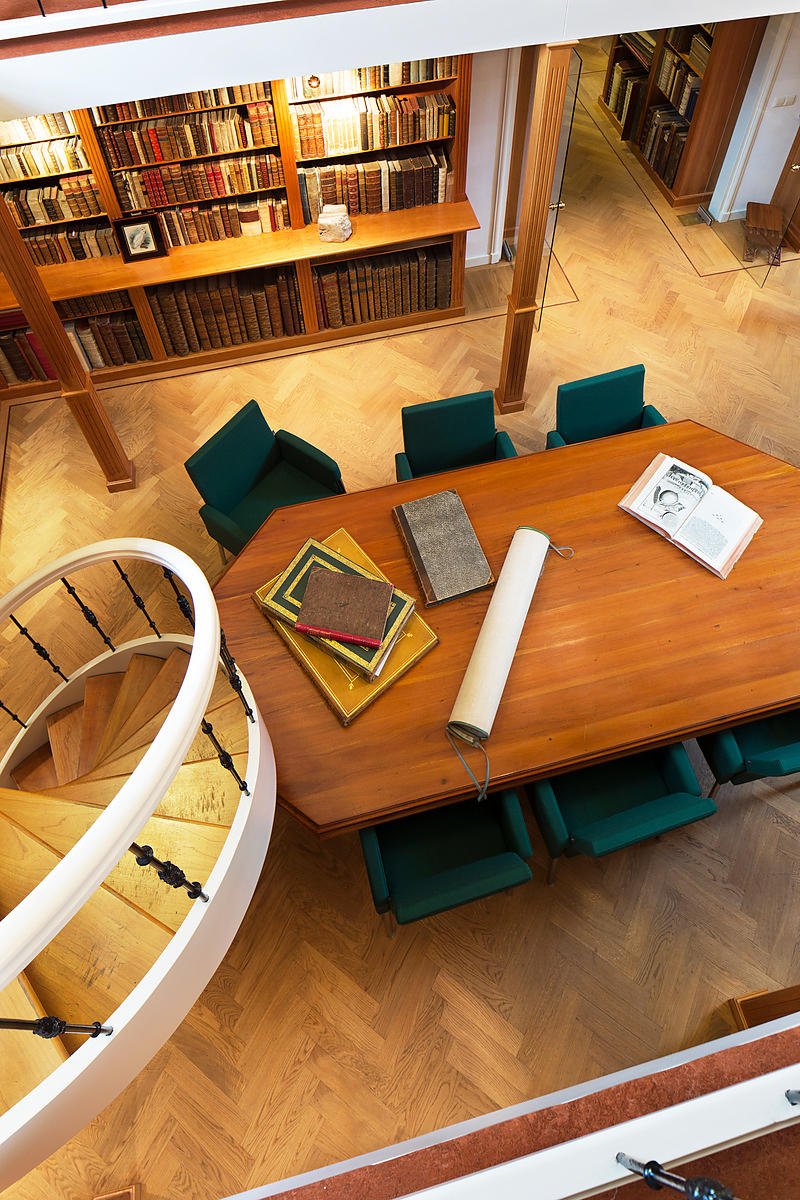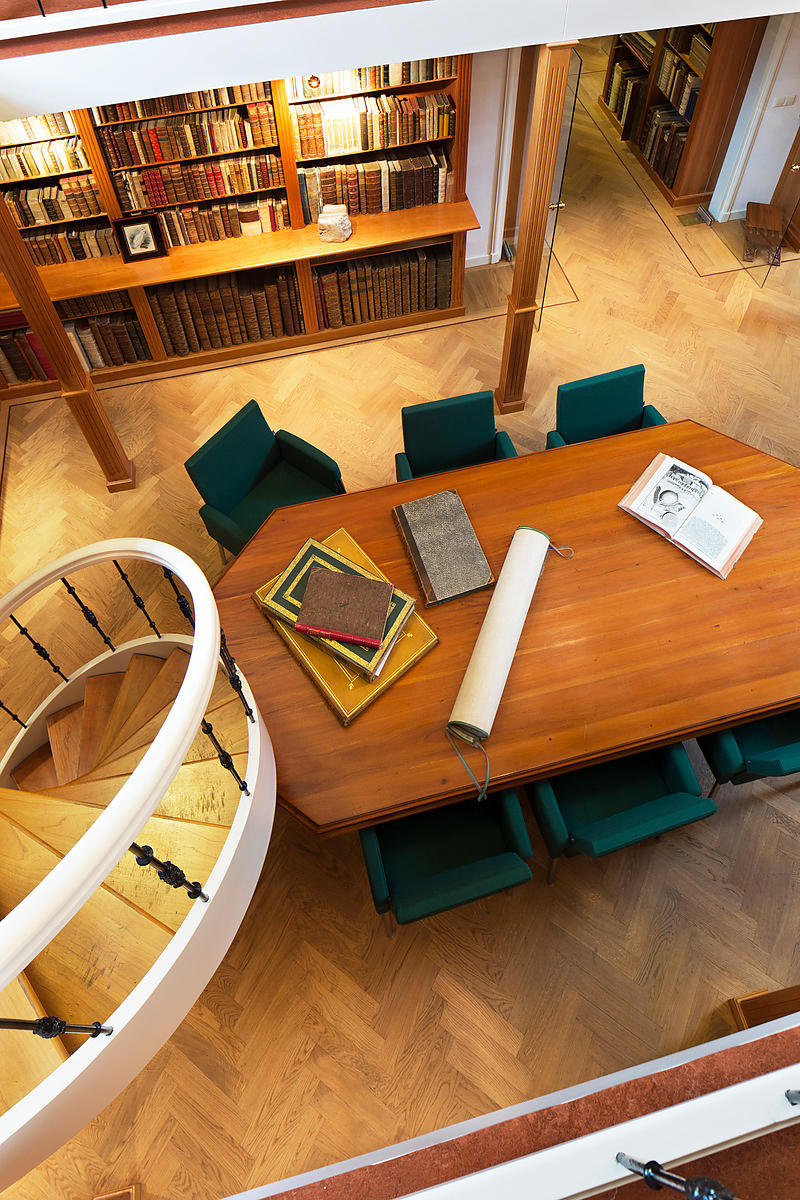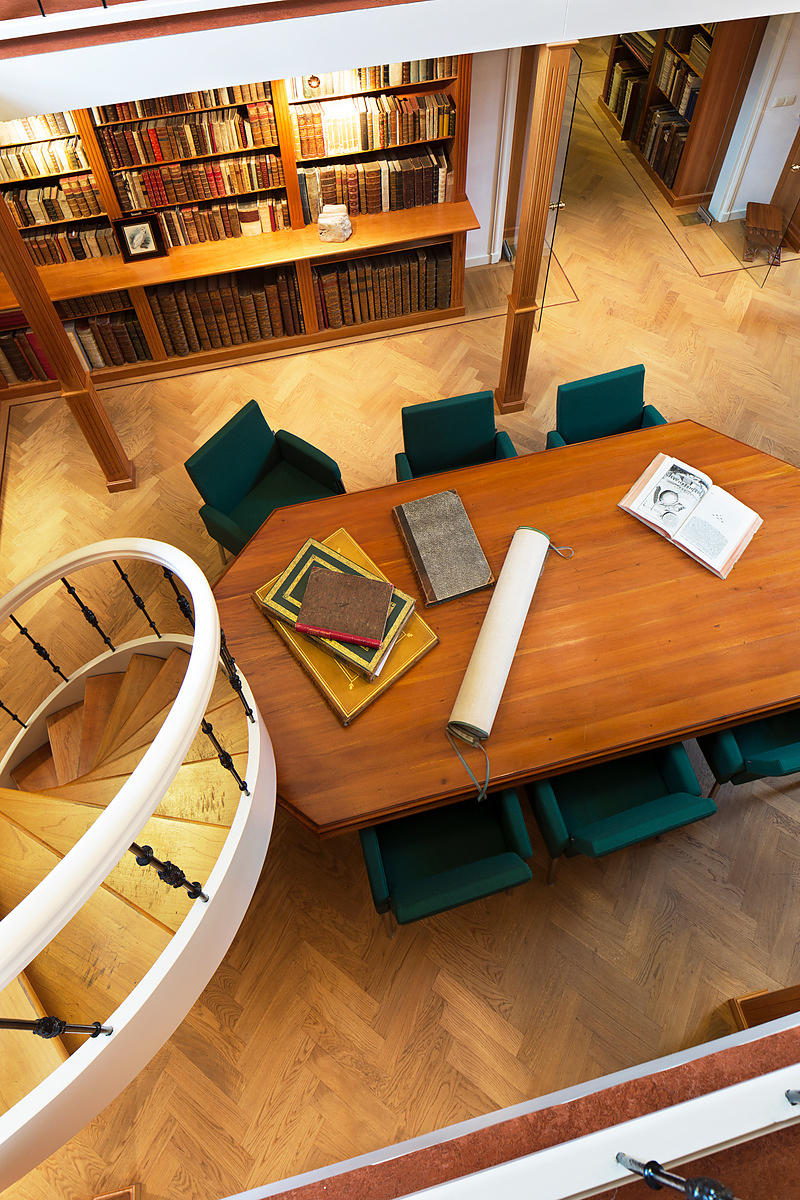 SCHWARTZENBERG EN HOHENLANSBERG, Georg Frederik thoe.
Groot placaat en charter-boek van Vriesland.
Leeuwarden, Willem Coulon, 1768-1782. 4 volumes. Royal folio (49 x 31 cm). Each title-page with the woodcut crowned coat of arms of Friesland, supported by lions, in a rectangular decorated cartouche. Uniform, contemporary, richly gold-tooled red morocco with black morocco inlays by the Van Damme Bindery (active 1750-1786), sewn on 8 supports, each board with the crowned coat of arms of Friesland as centrepiece in a large architectural portal with Minerva/Athena (dressed as a soldier with lance and Medusa shield) and Hermes/Mercury standing in it at the foot, the whole in a wide decorative frame of individual stamps and rolls, richly gold-tooled spine, with the authors name and title blind-tooled in the 2nd of 9 compartments (barely legible) and the volume number in gold in the 3rd, gold-tooled turn-ins and board edges, gilt edges, marbled endpapers (Dutch pattern, combed and curled, like the earlier Wolfe 35, but adding the colour green). [112], 796, [86]; [2, LXXXIX, 20], 205, [26], 209-875, [34]; [2], 1227, [41]; [2], 1287, [43] pp.
€ 18,000
Impressive large (Royal) paper issue, bound for the States of Friesland, of Schwartzenberg's well-known compilation of all known official documents of the Frisian government, including including proclamations, ordinances, grants of rights and privileges, etc., compiled by Georg Frederik thoe Schwartzenberg en Hohenlansberg (1733-1783). The present set was one of five containing the first four volumes of Groot placaat en charter-boek van Vriesland that were commissioned by the States of Friesland to be printed on royal paper and to be bound by the Van Damme bindery. The Van Damme bindery, active from 1750 to 1786 in Amsterdam, was regarded in its time and still today as one of the best Amsterdam binderies of the 18th century. Only two of the five sets of the beautiful and eye-catching specially bound Royal paper copies for the States of Friesland are known to survive: the present, and another held at the Dutch Royal Library (KB). An extraordinary and rare survival. At least some of the paper is watermarked: IV = fleur-de-lis above a double bend above a VDL monogram [= Van der Ley, a leading papermaking family in the Zaan region in North Holland, about 10 km northeast of Amsterdam].
Bindings slightly worn around the edges and corners, some minor signs of wear on the boards, head and foot of the spine of vol. 1 a little cracked, part of the lower headband of vol. 1 lost. Vols. 5 (1793) and 6 (1795 or soon after) had not yet been published when the States of Friesland commissioned the five deluxe sets, so they were, of course, never included. In good condition, internally fine. De Buck 6538; Eekhoff, W. (1856); Geschiedenis van de zamenstelling en uitgave van het Groot plakkaat- en charterboek van Friesland; STCN 157156524 (with the 2 later volumes); for the binding: Storm van Leeuwen, Dutch decorated bookbinding in the eighteenth century I, pp. 460-496; Storm van Leeuwen, "Enige ontwikkelingen in de stijl van platbestempeling bij Nederlandse boekbanden uit de achttiende eeuw", in: Documentatieblad werkgroep achttiende eeuw (1977), pp. 16-19.
Related Subjects: