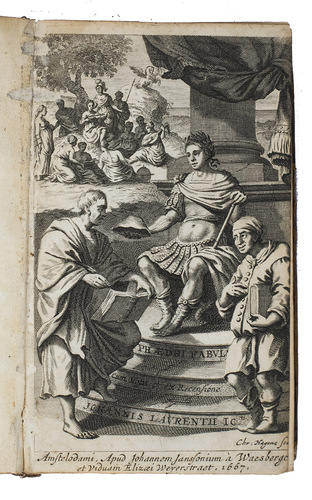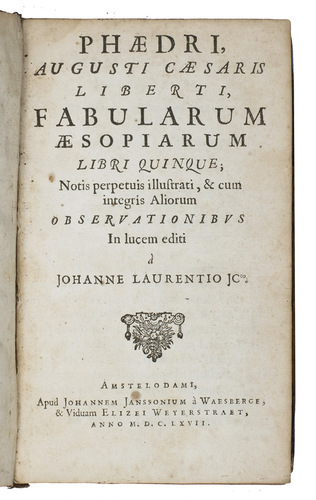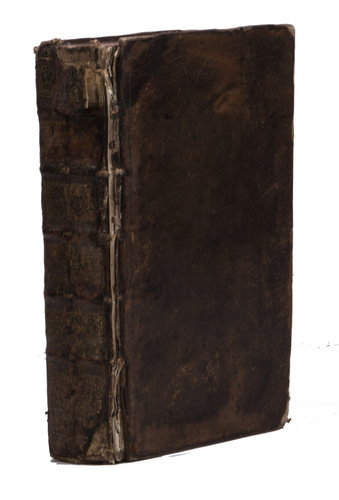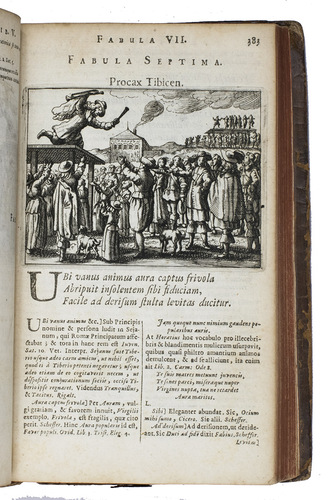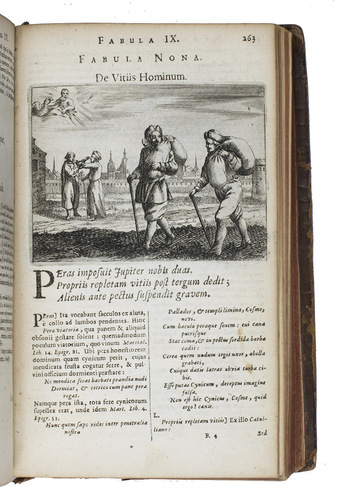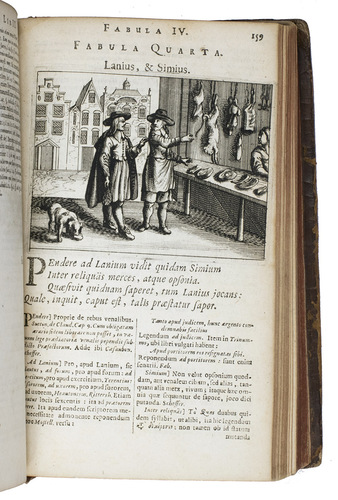 PHAEDRUS.
Fabularum Aesopiarum libri quinque; notis perpetuis illustrati, & cum integris aliorum observationibus. In lucem editi à Johanne Laurentio JCto.
Amsterdam, Johannes Janssonius van Waesberge, & the widow of Elizeus Weyerstraet, 1667. 8vo. With a frontispiece and 103 half-page engravings (ca. 7 x 9 cm), illustrating the prologues and the 92 fables. Full calf, ribbed spine gilt in compartments, marbled endpapers, red painted edges. [64], 462, [206] pp. (last two blanks missing).
€ 950
Johannes Laurentiuss first edition of Phaedruss fables in Latin verse, loosely based on the Greek prose fables attributed to Aesop, with Laurentiuss extensive commentary and notes, prologues, biographies, etc., printed in two columns. This edition is profusely illustrated with very innovative engravings, mostly quite independent of earlier examples and series, and rendering the contents of the fables on two levels: in the foreground with a more-or-less literal presentation of the story, and in the background with a more ethical or moralistic interpretation. Erroneous engravings corrected for lib. III, fable 12 (p. 194) and fable 15 (p. 205), as partially noted by Landwehr - he mentiones fable 12 on p. 194, but then also fable 14 on p. 201 (which is correct in the present edition), instead of fable 15 on p. 205.
Lacking the 2 final blank leaves 2T7-8. Binding worn, front hinge broken, head and foot of spine damaged, very slight foxing throughout. Bodemann, 75.1; Fabula docet 68; Landwehr, F143; Schwabe/Barbier, 57-58; STCN (844195324).
Related Subjects: