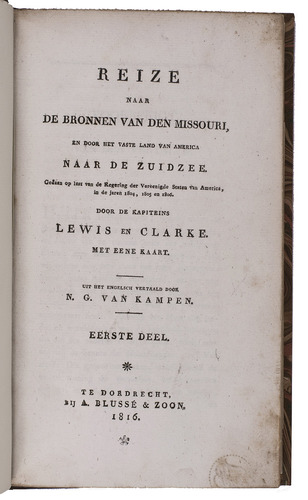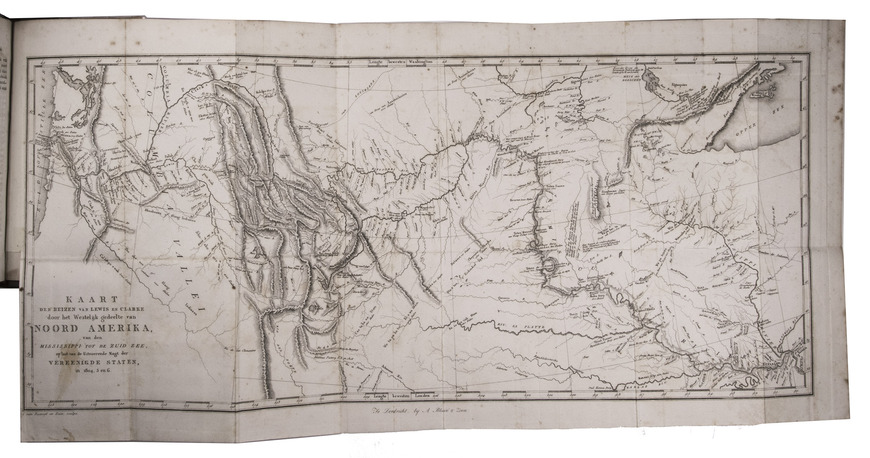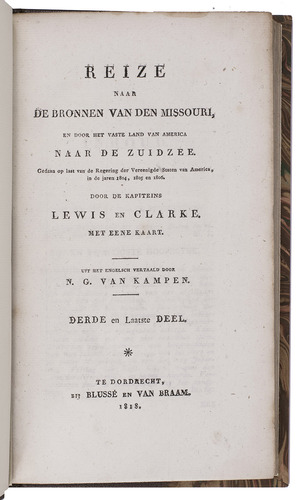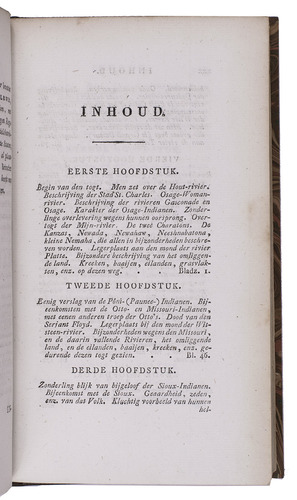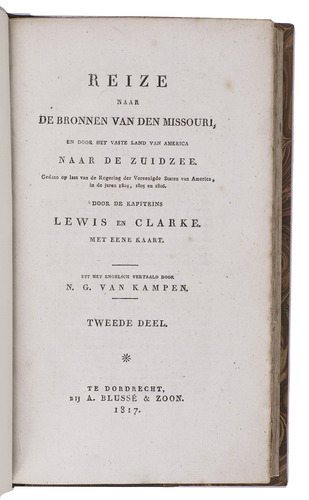 LEWIS, Meriwether, William CLARKE and Nicolaas Godfried van KAMPEN (translator).
Reize naar de bronnen van den Missouri, en door het vaste land van America naar de Zuidzee. Gedaan op last van de regering der Vereenigde Staten van America, in de jaren 1804, 1805 en 1806.
Dordrecht, A. Blussé and son, 1816-1818. 3 volumes. 8vo. With a large folding engraved map of the Missouri River (34.5 x 71 cm) by Cornelis van Baarsel and son, after the map in the first British edition. Modern half calf. XXXII, 398; VIII, 390; "XII" (lacking I-II), 335, [1 blank] pp.
€ 8,500
Rare first Dutch edition of Travels to the source of the Missouri River and across the American continent to the Pacific Ocean by Meriwether Lewis and William Clarke, translated by the prolific Amsterdam based writer Nicolaas Godfried van Kampen. The importance of the Lewis and Clarke expedition (1804-06) can hardly be overestimated. The objective of the expedition, prompted by Thomas Jefferson, was to explore the Rocky Mountains, find a way to the Pacific, discover the source of the Missouri River and establish trading ties with the natives. The men brought back a wealth of new information about the geography, natural history and the many Indian cultures of the American West. They discovered numerous species of birds and plants hitherto unknown to science (e.g. Lewis's Woodpecker, Lewis's Syringa etc.). The explorers travelled, moreover, through Louisiana, a territory annexed to the United States just prior to the start of the expedition (1803), and then still as little known as the interior of Africa.
Lewis had intended to edit his journals for publication, but his untimely death in 1809 prevented this. The official account of the expedition was eventually published in Philadelphia in 1814. The map shows the route Lewis and Clarke took along the Missouri River form St. Louis to the Straight of Juan du Fuca. The translator of this first Dutch edition, Van Kampen, taught history at the Athenaeum Illustre in Amsterdam. Besides publishing many works on Dutch history with a nationalistic undertone, Van Kampen translated multiple well-known books on travel and exploration, among others those of François Pouqueville and William Desborough Cooley.
With an unidentified owner's stamp on the back of the title-page ("FLB"). Lacking leaf *1, as usual, possibly blank. Map foxed and some spots throughout, but otherwise in very good condition and wholly untrimmed. Howes L317 note; NCC (4 copies); Sabin 40836; cf. Howgego, 1800-1850, L31.
Related Subjects: