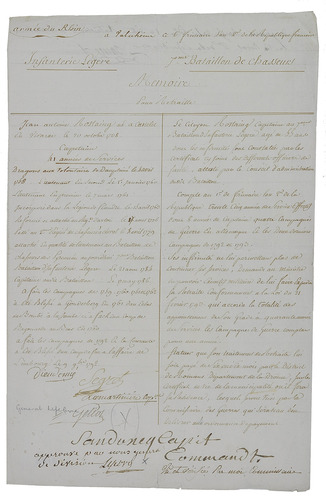 LEFEBVRE, François-Joseph.
Mémoire pour retraitte.
[Valnheim], 26 November 1793. Signed manuscript letter, in French, written in brown ink in two columns on one side of a folio leaf (32 x 20.5 cm).
€ 650
Manuscript application for a pension for Captain Jean Antoine Rostaing (b. 20 October 1738), who had served the army for more than 40 years. In the first column the military career of this captain is listed, from Lieutenant to Captain, serving at campaigns of 1759-1762. The letter is signed by François-Joseph Lefebvre (1755- 1820), General during the French Revolution, Marshal of the first French Empire and Duke of Danzig. Lefebvre stood at the side of Napoleon during his 1799 coup d'état as a governor of Paris. After the battle of Eylau he was in charge of the siege of Danzig, and after he had taken the city he became the Duke of Danzig.
In very good condition.
Related Subjects: