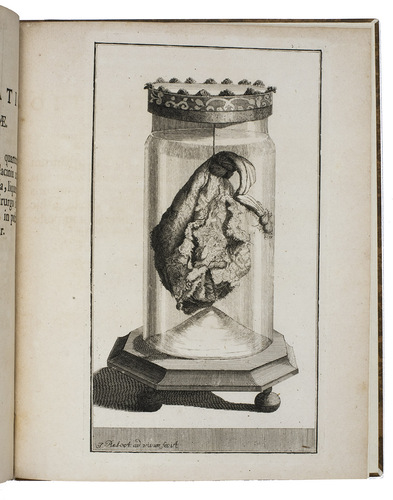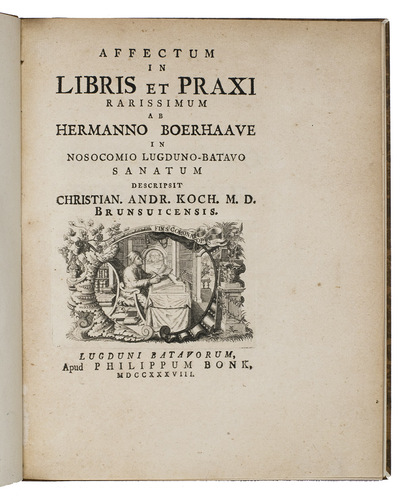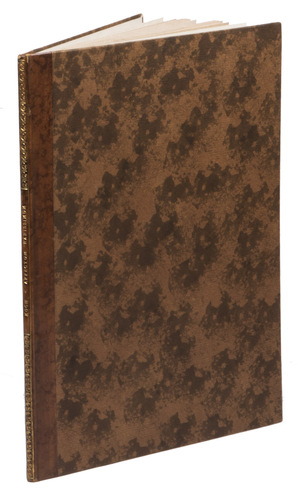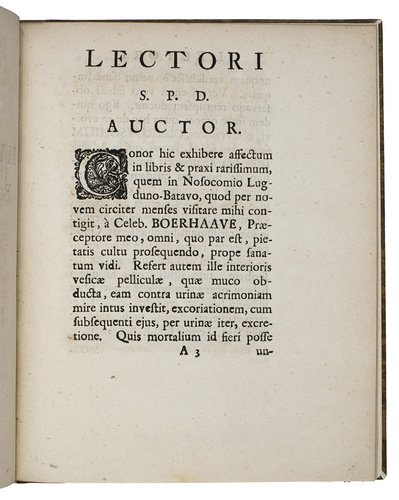 KOCH, Christian Andreas.
Affectum in libris et praxi rarissimum ab Hermanno Boerhaave in nosocomio Lugduno-Batavo.
Leiden, Philippus Bonk, 1738. 4to. With a full-page plate of a human body part in formaldehyde and an engraved printer's device on the title-page. Also with some woodcut initials and headpieces. Modern half calf. [6], 22, [1 blank], [2], [1 blank] pp.
€ 1,950
Dissertation by Christian Andreas Koch, who must have been a pupil of the famous Leiden professor of medicine Herman Boerhaave (1668-1738), discussing a rare case of a woman named Geertruda van der Horst in the Leiden hospital with an uterine tumour. In this work, Koch describes the history of the illness, Boerhaave's medical diagnosis and his proposal for curing this woman. The present dissertation is one of his practical lessons to his students at someone's sickbed, teaching students how to recognize and treat diseases by using patients as "teaching material". The present dissertation later appeared in the fourth volume of a collection of academic disputations dealing with gastroenterological but mainly gynaecological diseases by Albrecht von Haller, Disputationes ad morborum historiam (1757-1760). The present work is very rare on the market: we couldn't trace it ever for sale in at least the past 100 years.
Some occasional very minor spots, but overall in very good condition. Blake, p. 245; BNM, p. 199; Kelly, 18th-century medical and scientific imprints, Low Countries, K52; STCN 296779202 (5 copies); Wellcome III, p. 406.
Related Subjects: