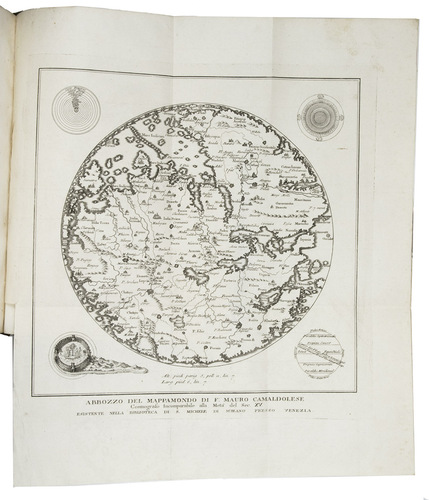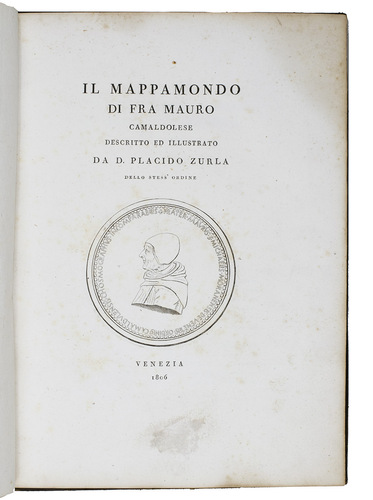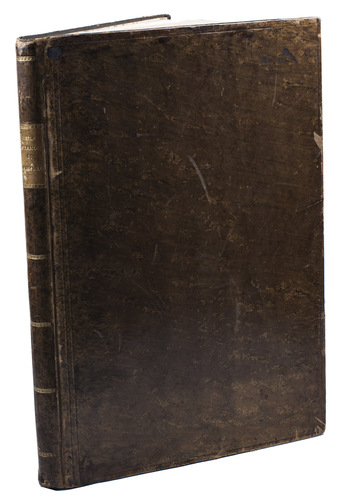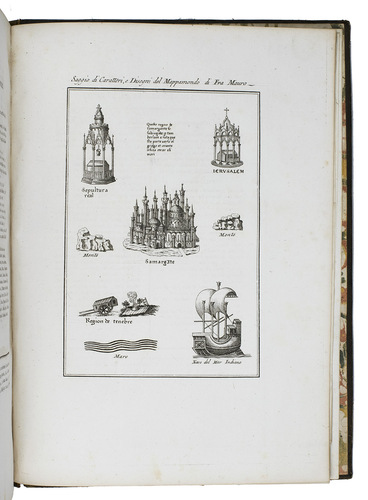 FRA MAURO and Placido ZURLA.
Il Mappamondo di Fra Mauro Camaldolese descritto ed illustrato. [Mappa mundi].
Venice, [Picotti], 1806. Folio. With a full-page engraving and a folding engraved fascimile of Fra Mauro's famous Mappa mundi. Contemporary tree calf, brown morroco spine label with title in gold, marbled endpapers. 164 pp.
€ 4,500
The first substantial study and reproduction of Fra Mauro's famous Mappa mundi, considered the supreme medieval map of the world and the "greatest memorial of medieval cartography" (Almagià). The most detailed representation of the world ever seen when it was produced around 1450, it remains one of the most important works in the history of cartography, marking the new embrace of scientific method that placed accuracy ahead of religious or traditional beliefs. Strikingly, it is oriented with south at the top, recalling the Arab tradition and more specifically al-Idrisi's famous 12th century world map, which Fra Mauro may have known from copies. Europe is shown at the foot, with Arabia (not Jerusalem) at the centre and America still unknown. Placido Zurla's handsome work, the earliest study of the map, was the first to include a reproduction of it in book form. Zurla (1769-1834) had unique insight into Mauro's monumental achievement, as he served as librarian to the same Camaldolese order as the geographer and so had access to the original map itself.
Binding a little worn around the edges and with some small stains on the front board, some minor foxing and some minor stains on a few pages and the title-page. Otherwise in very good condition. Cicogna 3323; cf. A. Müller, Venice: her art-treasures and historical associations (1873), p. 113; R. Almagià, Monumenta cartographica vaticana, vol. 1 (1944).
Related Subjects: