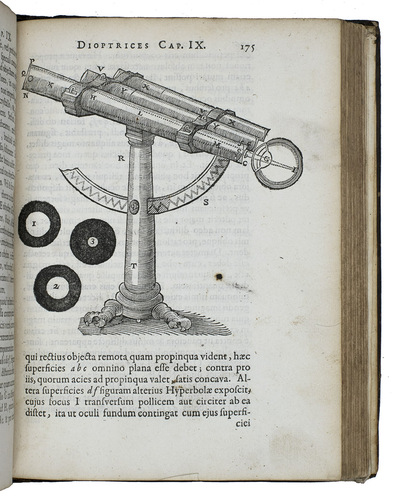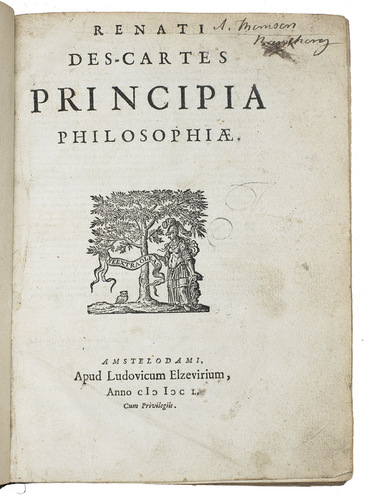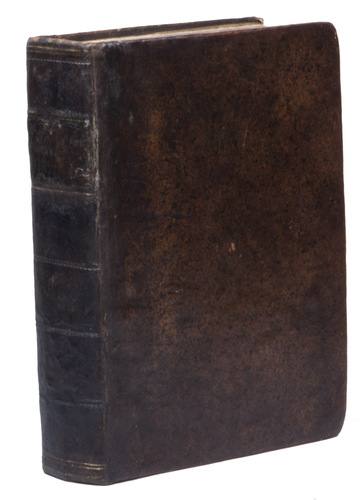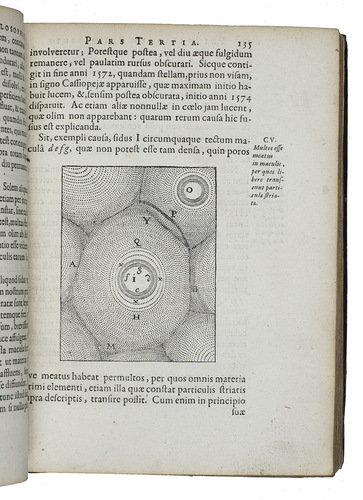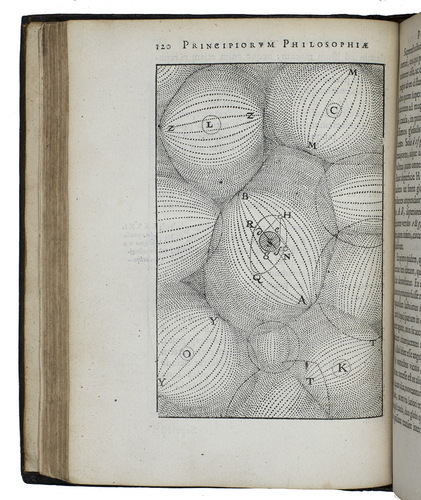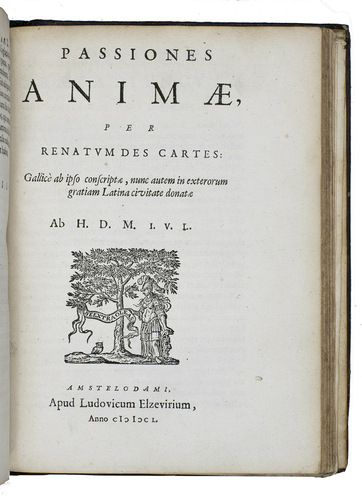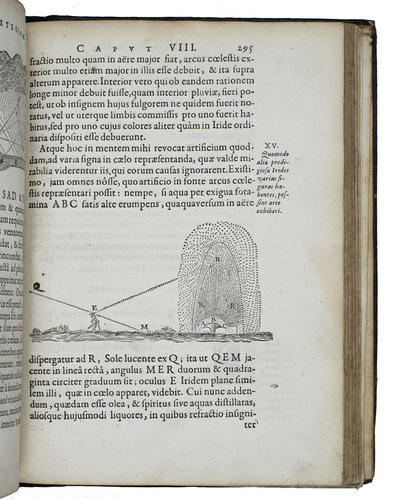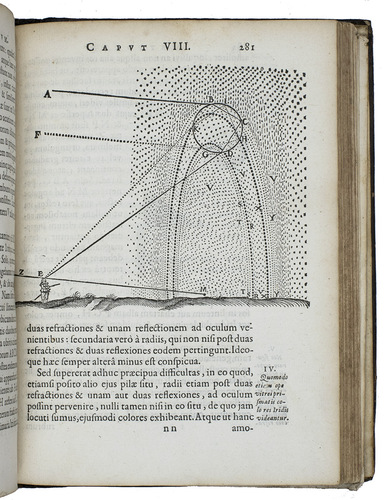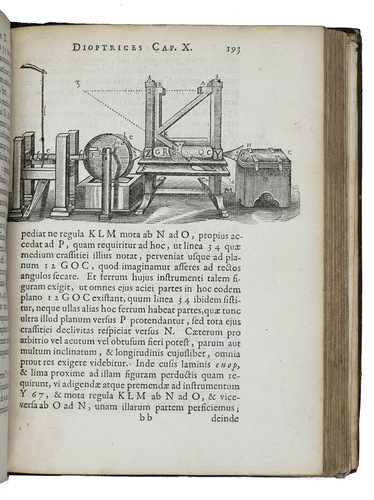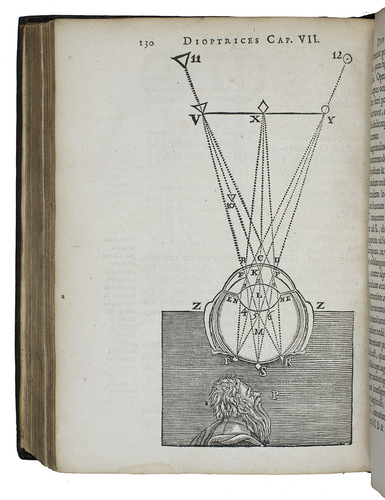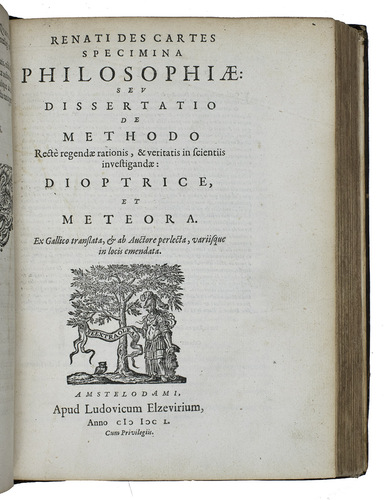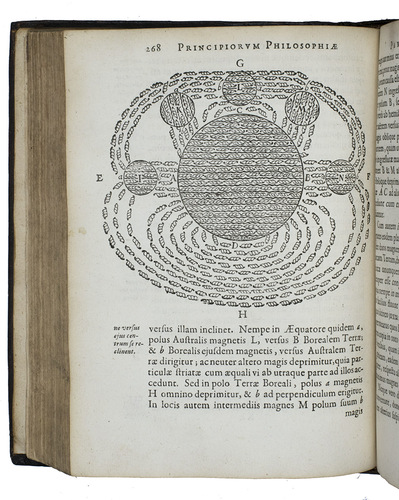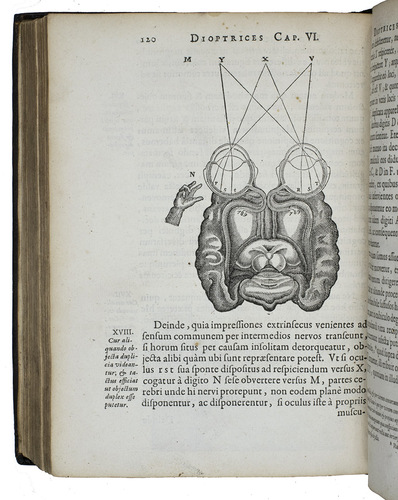 DESCARTES, René.
Principia philosopiae.
Amsterdam, Louis Elzevier, 1650.
With:
(2) IDEM. Specimina philosopiae: seu dissertatio de methodo rectè regendae rationis, & veritatis in scientiis investigandae: dioptrice, et meteora.
Amsterdam, Louis Elzevier, 1650.
(3) IDEM. Passiones animae.
Amsterdam, Louis Elzevier, 1650.
3 works in 1 volume. 4to. With 3 title-pages, each with Elzeviers woodcut Athena and tree device (Rahir M19), ads 1 and 2 with numerous woodcut illustrations in the text, ad 1 with a woodcut tailpiece (Rahir fleuron 102) and all three with a few woodcut decorated initials (2 series). Sprinkled calf (old boards rebound on 4 recessed cords with a blind-tooled spine, a spine label, and new endpapers ca. 1800?). [40], "302" [= 292]; [16], 316; [24], 98, [6] pp.
€ 2,250
Third edition of the Principia in the original Latin, bound with the associated third Latin editions of the two supplementary works, the three published in matching format and layout in the year of the authors death by Louis Elzevier, who published all of the earlier Latin editions in 1644 and 1650. Together these three books form the collected principal works of René Descartes (1596-1650), arguably the most influential philosopher of early modern Europe. Louis Elzevier first published Descartess Principia philosopiae in 1644. It contains the philosopher's thoughts on the structure of the universe, including his highly influential vortex theory, illustrated with woodcuts after drawings by Franciscus van Schooten. Although Descartes wrote the Principia in Latin, he had earlier written two books in French that he now revised and corrected for publication in Latin by Louis Elzevier, matching the format and layout of the Principia so that they could be issued together. They originally appeared in French as Discourse de la methode pour bien conduire sa raison (1637) and Les passions de lame (1649). Elzevier published the Latin edition of the Discourse ..., with the present title Specimina ... together with the first edition of the Principia in 1644. In 1650 he published new editions of both as well as the first Latin edition of the French Passion ..., under the present title Passiones animae. Later in 1650 he published new editions of all three works, the present set, but their layout and typography matches the earlier 1650 4to editions so closely that the classic bibliographies, including Willems, Rahir and Berghman do not distinguish them.
Descartes lived in Leiden from 1630, when he registered at the university, to a few months before his death, a time when the Dutch Republic was world famous (or in less tolerant circles infamous) for its lack of censorship and the high quality of its printing. His controversial works benefitted from both.
With the armorial bookplate of Alexander Thomson of Banchory, Scotland (active 1866). In good condition. Spine damaged and restored. Ad 1: Berghman 372; Hoogendoorn Desc 03.03; Van Otegem, pp. 265-266 = 1650b; STCN 303442972 (fingerprint matching the 1st of the 2 reported); Rahir 1120; Willems 1106. Ad 2: Hoogendoorn Desc 01L.03; Van Otegem, pp. 41-43 = 1650b; STCN 303445521. Ad 3: Hoogendoorn Van Otegem, pp. 372-374 = 1650b; STCN 303448318.
Related Subjects: