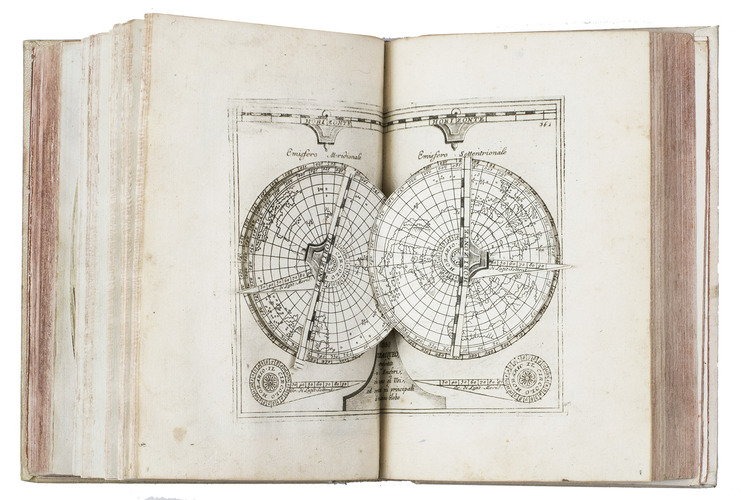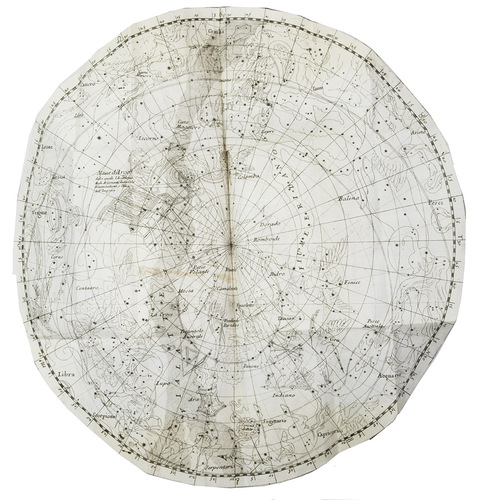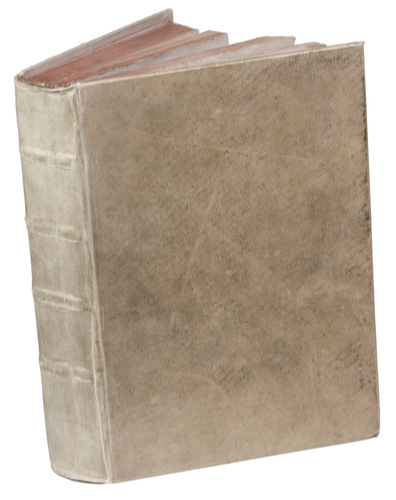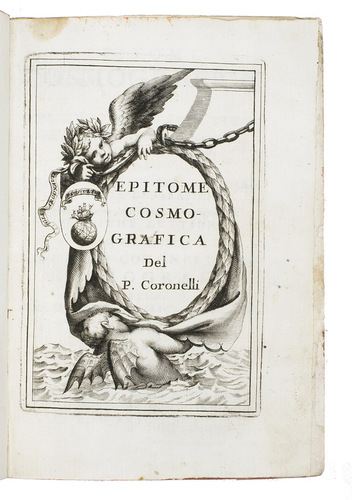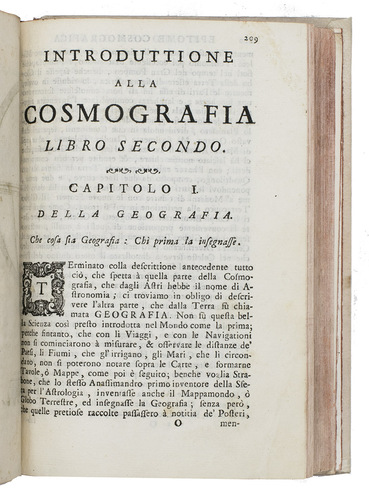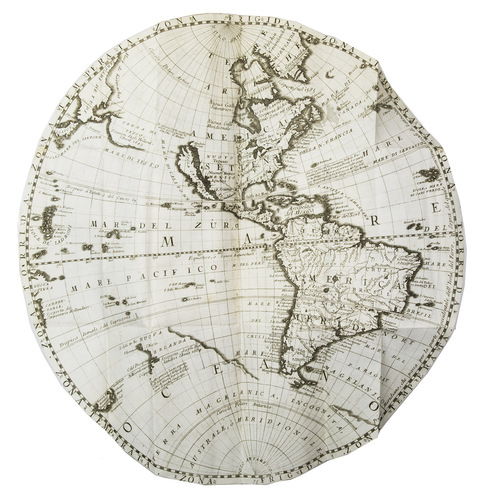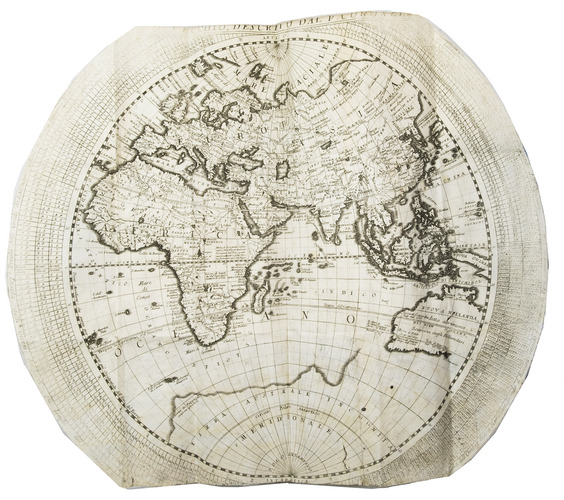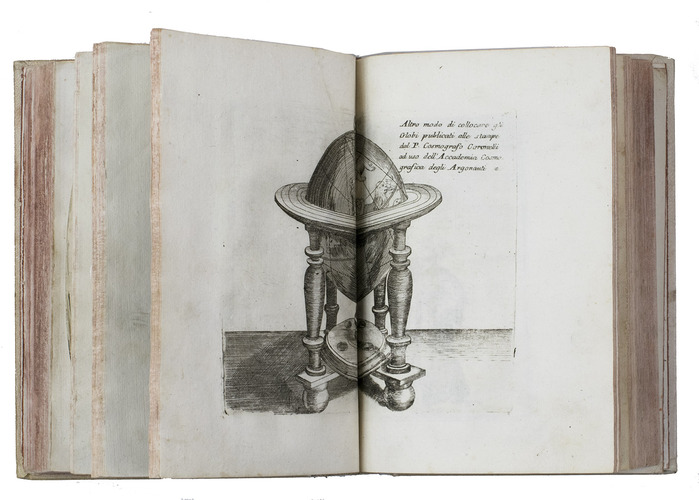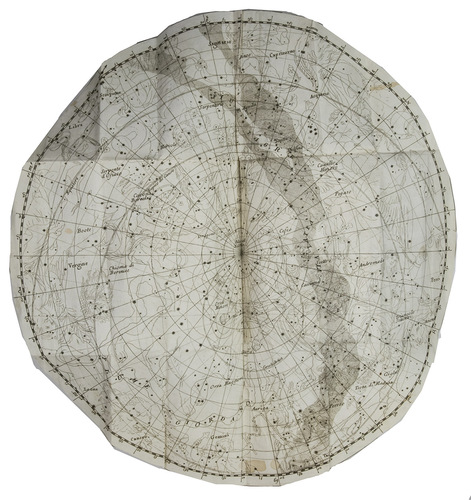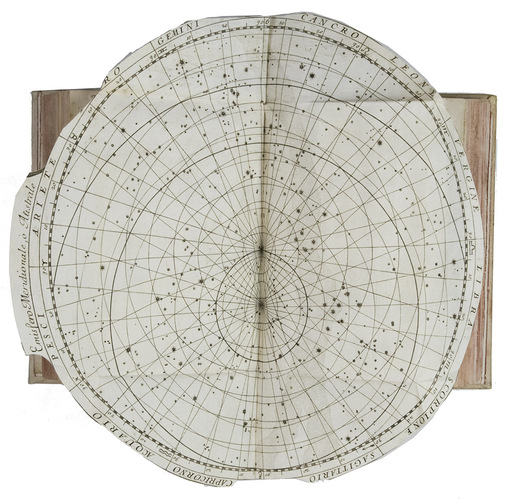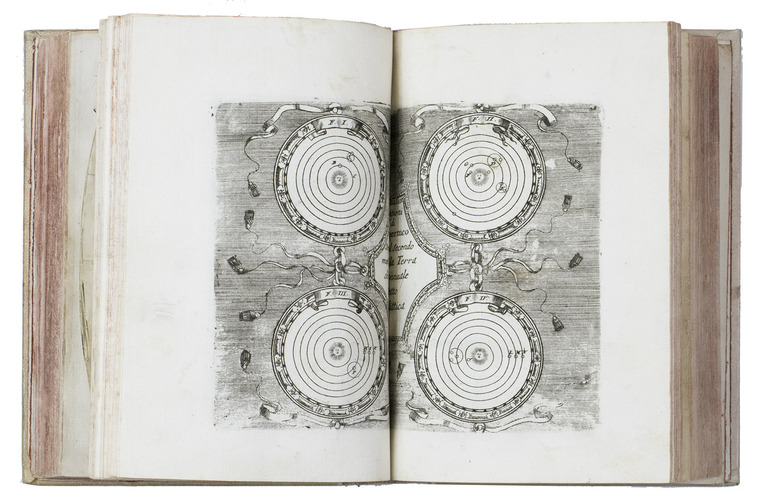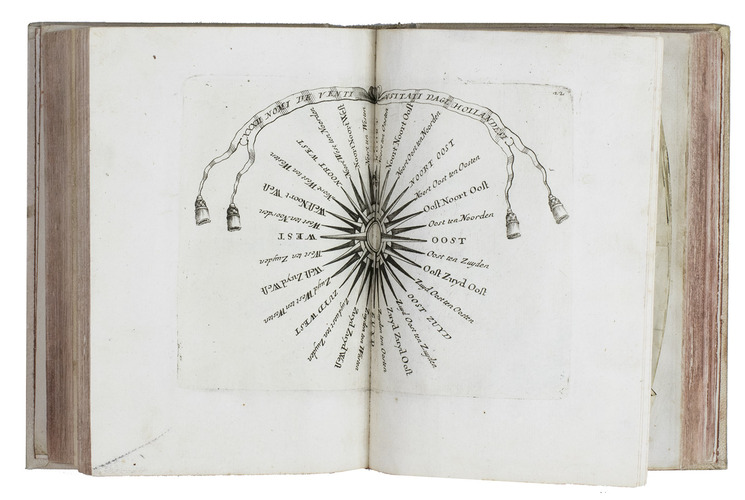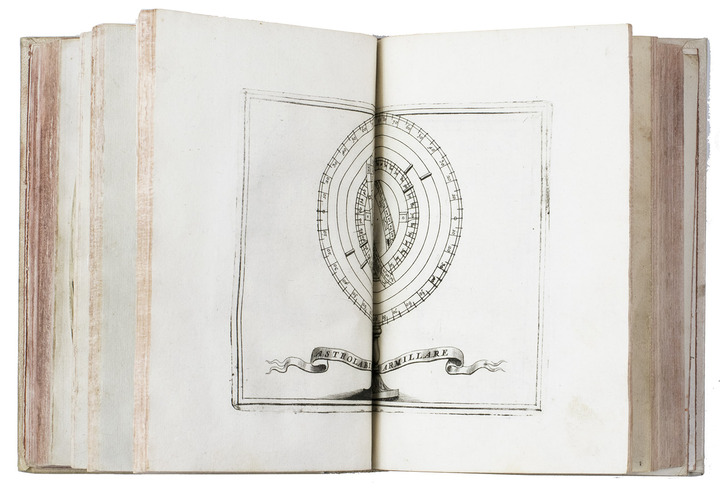 CORONELLI, Vincenzo, and Carlo MALAVISTA.
Epitome cosmografica, o compendiosa introduttione all' astronomia, geografia, & idografia, per l'uso, dilucidatione, e fabbrica delle sfere, globi, planisferi, astrolabi e tavole geografiche.
Köln, for Andrea Poletti in Venice, MDCLXXXXIII [=1693]. 8vo. With an engraved allegorical frontispiece with the coat of arms of the Accademia Cosmografica degli Argonauti, several tables in the text and 37 engraved cosmographical and geographical plates: 31 double-page plates (including one with 2 movable volvelles, each with 3 moving parts) and 6 circular folding terrestrial and celestial charts. Later vellum, new endpapers and paste-downs, red edges. [1], [1 blank], [44], 420 pp. plus 37 plates.
€ 17,500
First edition of a richly illustrated scholarly publication of lectures held by the geographer and cosmographer Vincenzo Coronelli (1650-1718) at the cosmographic academy he founded in 1684, called the Accademia Cosmografica degli Argonauti, also known as the Argonauts. Coronelli was a Franciscan monk and a Venetian cosmographer, geographer cartographer and publisher, who became known especially for the atlases and globes he made for royal courts. He made a set of globes for the Duke of Parma, which so impressed Cardinal dEstrées, advisor to Louis XIV, that Coronelli was invited to Paris in 1681 to make a magnificent pair of globes for the King (terrestrial and celestial with a diameter of circa 4.5 meters).
The present Epitome cosmografica is predominantly an expansion of lectures Coronelli gave before the Accademia Cosmografica, along with one small treatise by Carlo Malavista,"Dell excellenza, invenzione e progresso dell astronomia", included as part of the preliminaries. It is a unique source for the documentation of some of his globes, especially the massive ones he made for Louis XIV, but also for the astronomical knowledge and mechanisms of the late 17th-century.
The Epitome is richly illustrated but the plates included vary greatly from copy to copy, few including all 37 cited for a "complete" copy. The present copy includes all 31 double-page plates: 6 show compass roses, each with the directional names in one or two languages (Greek & Latin, Italian, Dutch, English, etc.); 9 show cosmographic diagrams illustrating the solar system according to 4 different scholars: Ptolemy (1 plate), Copernicus (5 plates), Tycho Brahe (1 plate) and Descartes (2 plates); 1 shows polar projections of the northern and southern hemispheres as parts of 2 volvelles with in total 6 moving parts; 14 show globes, armillary spheres, astrolabs, a planosphere, etc. (including the globe Coronelli made for the Duke of Parma); and 1 shows an astronomer at work with his telescope. Our copy also has the 4 larger circular folding celestial charts in baroque style, depicting planispheres with northern and southern constellations, and the 2 larger circular folding terrestrial maps, depicting the western and eastern hemispheres.
With the plates bound between p. 208 and p. 209. Binding very slightly dust-soiled, some small tears in the margins of the preliminaries (some repaired), some small stains and a little foxing throughout the book, the circular folding plates a little frayed and foxed and a small tear in one of these plates. Otherwise in good condition, complete with all the 37 plates. Houzeau & Lancaster 7009 (Malavista), 8006; Nordenskiold Collection 57 (28 plates only); Riccardi I, cols. 374-375; Warner, The sky explored, p. 56; not in Honeyman; Zinner, Astrologische Instrumente; for Coronelli: DSB III, p. 421.
Related Subjects: