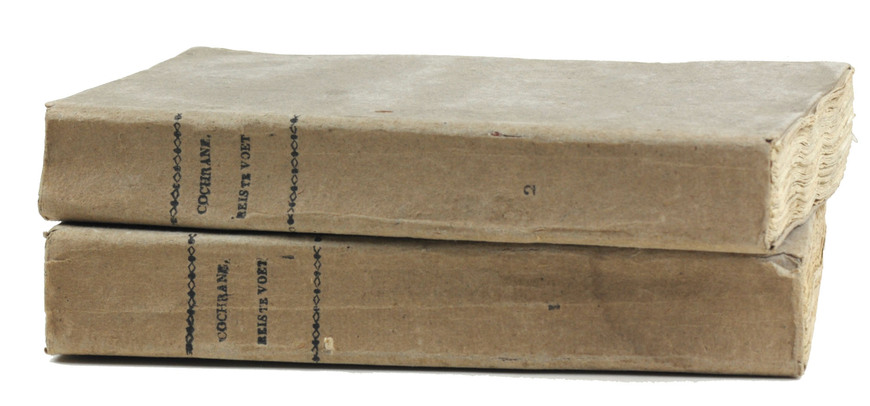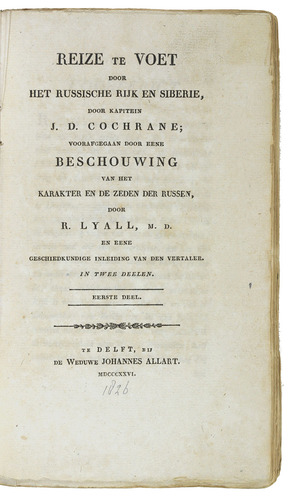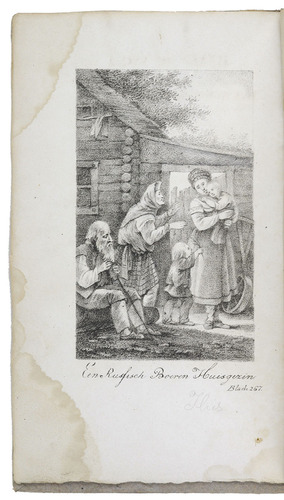 COCHRANE, John Dundas and Robert LYALL.
Reize te voet door het Russische Rijk en Siberië ... voorafgegaan door eene beschouwing van het karakter en de zeden der Russen, door R. Lyall, en eene geschiedkundige inleiding van den vertaler.
Delft, the widow of Johannes Allart, 1826. 2 volumes. 8vo. With lithographed frontispiece showing a Russian peasant family, and a folding table. Publisher's boards, uncut. VIII, 448; XII [= X], 376 pp.
€ 850
A Dutch translation of Cochrane's lively Narrative of a pedestrian journey (1824), preceded by an abridged Dutch version of Robert Lyall's noteworthy Character of the Russians (1823). Cochrane travelled by Paris and Berlin to Siberia with the main objective to trace the coast of the Polar Sea. He arrived at St Petersburg on 30 April 1820, and by way of Moscow he proceeded to Siberia, arriving at Nizhne Kolymsk, near the Arctic mouth of the Kolyma River on 31 December 1820. His journey further took him to Okhotsk and Kamchatka, where he married a local girl. With his wife he crossed Siberia back to St Petersburg, stopping at Moscow. Cochrane travelled most of the way on foot, which earned him the nickname "the Pedestrian Traveller".
Some wear to boards. A fine uncut set. Chavanne 3741; Muller, Bibl. Neerlando-Russe 80; NCC (6 copies, incl. 1 incomplete); Saalmink, p. 407; not in Tiele; for Cochrane: Howgego, 1800-1850, C39.
Related Subjects: