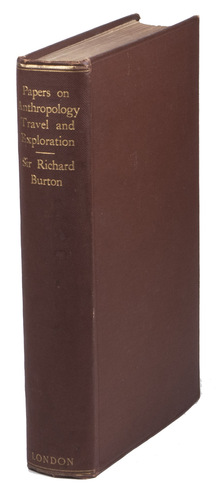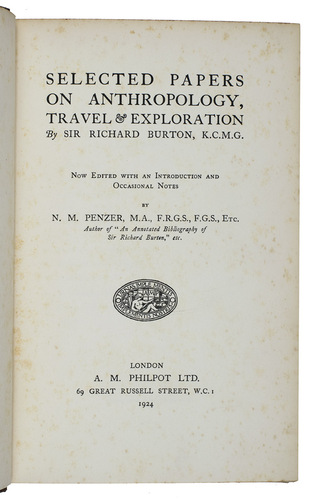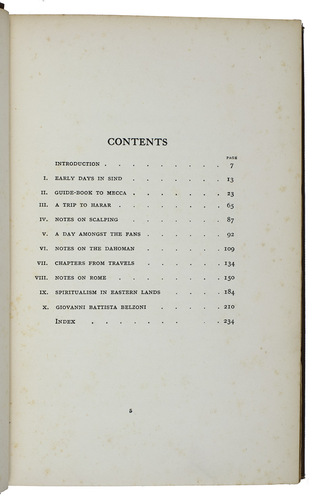 BURTON, Richard and N. M. PENZER (ed).
Selected papers on anthropology, travel & exploration. Now edited with an introduction and occasional notes.
London, A.M. Philpot ltd., 1924. 8vo. Red/brown cloth, with title information in gold on spine, red upper edge. 240 pp.
€ 350
First edition of a collection of 10 quite rare and otherwise inaccessible articles by the British explorer, scholar and soldier Richard Francis Burton (1821-1890), compiled and edited by Norman Mosley Penzer (1892-1960), the author of An annotated bibliography of Sir Richard Burton (1923). After the publication of Burton's bibliography, Penzer got numerous requests to publish some of the articles he had mentioned but are quite difficult to find by members of the general public. Penzer was a scholar specialised in Oriental studies and a fellow of the Royal Geographical Society.
Penzer consciously made a small selection of Burton's more obscure papers, in order to give an insight into the varied activities and achievements of the explorer's life. Thus, the contents of the present work vary in subject. Burton's travels in India, Ethiopia, Gabon, Syria, and to Mecca are represented in separate articles. The subjects of other articles are more anthropological in nature, as expected regarding the title, such as the history and significance of scalping in different cultures around the world or spiritualism and religion in Africa and the Middle East.
Slight browning and foxing throughout, with an autograph in blue ink on the first flyleaf. Overall in good condition. Howgego IV, B98. cf. (other ed.) Shapero, The Islamic World (2003), 158.
Related Subjects: