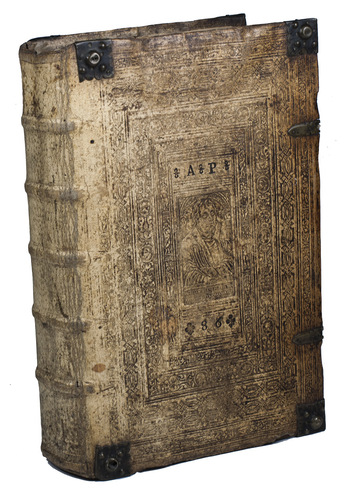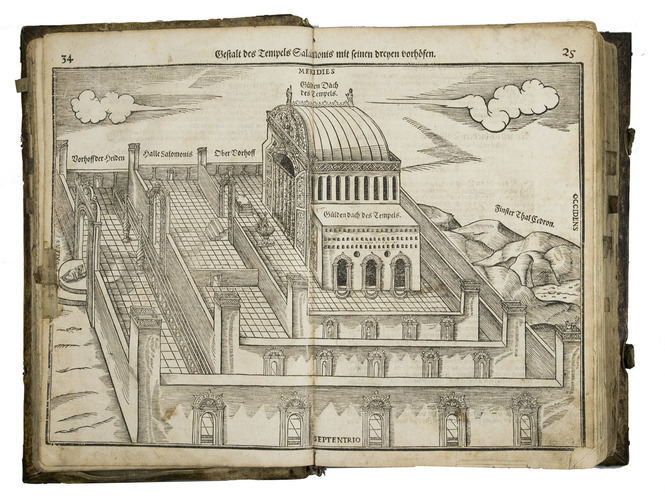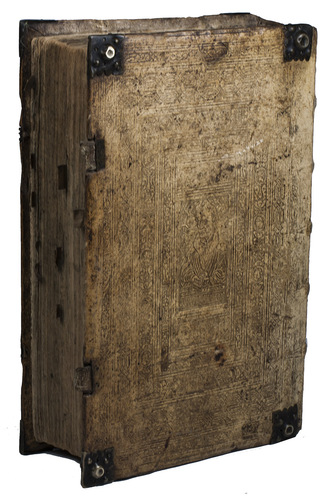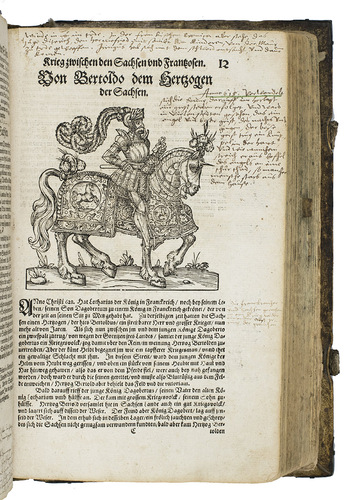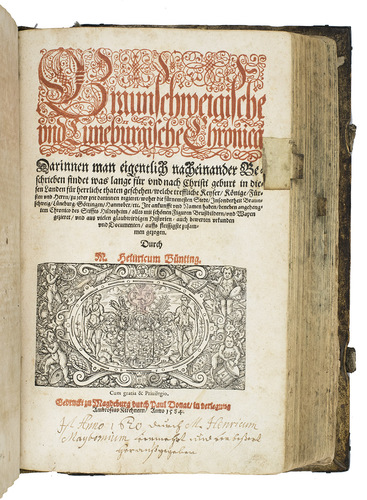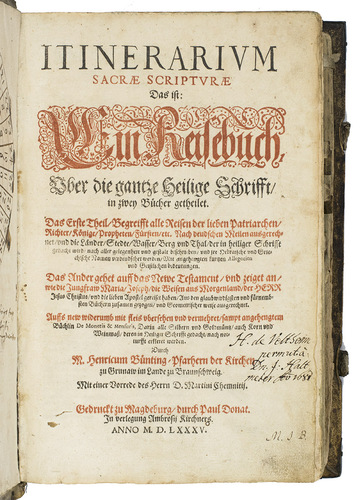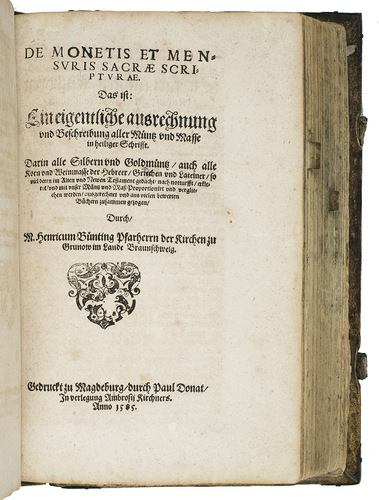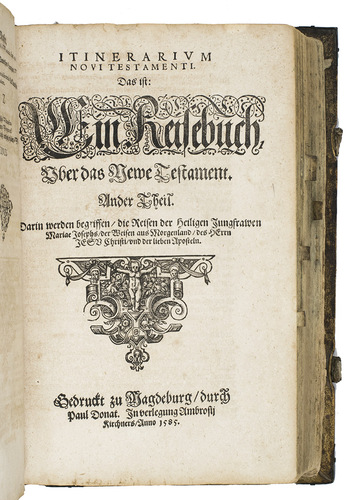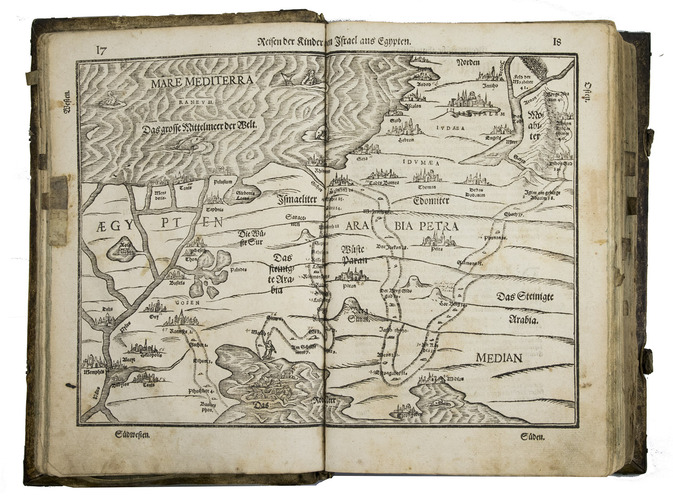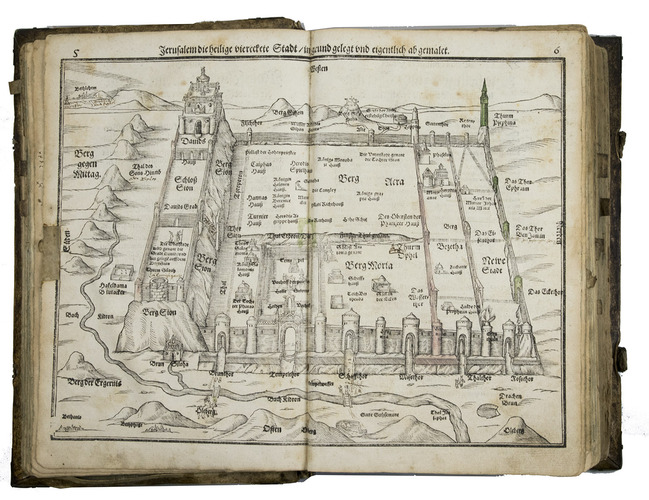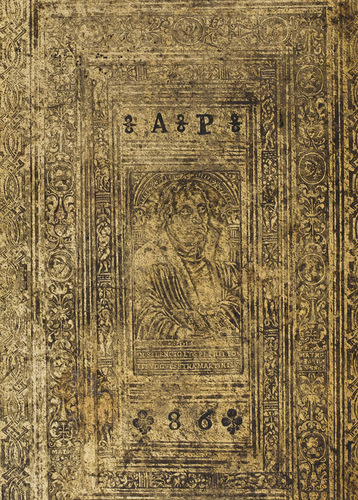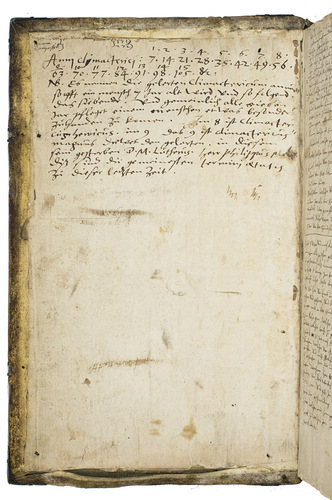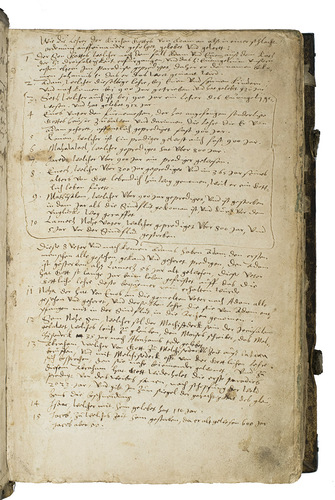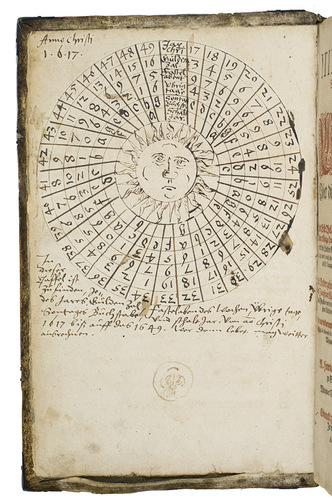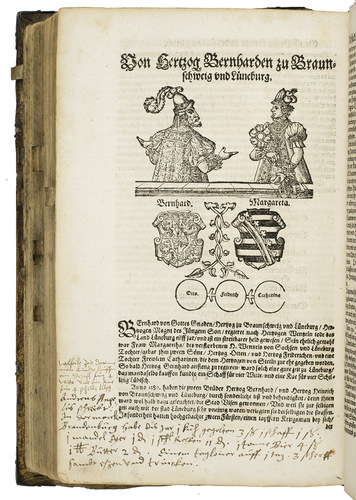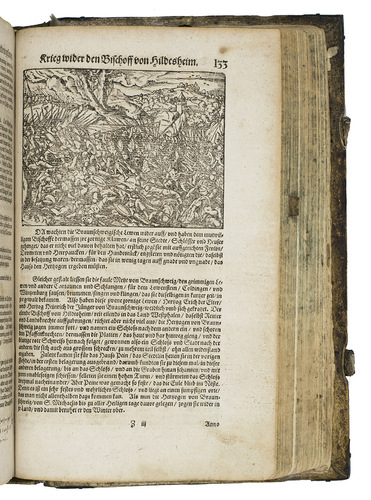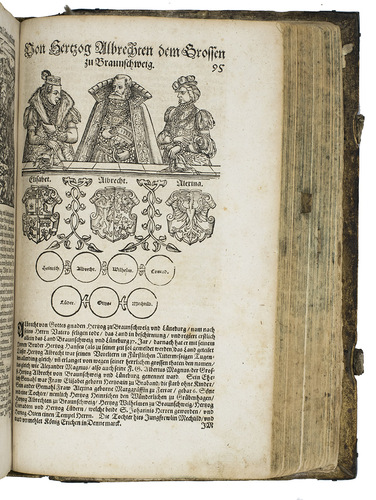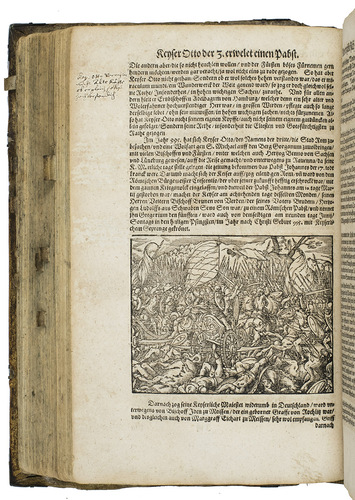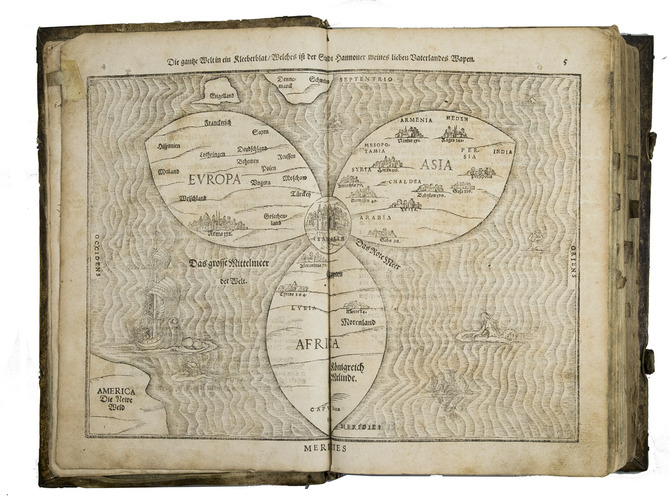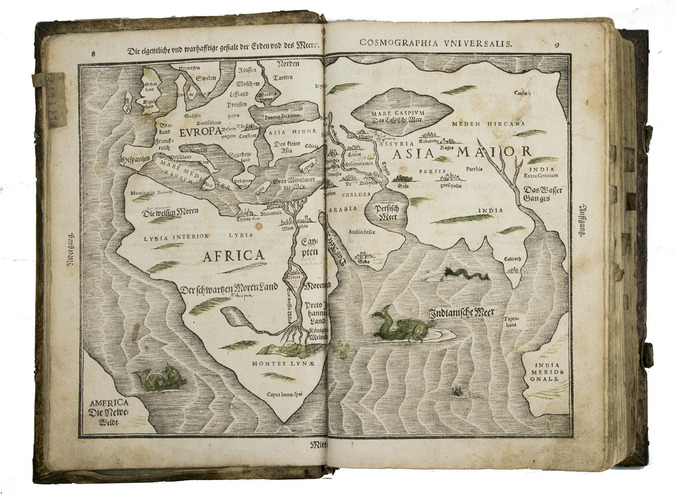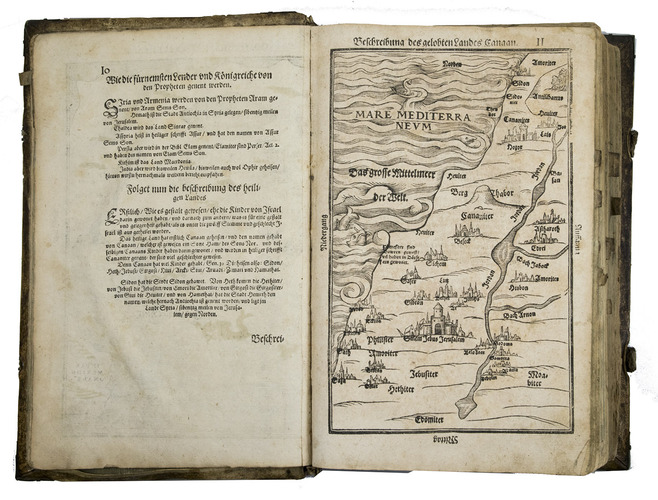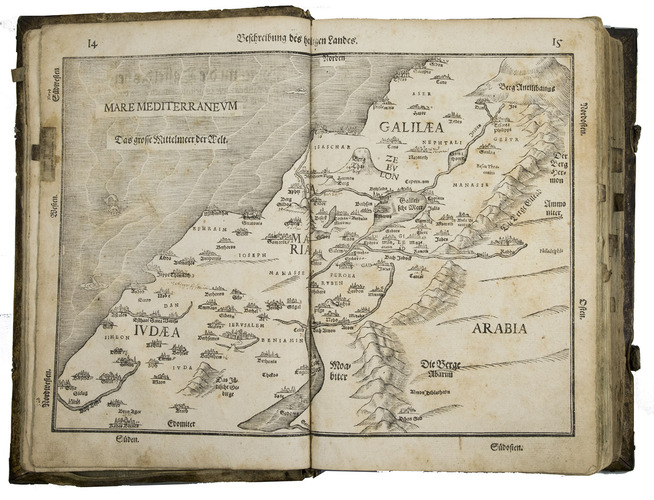 BÜNTING, Heinrich and Matthias HASAERT.
Itinerarium Sacrae Scripturae, das ist Ein Reisebuch uber die gantze Heilige Schrifft ...
Including:
[BÜNTING, Heinrich]. Itinerarium Novi Testamenti. Das ist: Ein Reisebuch over das Newe Testament.
BÜNTING, Heinrich. De monetis et mensuris sacrae scripturae. Dass ist: Ein eigentliche ausrechnung und beschreibung aller Müntz und Masse in heiliger Schrift. ...
Magdeburg, Paul Donat for Ambrosius Kirchner, 1585. With 3 title-pages, 7 double-page and 2 full-page woodcut maps
With: (2) BÜNTING, Heinrich. Braunschweigische und Luneburgische Chronica.
Including:
Das ander Theil Braunschweigischen Chronica, gehet auff das Land Lüneburg
Das dritte Theil, der Braunschweigischen und Lüneburgischen Chronica, ...
Das vierte Theil dieses Buches, gehet insonderheit auff das Fürstenthumb Grubenhagen, füret ... den geburts Stam des fürstlichen Hauses Braunschweig und Lüneburg.
Magdeburg, Paul Donat for Ambrosius Kirchner, 1584-1585. General title-page in red and black with the woodcut coat of arms of Julius of Braunschweig-Wolfenbüttel, further with numerous finely detailed woodcut illustrations
2 works in 3 and 4 volumes, bound as 1. Folio. Contemporary, richly blind-tooled pigskin, possibly by Nikolaus Müller in Wittenberg. With a matching pair of panel stamps in the central fields: portraits of Martin Luther (front board, 83 x 44 mm) and Phillip Melanchthon (back board, 81 x 45 mm), each with the date 1556 and text below. Ad 1: [16], "141" [= 242], [18]; [6], 110, [9] [3 blank]; [6], "34" [= 33], [1 blank] pp.; ad 2: [14], "150" [= 151], [1 blank]; "46" [= 47]. [1 blank]; [1], 47-82, [1 blank]; [1], "82"-"113" [= 83-109] ll.
€ 27,500
Rare third(?) edition, in the original German, of a classic account of Biblical travels, the Itinerarium sacrae scripturae, written by the Hannover (in Lower Saxony) Lutheran pastor and theologian Heinrich Bünting (1545-1606), first published by Jakob Lucius the elder at Helmstedt in Lower Saxony in 1581, with the third volume, De monetis et mensuris sacrae scripturae, added in 1582. It is here bound with the first edition of Büntings complementary Chronica, a chronical of his native region made to accompany the present third edition of his Itinerarium. These editions therefore brought Büntings work largely to its definitive form. Both proved extremely popular, and most later editions were produced as matching sets of the Itinerarium and Chronica, which appeared in almost 80 editions (in seven languages) into the 18th century. "However much a work of the study, this book [the Itinerarium] could be easily taken and read as a travel book. Bünting, although he had never actually visited Palestine, produced an original work by recasting sacred scripture into a Reissbuch" (Noonan); "the most complete summary of the knowledge of that day concerning the geography of the biblical events" (Van der Heijden, p. 55).
The Chronica, matching in format and produced by the same printer and publisher at the same time, contains a wealth of historical, military, heraldic and genealogical information, beautifully illustrated with finely detailed woodcuts, with a special emphasis on the regions around Braunschweig and Lüneburg in Lower Saxony.
The contemporary binding of the present copy is spectacular and remarkable, almost certainly produced in Saxony and possibly by Nikolaus Müller in Wittenberg, where Bünting studied. It gives the date of the binding itself (the year after publication), the initials of the owner who commissioned it, and shows a rare pair of dated panel stamps (portraits of Luther and Melanchthon, both 1556), and one of the three rolls is dated 1563.
The "1581" and "1582" versions of the Itinerarium published in Helmsted also seem likely to be issues of a single edition. If so the present Itinerarium is the third edition, after 1581/82 Helmsted and 1583 Wolfenbüttel.
With the unidentified initials AP of the first owner on the 1586 binding, a 1681 owners inscription, "H. de Veltheim permuta Dn. J Haltmeier Ao 1681", perhaps meaning the late minister of the church Johannes Haltmeier (1590-1664) of Markt Alvensleben in Sachsen-Anhalt. Also with an early drawing in the margin of the Chronica L1. The binding shows some minor abrasions, mostly on the back board, but the panel stamps and tooling are generally well-preserved. A rare and important set of Büntings Itinerarium, the first edition to be accompanied by the Chronica, together in contemporary (1586), richly blind-tooled pigskin with Luther and Melanchthon panel stamps (1556). Ad 1: BMC STC German, p. 164; H.A.M. van der Heijden, "Heinrich Büntings Itinerarium ...", in: Quaerendo, 28 (1998), pp. 49-71, no. 7 (3 copies); Index Aureliensis 5 (1964); USTC 668397 (3 copies, incl. 1 in Van der Heijden); VD 16, ZV2668 (same 3 copies as USTC); cf. Adams B3156 (1597 Magdeburg ed.); for the maps: Laor, Maps of the Holy Land 139-146, 968 (maps in various eds., 1582-1648); not in Karrow; for the author and text: F.T. Noonan, The road to Jerusalem: pilgrimage and travel in the age of discovery (2007), pp. 158-160. Ad 2: BMC STC German, p. 164; USTC 616928 (8 copies, vol. 2 dated 1584) & 616927 (6 copies, with vols. 2 & 3 dated 1584); VD16, B9152 (same 8 copies) & B9151 (same 6 copies); cf. Adams B3156 (1597 Magdeburg ed.). For the panel stamps: Einbanddatenbank p000339 & p000338; Weale, Bookbindings and rubbings ... (1894), rubbings 760 & 761.
Related Subjects: