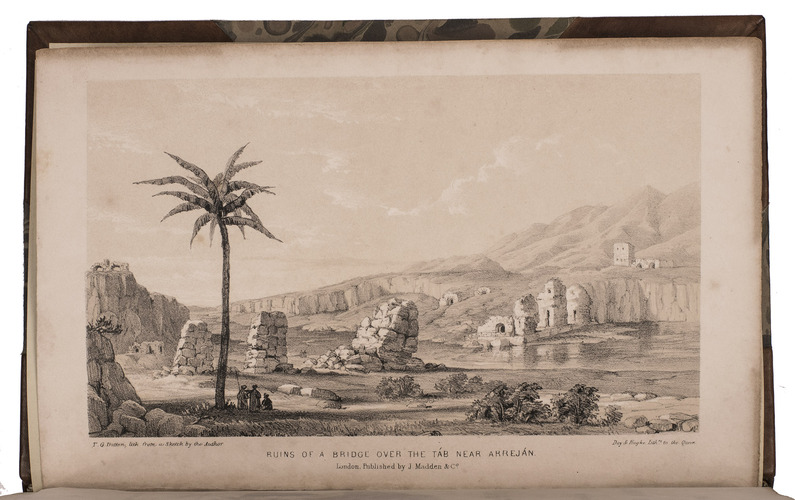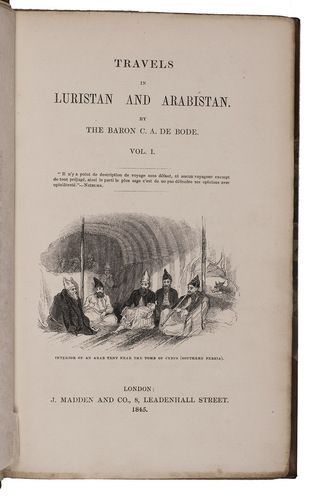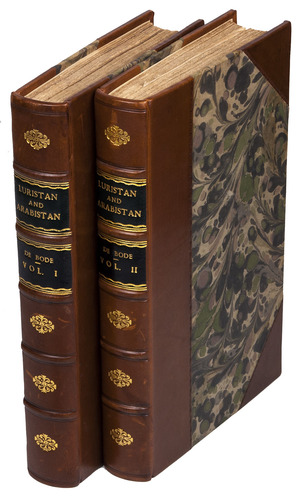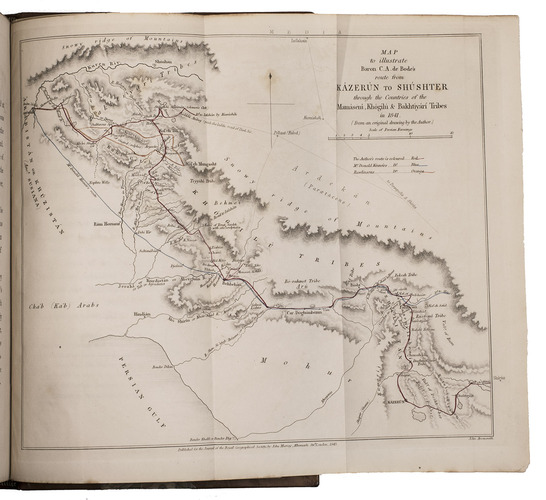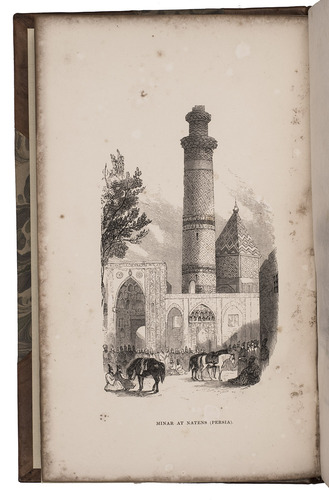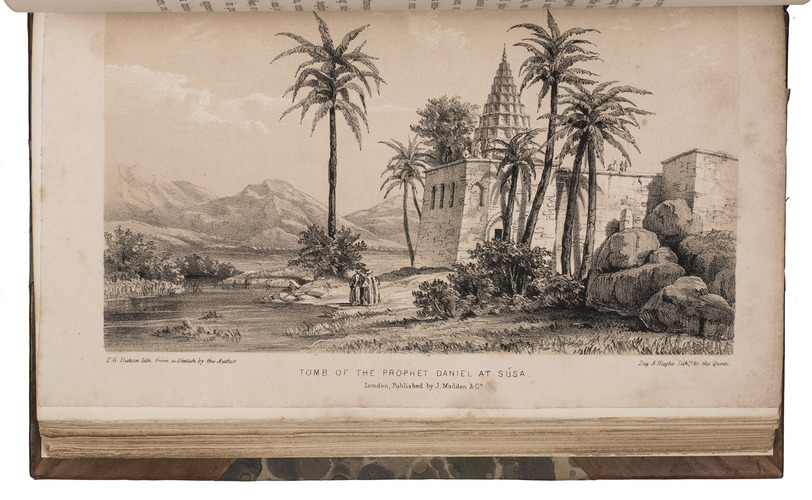 BODE, Clement Augustus de.
Travels in Luristan and Arabistan.
Including: BODE, Clement Augustus de. Observations on the march of Timur ... and on the probable course pursued by Alexander the Great, on his expedition from Susa to Persepolis.
London, J. Madden and Co., 1845. 2 volumes. 8vo. With a wood-engraved illustration on the title-page to each volume, 15 plates, 2 folding engraved maps and 3 wood-engraved illustrations in text. The 15 plates (4 tinted lithographs and 11 wood engravings) consists of 2 frontispieces, a folding plate, a double-page plate and 11 single-page plates. Modern half calf, marbled (Period Binders, Bath, England). XX, 404; XII, 398, [1], [1 blank] pp.
€ 8,500
First edition of an important travelogue on Persia, giving detailed accounts of its history, antiquities and archaeological sites. It was written by Clement August de Bode, member of the Russian legislation at Tehran
"The author travelled in 1841 from Tehran to Esfahan, Persepolis, Shiraz, Kazeroun, Shushtar, Dezful, Susa, Khorramabad, Boroujerd and back to Tehran. It [this work] is mostly a travel book, however, the author gives a good picture of tribal life and especially the political situation in Fars; principally the hostility between the Qashqai tribe which controlled the countryside and the Qavam ol Molk family which controlled Shiraz. There are also descriptions of historical sites and monuments along the way" (Ghani). "It is with the view of rescuing from a second oblivion this once classical ground that the author has endeavoured to draw aside a corner of the veil which still covers this mysterious region" (preface).
With views showing the interior of an Arab tent near the tomb of Cyrus, a mosque at Natens, the ruins of a bridge over the Táb near Arreján, the pavilion of Finn near Kashan, bas-reliefs, a Sasaian toll-gate in the Bakhtiyari mountains, Iliyats milking their sheep and churning butter, the tomb of the prophet Daniel at Súsa, Cufic inscriptions at Khorremabád and much more. The maps illustrate de Bode's routes from Kazeroun to Shushtar and from Shushtar to Búrújird.
In a supplement, he published his observations on the routes of Timur and Alexander the Great, who crossed southwestern Persia during their conquering marches.
A very good set. Ghani, Iran and the West I, p. 93; Houtsma, E.J. Brill's first encyclopedia of Islam, 1913-1936, volume V, p. 52; not in Diba; on the author: Howgego, 1800-1850, G2.
Related Subjects: