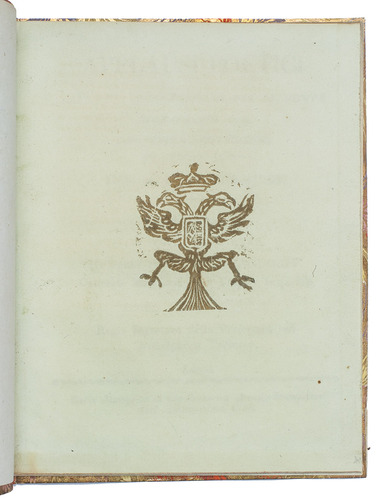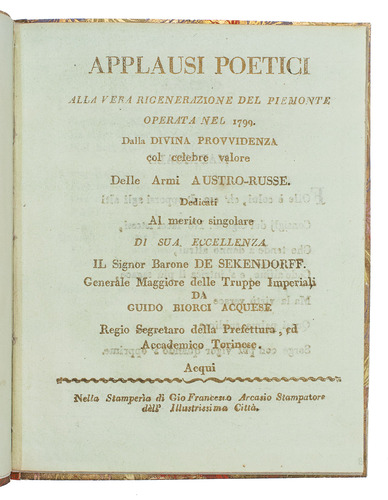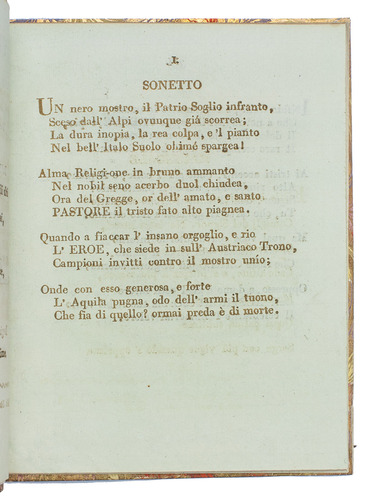 BIORCI, Guido.
Applausi poetici alla vera rigenerazione del Piemonte operata nel 1799. Dalla divina provvidenza col celebre valore delle armi Austro-Russe.
Acqui Terme (between Torino and Genoua), Giovanni Francesco Arcasio, [1799?]. 4to. With woodcut arms on first leaf. Printed in gold throughout. Gold-brocade decorated paper wrappers, showing an embossed floral pattern with hunters, a wild boar, deer and dogs scattered through it, in gold, orange, yellow, lavendar and blue. In modern clamshell box. [1], [1 blank], [8], [2 blank] pp.
€ 4,000
Verses celebrating the Habsburg Imperial forces' repulsion of the French from the walls of Acqui Terme in Piedmont (between Torino and Genoua) on 17 May 1799 during the War of the Second Coalition (1798-1801). Although the imprint explicitly indicates that it comes from Arcasio's printing office and that he is printer to the city of Acqui Terme, the ICCU records no other work under his name and no other publications at Acqui Terme between 1622 and 1805. It records only one other copy of the present work (at the Biblioteca Federico Patetta) and neither it nor the library's own catalogue indicates whether it is printed in gold (and neither describes the binding). That copy may also lack the initial leaf with the coat of arms and its blank conjugate. We have located no other copy. The book must have been printed in a very limited number of copies.
The printing shows through the paper slightly, but both the book and the wrapper are in fine condition, with only a few small bits of dirt on the wrapper and a couple very minor stains in the foot margin of the last printed page. An extraordinary and extremely rare piece of occasional printing from the War of the Second Coalition. ICCU (1 copy); not in WorldCat.
Related Subjects: