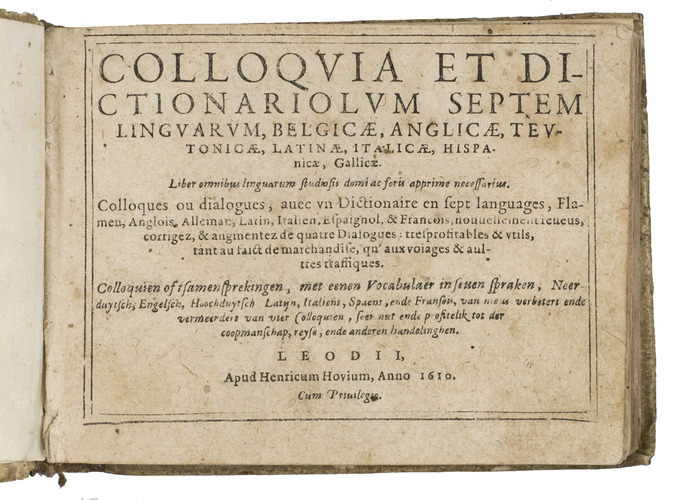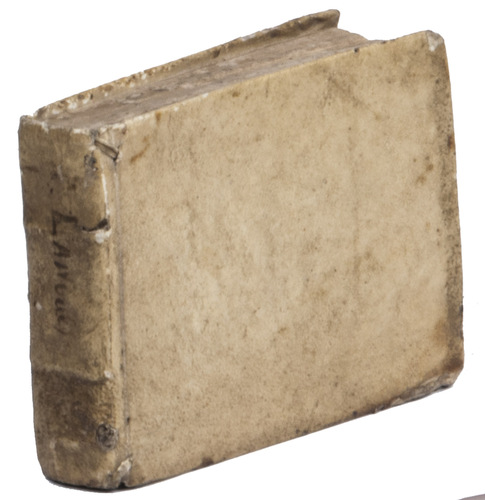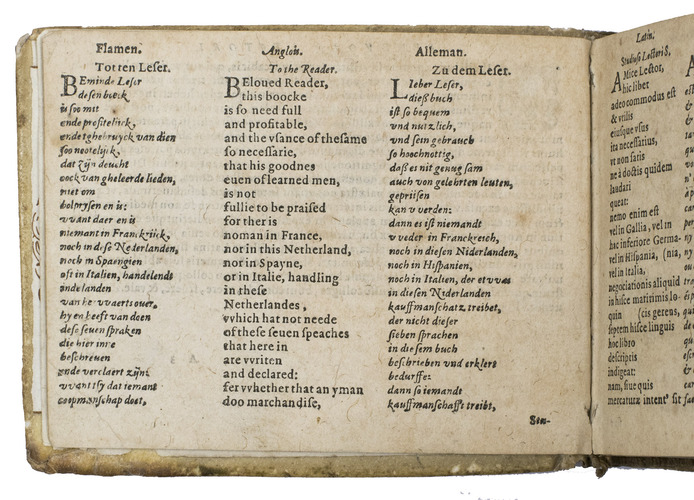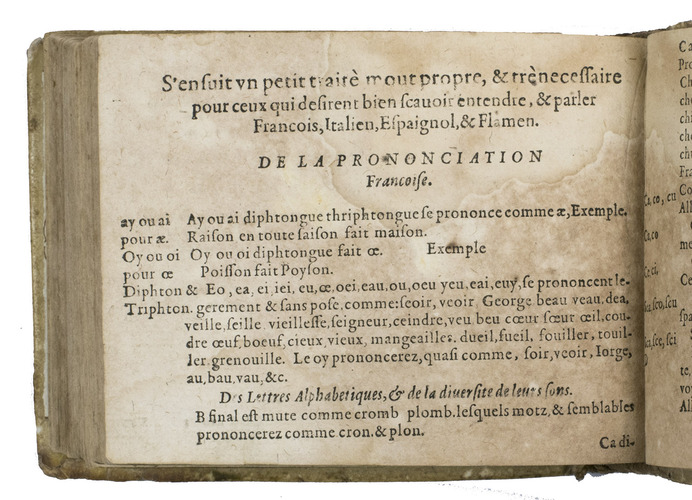 BERLAIMONT, Noël de
Colloquia et dictionariolum septem linguarum, Belgicae, Anglicae, Tevtonicae, Latinae, Italicae, Hispanicae, Gallicae. ... Colloques ou dialogues, avec un dictionaire en sept language, Flamen, Anglois, Allemat, Latin, Italien, Espaignol & Francois, ... Colloquien of t samensprekingen, met eenen vocabulaer in seven spraken, Neerduytsch, Engelsen, Hoochduytsch, Latijn, Italiens, Spaens, ende Fransois, van nieu verbetert ende vermeerdert van vier colloquien, seer nut ende profitelik tot der coopmanschap, reyse, ende anderen handelinghen.
Liège, Henricus Hovius, 1610. Oblong 16mo in 8s (9 x 12 cm). Contemporary sheepskin parchment. [400] pp.
€ 2,950
Rare 1610 Liège edition of one of the most successful and remarkable multilingual phrasebooks of all time. The colloquia and dictionary offered its readers handy phrases in seven languages: Flemish, English, German Latin, French, Spanish and Italian, printed in that order in parallel columns over each double-page spread. According to Claes, Verdeyen, and Van Loonen the first edition, in French and Dutch only, had been published about 1530, and had been composed by an Antwerp schoolteacher, Noël de Berlaimont. Today, we can trace over 150 editions of this work between the 1530s and 1885. The first edition with seven languages was printed in 1586 in Antwerp. De Berlaimont advertised his book as a practical and cheap way to learn and converse in multiple languages. Rather than writing a typical dictionary, he gave his readers practical short sentences to use in the most common situations. De Berlaimonts dictionary offered its readers not only individual sentences on specific topics, but entire conversations in different situations, so the text, though mostly with two or three words to a line, can be read as a continuous text.
The "A Lanbury"(?) on the spine may be an early owner. With an armorial bookplate (ca. 1900) with motto "labor omnia vincit" but the family name of the owner is mostly torn off ("Giovanni ...eri"?) and we have not identified the arms: a fess gules with above, the upper part of a rampant lion and below, azure three 5-pointed stars or. With the headings of the columns (indicating the language) slightly shaved on an occasional page, and some foxing, water stains and browning (severe browning in quires I and K, which also have a different watermark), but otherwise in good condition. The binding slightly loose and with a few worm holes, but still in good condition. ESTC S1428 (8 copies); Peeters-Fontainas 343 (3 copies); STC 1431.20; STCN 427501717 (no location: based on BnF copy on Gallica); cf. STCV (2 copies of 1616 ed.); USTC 1116924 (1 copy of variant issue(?) of 1610 ed.).
Related Subjects: