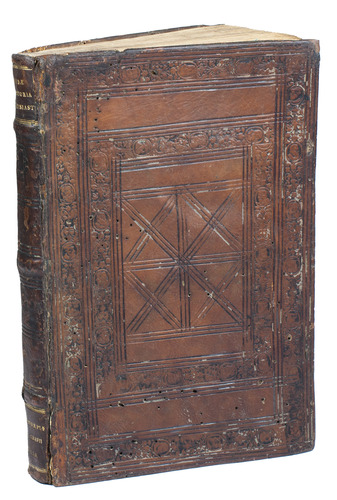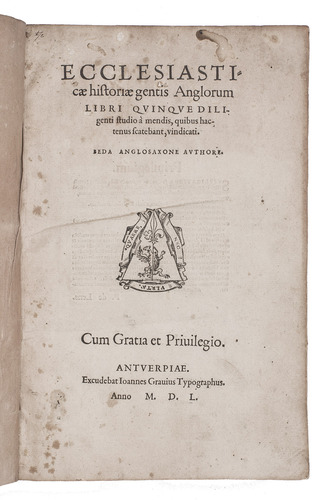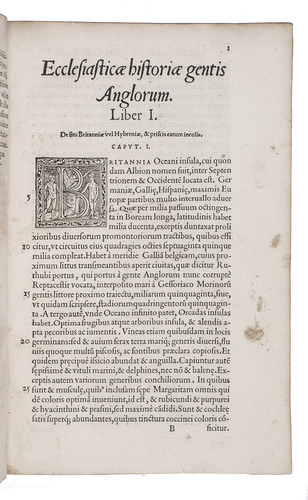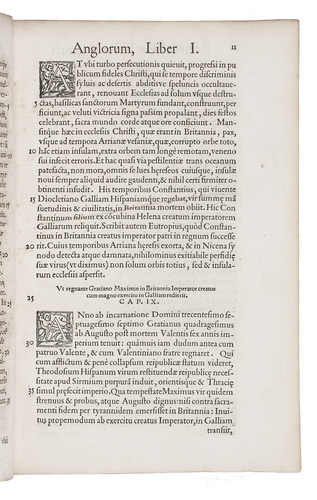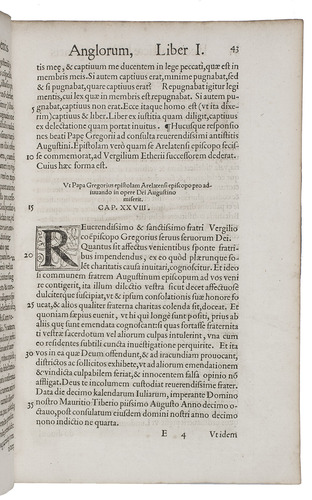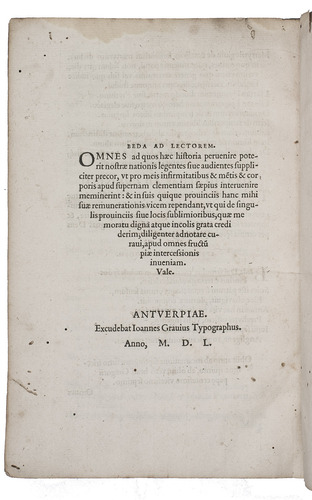 BEDA VENERABILIS (The Venerable BEDE).
Ecclesiasticae historiae gentis Anglorum libri quinque diligenti studio à mendis, quibus hactenus scatebant, vindicati.
Including: BEDA VENERABILIS. Epitome sive breviarium totius praecedentis historiae Anglorum ...
Antwerp, Joannes de Grave (Gravius), 1550. Folio. With De Grave's woodcut armorial device on title-page (repeated on the otherwise blank final leaf) and 30 woodcut decorated initials. Contemporary blind-tooled calf, each board with a double border made from a roll with 4 heads in profile, not labelled but showing Martin Luther, Philipp Melanchthon, Desiderius Erasmus and apparently the Holy Roman Emperor Charles V rather than the more common Jan Hus, each in an oval wreath and separated by foliage (bilaterally symmetrical both vertically and horizontally). [6], 263, [1 blank], [12] pp.
€ 4,000
Second and most important edition, in the original Latin, of the greatest work by the father of English history, the Venerable Bede (672/73-735 AD), his Ecclesiastical history of the English people, completed ca. 731 AD. It begins with the Roman invasion of England in 55 BC and covers the introduction of Christianity to England and the entire history of England up to Bede's own day. Although nominally a religious history it remains the most important source for English history in general for its period. Few works have ever dominated a subject as much as Bede's history, which established the notion of English history, served as the most important source for his period for nearly every writer who followed, and remains today an essential primary source for any history of England before 735. This work even largely established today's practice of dating events from the birth of Christ and the use of the term 'anno domini' (AD).
This edition is also an impressive example of Renaissance typography in Antwerp, five years before Plantin set up his printing office.
Lacking the blank leaf A4. With mostly marginal foxing and some minor browning in the first few quires and an occasional later sheet, a few marginal worm holes, mostly confined to quires R to Y, and an occasional minor stain or small marginal tear, but still in good condition, most leaves very good. The binding was refurbished in the early 19th-century, the hinges are cracked and the front free endleaf is browned, but most of the tooling is well-preserved, and the portrait roll was used so extensively (each of the four portraits appears about 15 or 20 times) that one can find an abundance of crisp impressions. Adams B452; Belg. Typ. 277; Index Aureliensis 115.647; USTC 400809 (erroneous collation).
Related Subjects: