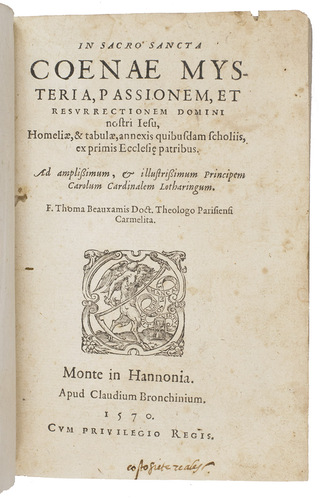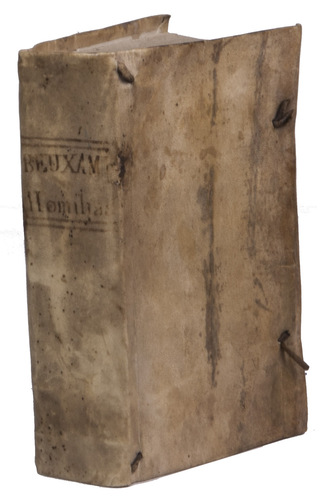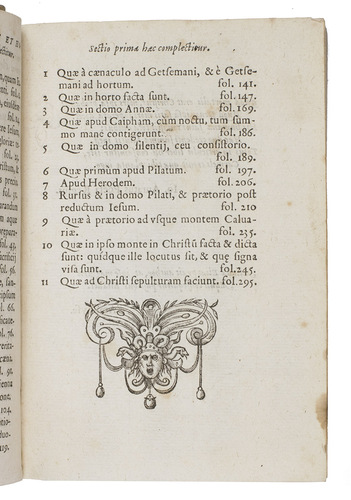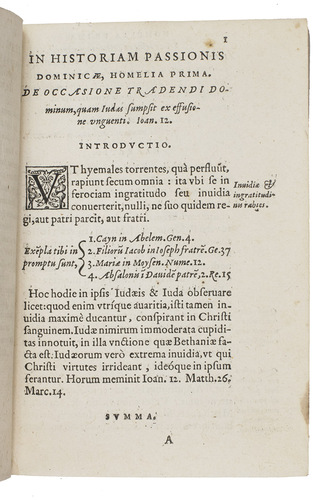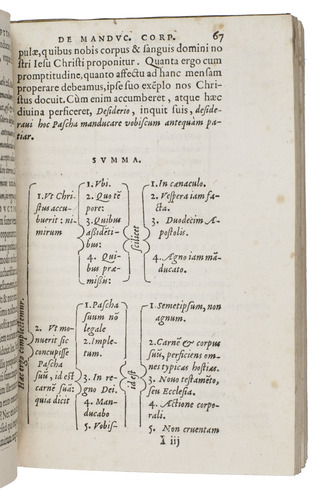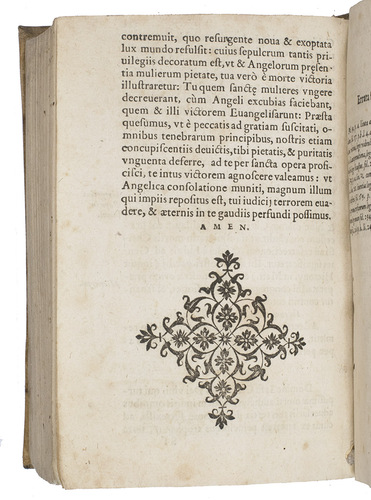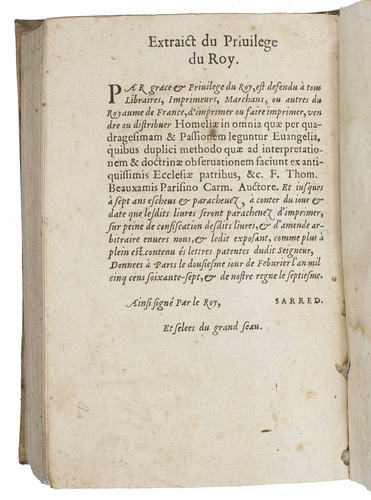 BEAUXAMIS, Thomas.
In sacro sancta Coenae mysteria, passionem, et resurrectionem domini nostri Jesu, homeliae, & tabulae, annexis quibusdam scholiis, ex primis ecclesiae patribus. Ad amplissimum, & illustrissimum principem carolum cardinalem Lotharingum.
Mons (Belgium), Claude de Bronchin [printed in Paris by Guillaume Chaudière], 1570. 8vo. With Chaudières woodcut device on the title-page (Chronos, with the motto, "hancas iem sol retundit virtus"), a woodcut headpiece, 2 woodcut tailpieces and 2 woodcut initials (from 2 different series). Limp vellum (ca. 1700?). [6], 321, [1] ll.
€ 3,500
Second known copy of the Mons issue of the first edition of a collection of Latin sermons on the Last Supper, the Passion and the resurrection of Christ, by the famous French theologian and polemicist Thomas Beauxamis (1524-1589). The dedication to Cardinal Louis of Lorrain is dated 1 January 1570. The present first edition was printed in Paris by the printer and bookseller Guillaume Chaudière, and the title-page bears his device, but he changed the imprint during the press-run to produce a small number of copies for the Mons bookseller Claude de Bronchim ("Monte in Hannonia. Apud Claudium Bronchinium"). Rousselle records no Mons publications before 1580, though the USTC records examples from 1553. This appears to be the only known book with the imprint of Claude de Bronchin, though he is recorded as a bookseller at Mons from 1569 to 1578, when he did business with (probably bought books from) Christoffel Plantin in Antwerp, but he appears to have died in the latter year.
Beauxamis was born in Melun, France, where he joined a monastery of the Carmelite order. He studied philosophy and theology and became a Doctor of Theology in 1567. At the congregation of Albi he was vicar-general for three years and became prior of the Carmelite convents of Melun and Paris at about the same time.
According to Cosme de Villiers, Anshelmus Steckelius made use of the present book for his Prectationes, meditationes in singulas uniuscujusque hebdomadae dies divisiae and his Enchiridion quadragesimale precationum diarium, both published at Munich in 1585. Beauxamis himself left many writings, the present being one of his most important.
In good condition, with only occasional minor foxing and a few marginal worm holes in a few leaves. USTC 443025 (1 copy; cf. 138312, the Paris issue); cf. Adams, B419 (Paris issue); Belgica typographica 275 (1573 Antwerp ed.); French books 56578 (Paris issue); not in BMC STC Dutch; BMC STC French; Bibliotheca Belgica; Rousselle, Bibliographic Montoise; for De Bronchin: Marc Lefèvre, "Libraires Belges en relations commerciales avec Christophe Plantin et Jean Moretus", in: De Gulden Passer, 41 (1963), pp. 1-47, at p. 34.
Related Subjects: