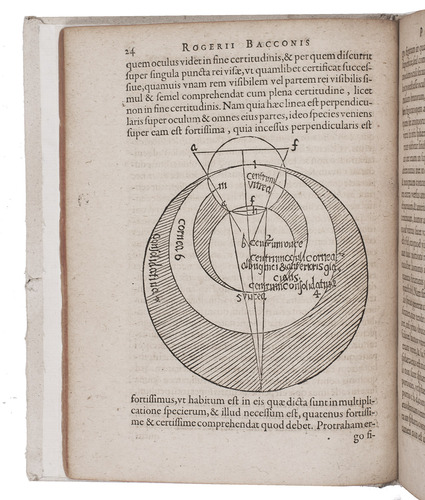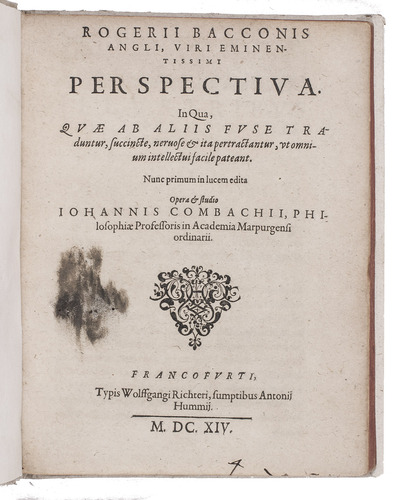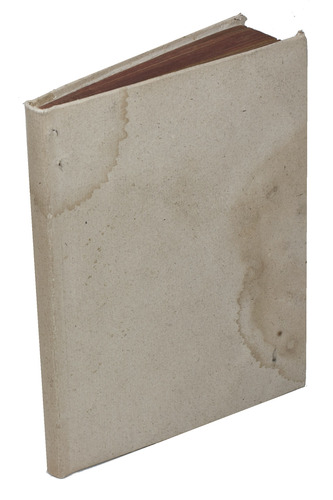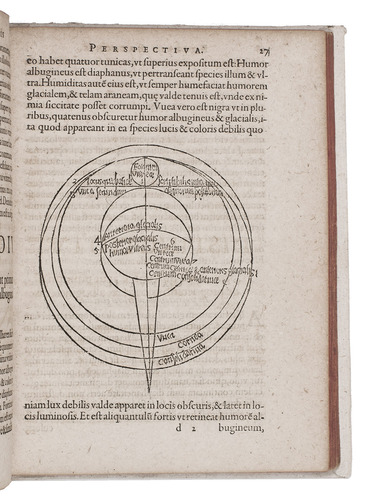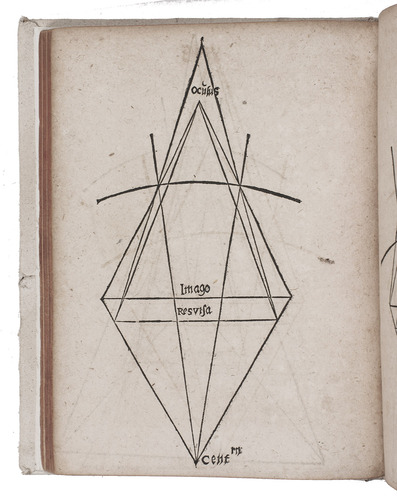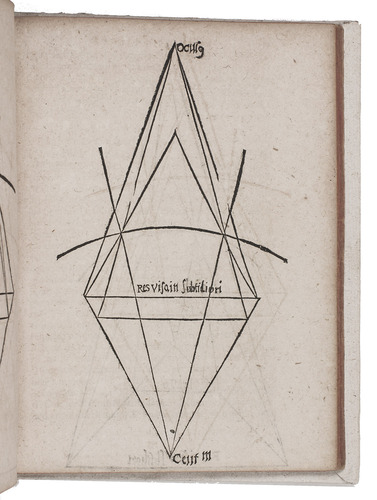 BACON, Roger.
Perspectiva. In qua, quae ab aliis fuse traduntur, succincte, nervose & ita pertractantur, ut omnium intellectui facile pateant. Nunc primum in lucem edita. Opera & studio Joannis Combachii.
Frankfurt, Wolffgang Richter for Antonius Hummius, 1614. 4to. With 8 full-page woodcuts printed on both sides of four leaves inserted as plates, and numerous woodcut figures and illustrations in text, several full-page. Modern plain paper boards. [8], 189[=205], [1 blank] pp.
€ 9,500
First edition of a famous work on optics by the English natural philosopher and mathematician Roger Bacon (ca. 1220-ca. 1292). Bacon was well read in Arabic and ancient Greek sources on optics and perspective, a subject hardly studied in Europe during the earlier Middle Ages. The main sources for his theories were the writings of Euclid, Ptolemy and Alhazen (Ibn al-Haytham), and he followed Robert Grosseteste concerning the importance of light and in his emphasis on the use of lenses, not only for burning, but also for magnification to aid natural vision. Bacon advised magnifying glasses for old people as well as for people with weak eyes. The Perspectiva belonged to Bacon's Opus maius, compiled in manuscript in 1266-1267. The present edition was based on a medieval manuscript and was edited by Johann Combach (1585-1651), professor of philosophy at Marburg in Germany
With a stain on the title-page and two on the last blank, probably from removing old stamps, browned throughout with a few small spots, but overall in good condition. Binding with some water stains, but otherwise good. DSB I, pp. 377-384; VD17 23:236968W; cf. Kemp, The science of art, pp. 26, 211, and 269; Vagnetti DB5.
Related Subjects: