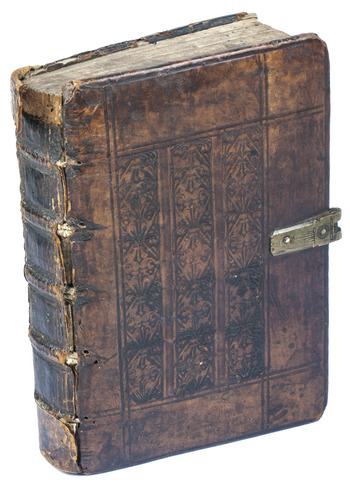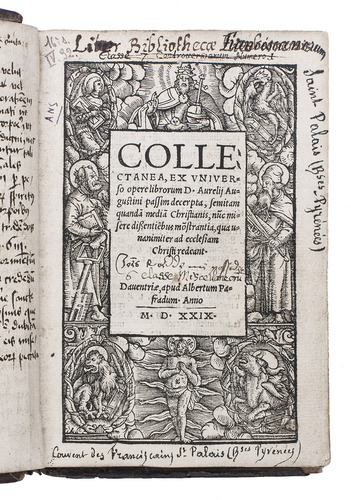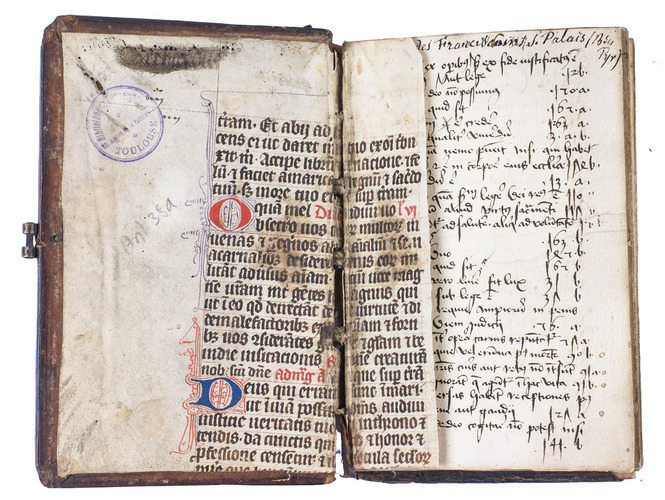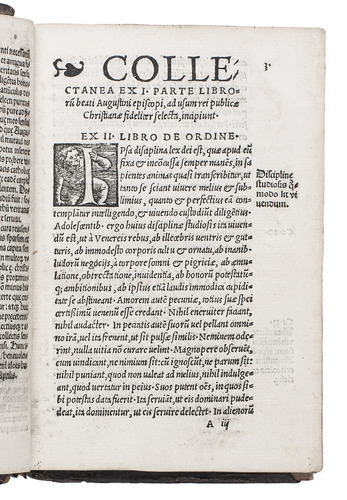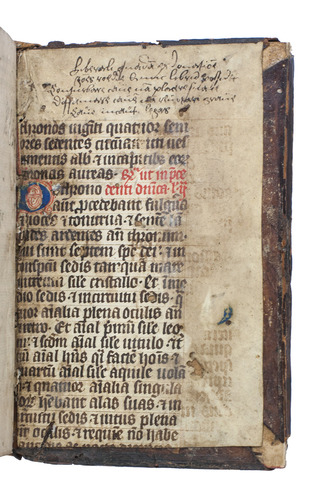 AUGUSTINE of Hippo (Saint AUGUSTINE).
Collectanea, ex universo opere librorum D. Aurelii Augustini passim decerpta, semitam quanda[m] media[m] Christianis, nu[n]c misere dissentie[n]bus[!] mon[s]trantia, qua unanimiter ad ecclesiam Christi redeant.
Deventer, Albert Paffraet, 1529. 8vo (16.5 x 10.5 cm). With the title in letterpress in a woodcut border and one woodcut initial. With a contemporary manuscript index (31 1/2 pp.) and contemporary manuscript notes (1 1/2 pp.) giving quotations from Saint Augustine on 16 leaves bound at the front. Contemporary blind-tooled brown calf over wooden boards (the back board replaced with paperboard), with a brass catch-plate in the middle of the fore-edge (clasp and anchor plate lacking and binding repaired). 196 ll.
€ 12,500
Rare first and only edition of a highly original selection of fragments from the works of Saint Augustine (354-430) assembled by an unknown humanist with the clear intention of defending the Catholic faith against the numerous kinds of reformers and heretics active in northern Europe in those days, and to bring back straying believers to the true faith. The compiler of this anthology, who dated his preface 23 March [1526?], has not been identified, but Albert Paffraet (d. 1553), the son of the more famous printer Richard Paffraet, published many books by contemporary humanists such as Erasmus, Murmellius, Reuchlin and Angelo Poliziano, including both pamphlets inspired by the ideas of the Reformation and defences of the traditional faith.
With owers inscriptions and stamps. With some small wormholes in the last few leaves, but otherwise in very good condition. The binding has been repaired, with a paper board replacing the back wooden board but covered by the original calf and the manuscript pastedown, three old patches on and near the spine (with the loss of the headbands) and the joints cracked. An interesting selection of fragments from the works of Saint Augustine. KVK & WorldCat (2 copies); NK 148 (2 copies); STCN (1 copy); USTC (4 copies, some no longer located); for the woodcut border: NAT V, 21.
Related Subjects: