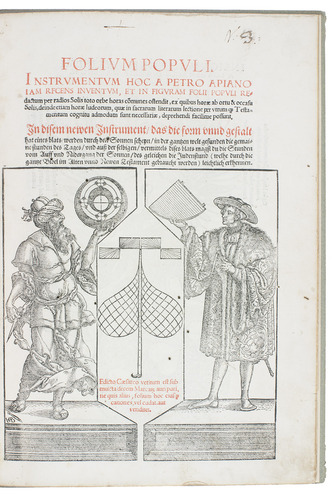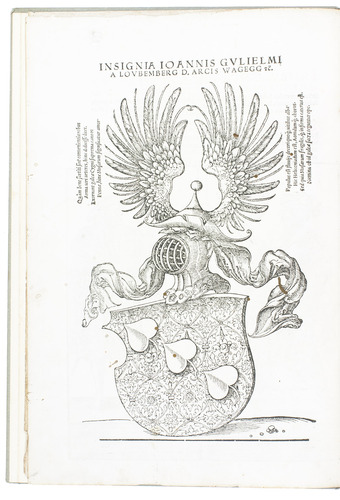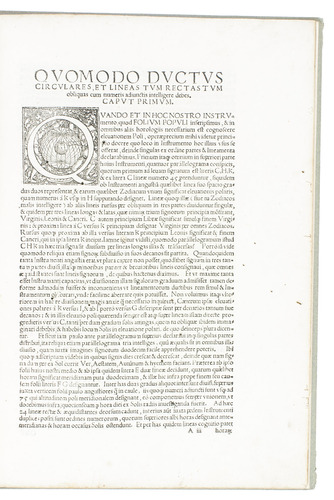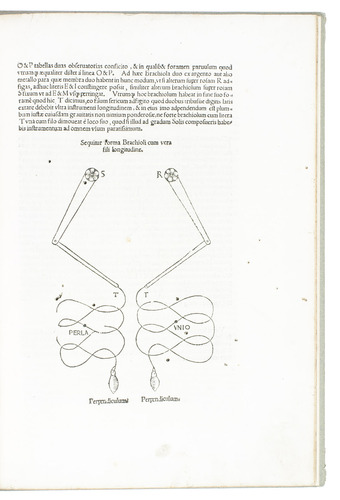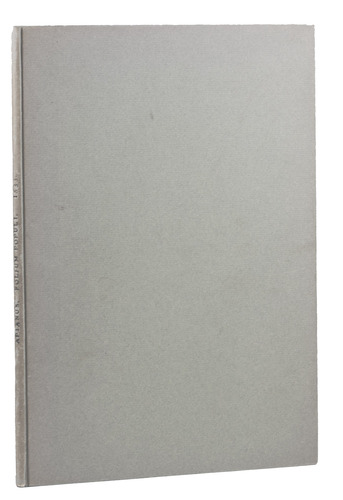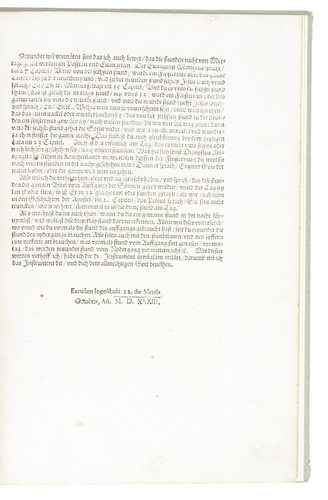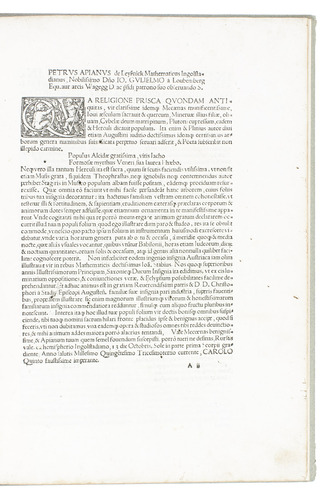 APIANUS, Petrus.
Folium populi.
(Colophon:) Ingolstadt, [Petrus Apianus], 22 October 1533. Folio (30 x 20.5 cm). With the text in Latin and German, title-page in red and black with a large woodcut by Hans Brosamer; a nearly full-page woodcut of the coat of arms of the dedicatee, J.G. of Loubenberg; a large woodcut diagram printed twice (in the Latin and in the German text); and 7 decorative initial letters. Without the folding plate included in a very small number of copies. Modern boards with the original fly-leaves preserved. [22] pp.
€ 2,250
First edition, in Latin and German, of Apianus's description of his newly invented sundial in the form of a poplar leaf. This instrument can be used to tell the hours of the day, the times of sunrise and sunset, and the so-called "Jewish" hours dividing the time between sunrise and sunset into 12 parts. The stunning woodcuts were executed by Hans Brosamer (ca. 1500-1554), with his monogram on the title woodcut next to the image of a woodblock cutter's knife. The title in the present copy is in an uncorrected state, with "RFCENS" and "RFDACTUM" for "RECENS" and "REDACTUM."
Apianus (1495-1552), cartographer and professor of mathematics at the University of Ingolstadt, was a pioneer in the design of astronomical and geographical instruments. He set up a printing office in his own home in order to oversee his scientific publications.
With wormholes slightly affecting the text and illustrations, but otherwise a very good copy and with generous margins. Lacking the final blank leaf, but with a contemporary fly-leaf at the front and another at the back. A pioneering horological work, beautifully illustrated. Adams A-1289; DSB I, pp. 178-179; Van Ortroy, Apian 106; Zinner, Astron. Instrumente, pp. 233-234; cf. WorldCat (microfilm only).
Related Subjects: