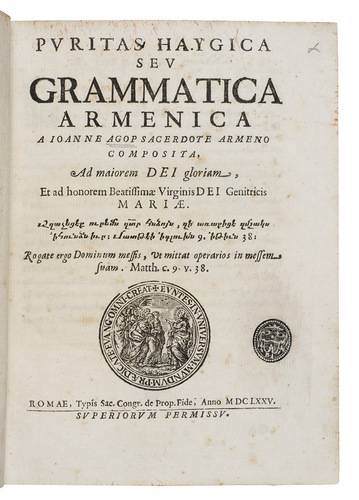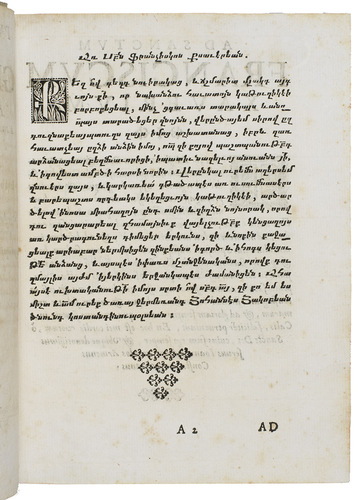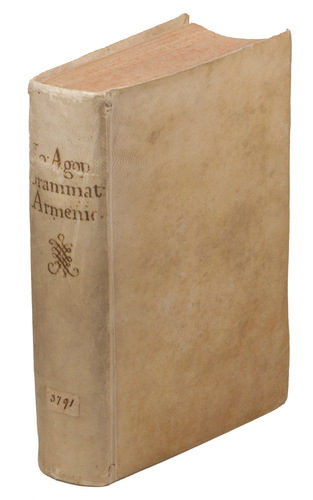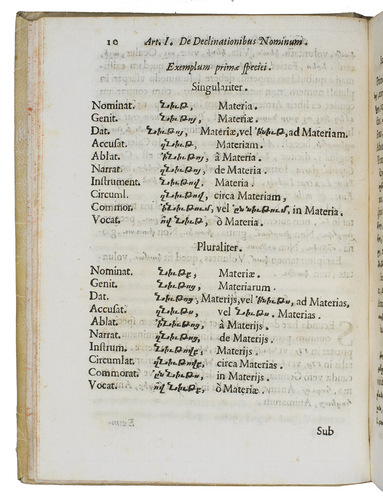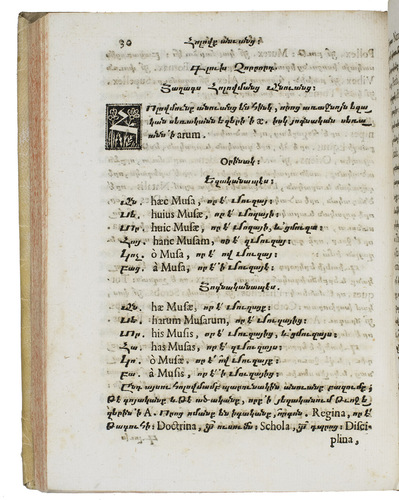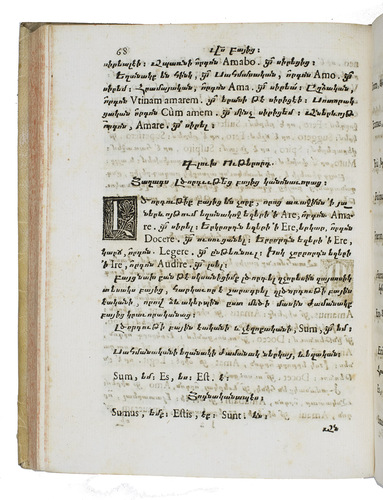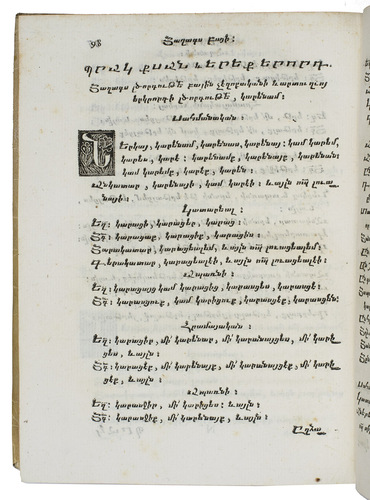 AGOP, Joannes (Yovhannès KONSTANDNOWPOLSECÍ).
Puritas Haygica seu grammatica Armenica ...
Rome, Sacrae Congretationis de Propaganda Fide, 1675.
With:
(2) AGOP, Joannes. Grammatica Latina Armenice' explicata: ...
Rome, Propaganda Fide, 1675.
(3) AGOP, Joannes. Puritas lingue Armenicae ...
Rome, Propaganda Fide, 1674. 3 works in 1 volume. 4to. Contemporary sheepskin parchment. [6], 246, [4]; 215, [1 blank]; 215, [1] pp.
€ 24,000
The first and only editions of three complementary manuals concerning the Armenian language and grammar, in matching format and layout, all three by the Armenian priest Johannes Agop (1635-1691) in Venice, born in Istanbul. They were printed and published by the Propaganda Fide in Rome, established in 1623 to promote the Catholic religion, primarily outside Europe. The Propaganda Fide established its own printing office in 1626 and stocked it with a wide variety of non-Latin printing types, many newly cut for them. Like many of their publications, the present ones were intended in part for missionaries working in the Ottoman Empire, the Caucasas and Iran, but also in part for Christians who lived in these regions. For that reason Agop wrote not only an Armenian grammar with the instructive text in Latin (ad 1), but also a Latin grammar with the instructive text in Armenian (ad 2) and a work entirely in Armenian on the "purity" of the Armenian language (ad 3). These linguistic publications by Agop still are important for the history of the Armenian language, being among the few on the subject published in the 17th century.
With the armorial stamp of Cardinal Albani (1649-1721), from 1700 Pope Clement XI, on the title-page. A few quires toward the end of the Puritas linguae Armenicae are browned, but otherwise a very good copy, with only an occasional small marginal tear or very minor foxing. Three important and complementary sources for the Armenian language, formerly owned by Pope Clement XI. Salmaslian 89.
Related Subjects: