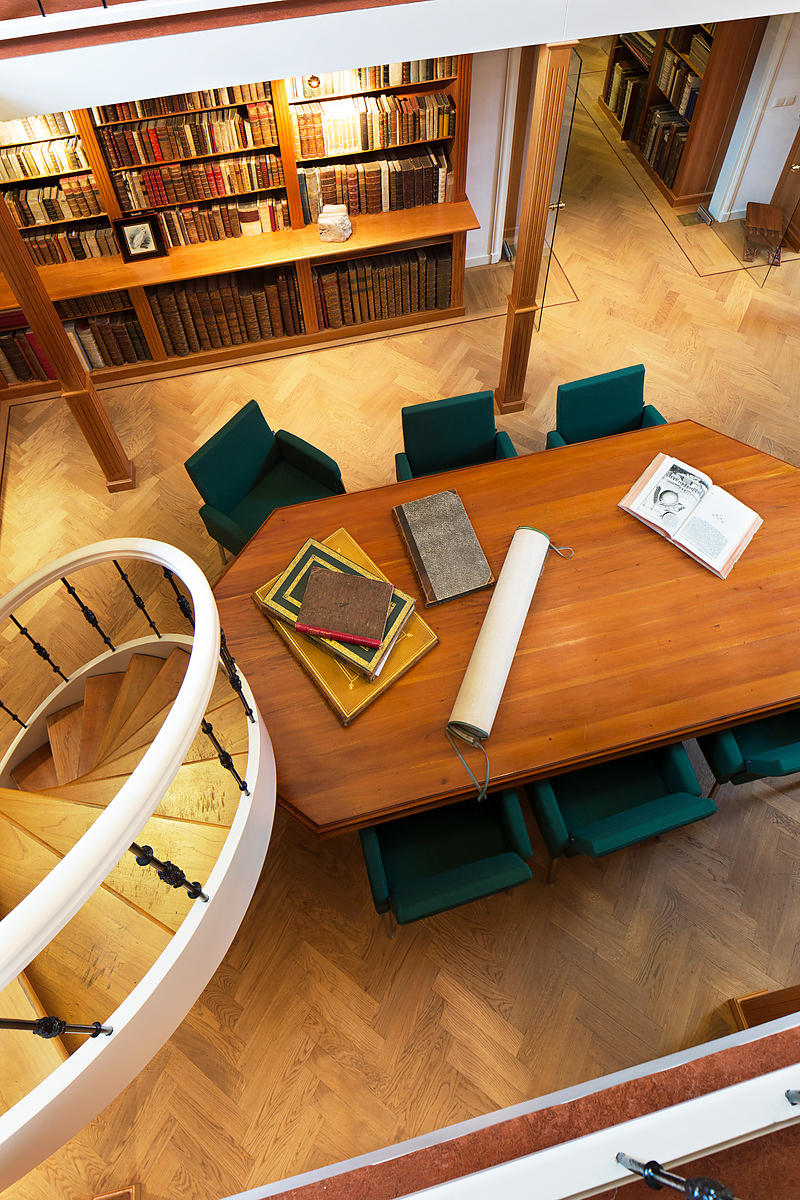 [PAINTING - SHIPS - NORTHWEST PASSAGE].
[The ships Erebus and Terror in the Arctic]. [England?, ca. 1850?]. Oil painting on canvas (65.5 x 91 cm), showing 2 ships in a rough sea amid dangerous rocks and ice. Later mounted on another canvas and stretched over a wooden frame, with a handwritten note about the painting pasted on the back.
€ 9,500
A mid-19th-century oil painting depicting two ships (3-masted barks) in a rough sea amid dangerous rocky and icy cliffs, mountains and outcroppings. Pasted to the back is an old slip of paper with a note (the parts of the text in parentheses are lost, but have been filled in based on an earlier transcription): "The sailing ships ('Erebus' and 'Terror') passing through the Davis Straig(ht) in 1846 [the 6 later "corrected" to 7]. It was on this expedition that Sir John Franklin discovered the North West Passage, and in which he lost his life". In fact Franklin sailed these two ships through Davis Strait in 1845, passed on through Lancaster Sound in search of a Northwest Passage and spent the winter on Beechey Island. In 1846 he and his expedition made their way through (using the modern names) Peel Sound and Franklin Strait into McClintock Channel, where they got caught in the ice near King William Island. Most of the crew died there, including Franklin in 1847. A few made it on foot to the mainland but were unable to reach any outpost. The last died in 1848. Since no one who saw the ships in these waters survived, the anonymous artist who made the present painting appears to have turned to an 1847 painting of the same ships by John Wilson Carmichael in London, though he did not copy it. Carmichael had earlier made a drawing of an expedition in search of the Northwest Passage by William Edward Parry (who made three expeditions in the years 1819 to 1825, each with two ships), but in 1847 he used parts of his existing Arctic scene as models for the composition of a new painting showing an Antarctic scene of James Clark Ross's voyage with the ships Erebus and Terror in 1842: "'Erebus' and 'Terror' in the Antarctic". Carmichael's drawing and painting survive at the National Maritime Museum in Greenwich. The central ship in the present painting follows that in Carmichael's painting quite closely and the second ship more distantly. The rocks and ice are similar in general appearance and arrangement but quite different in detail.With some restorations along the edges of the painting and a small scuffmark near the foot toward the left, but generally in good condition.
Cf. Howgego, 1800-1850, P9, R27 & F21.
Related Subjects: