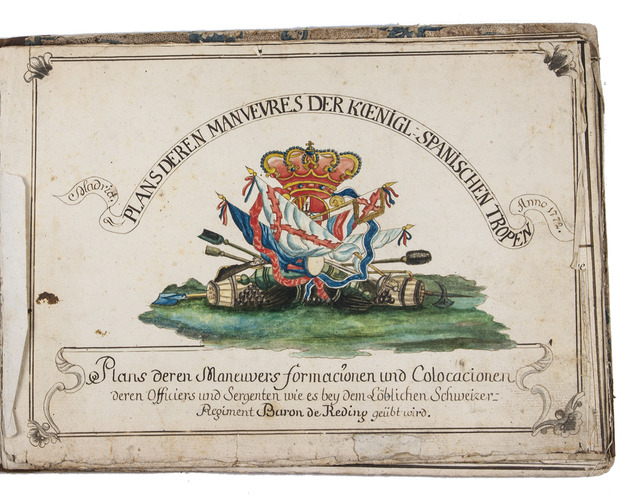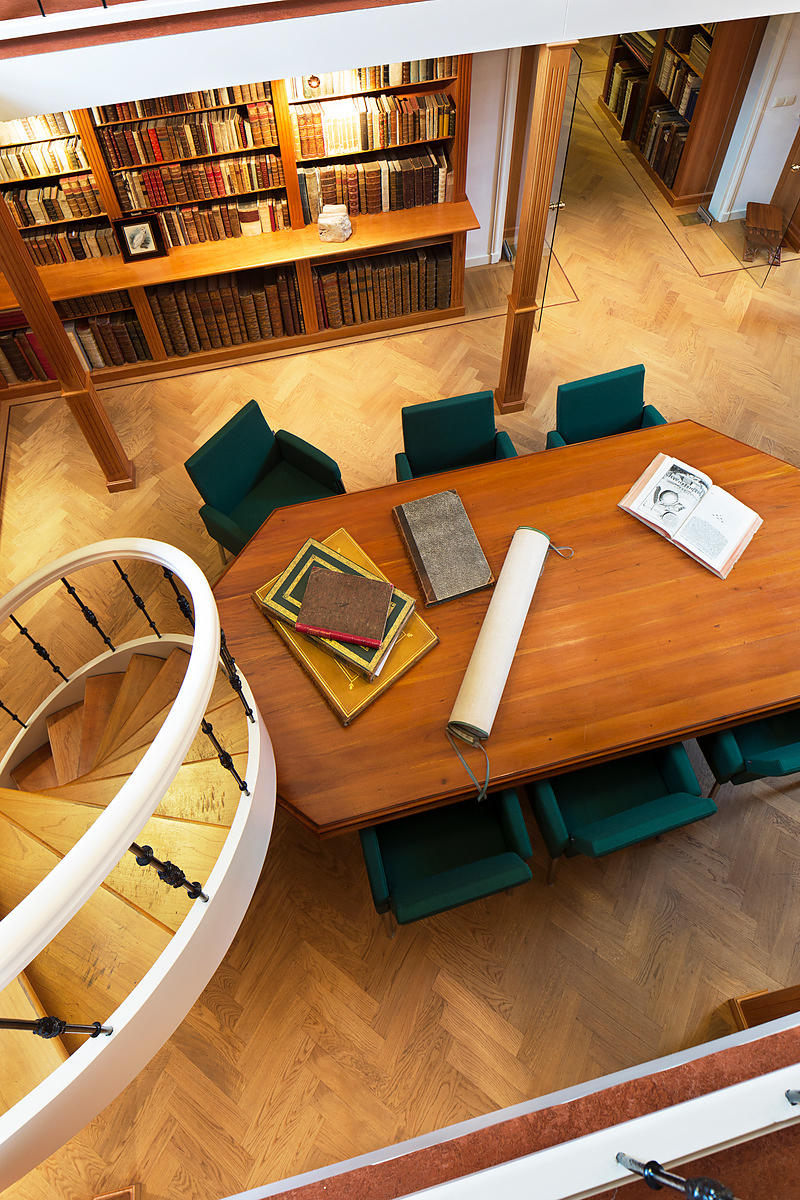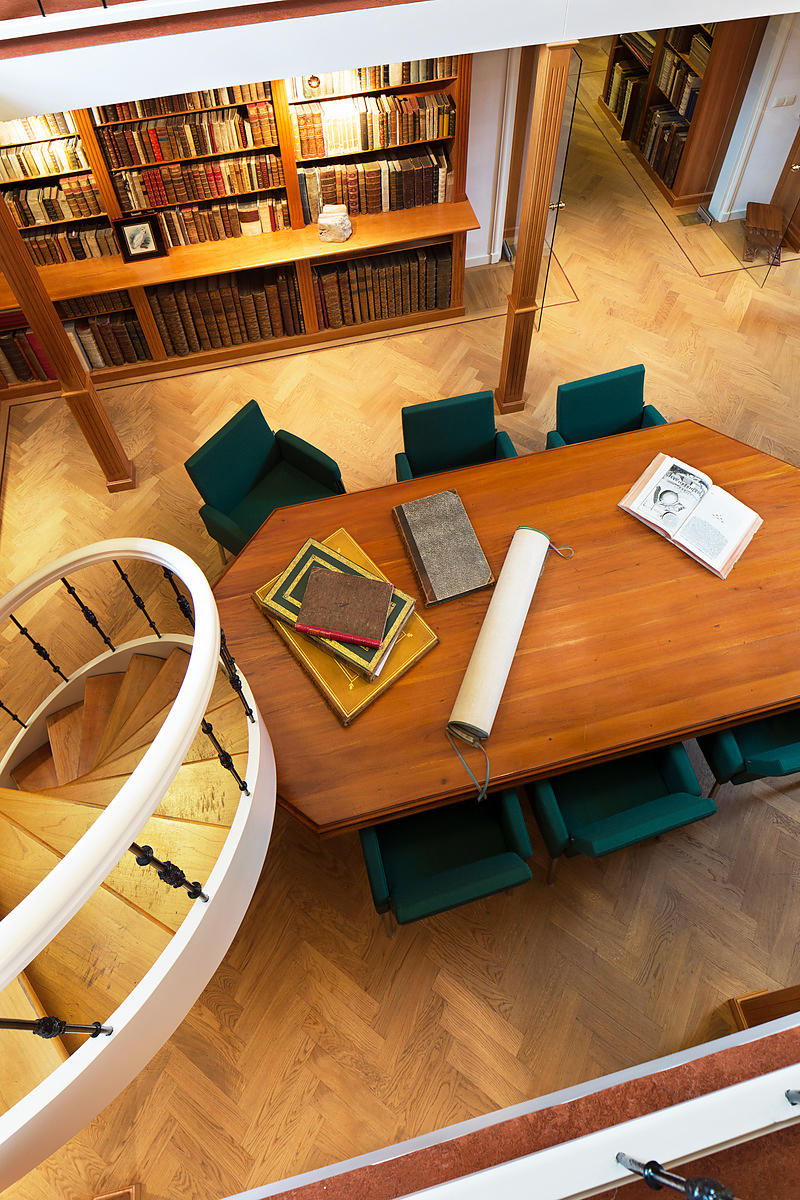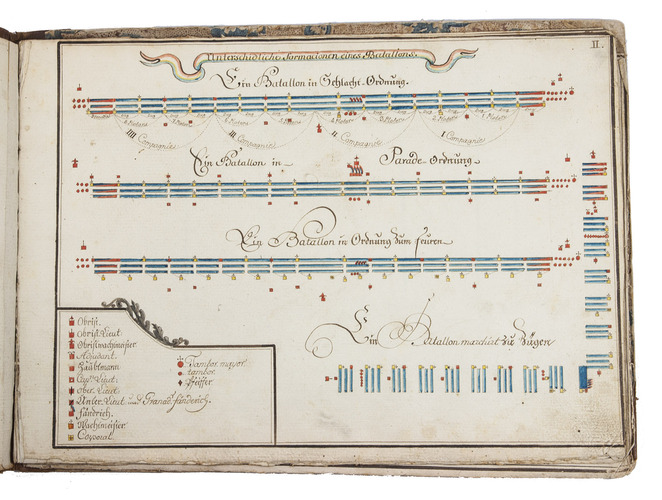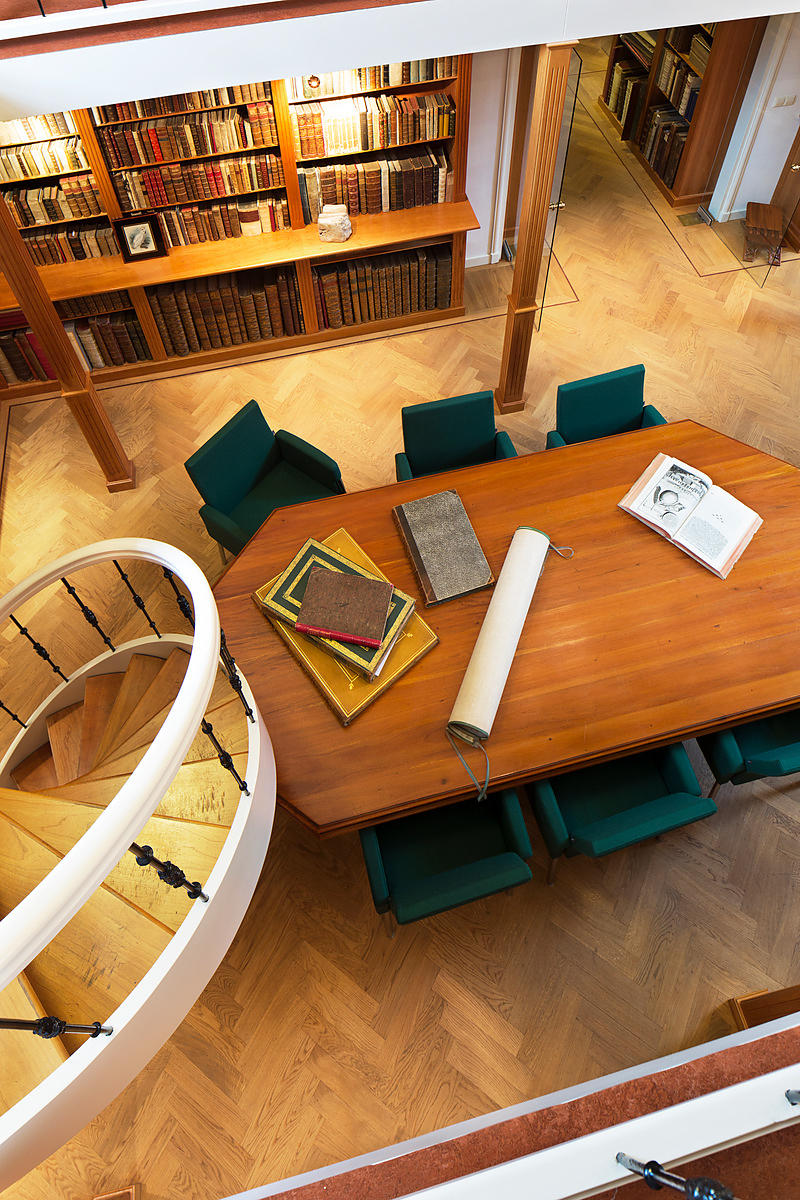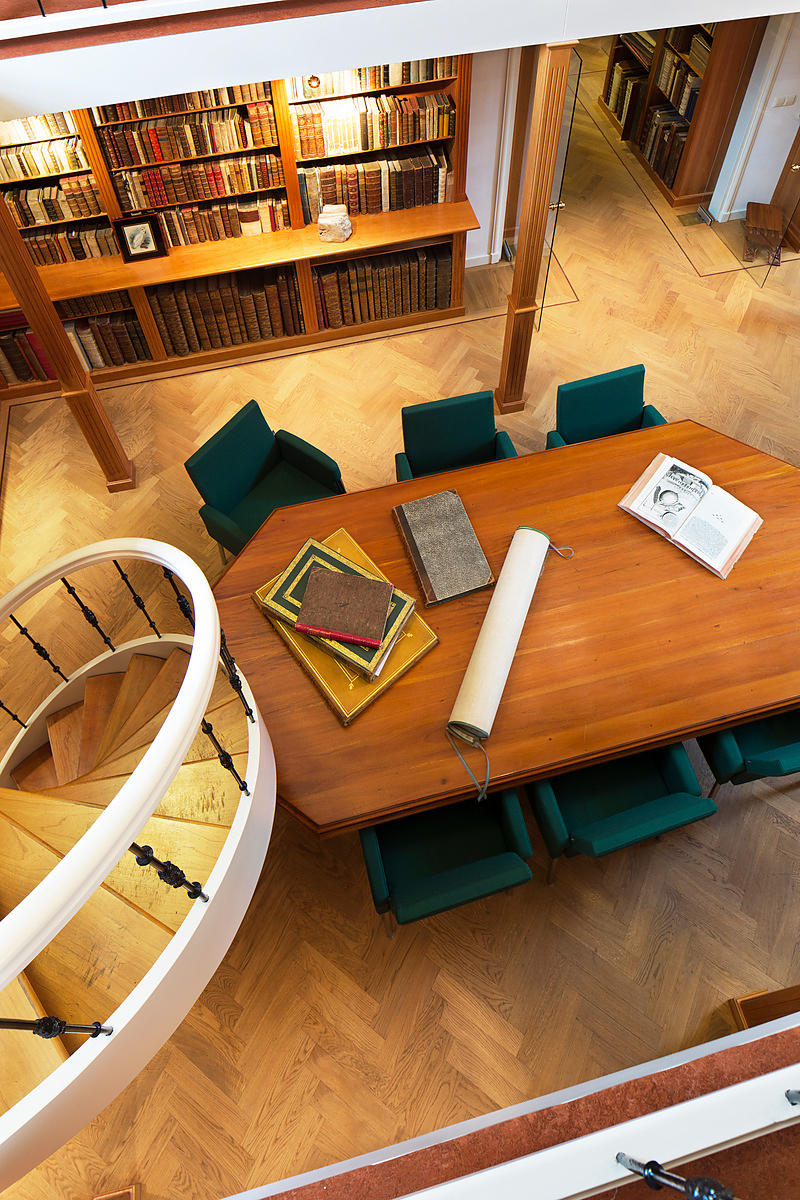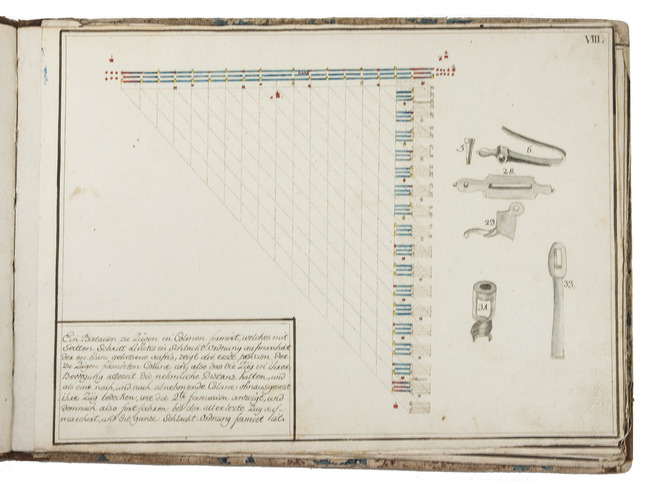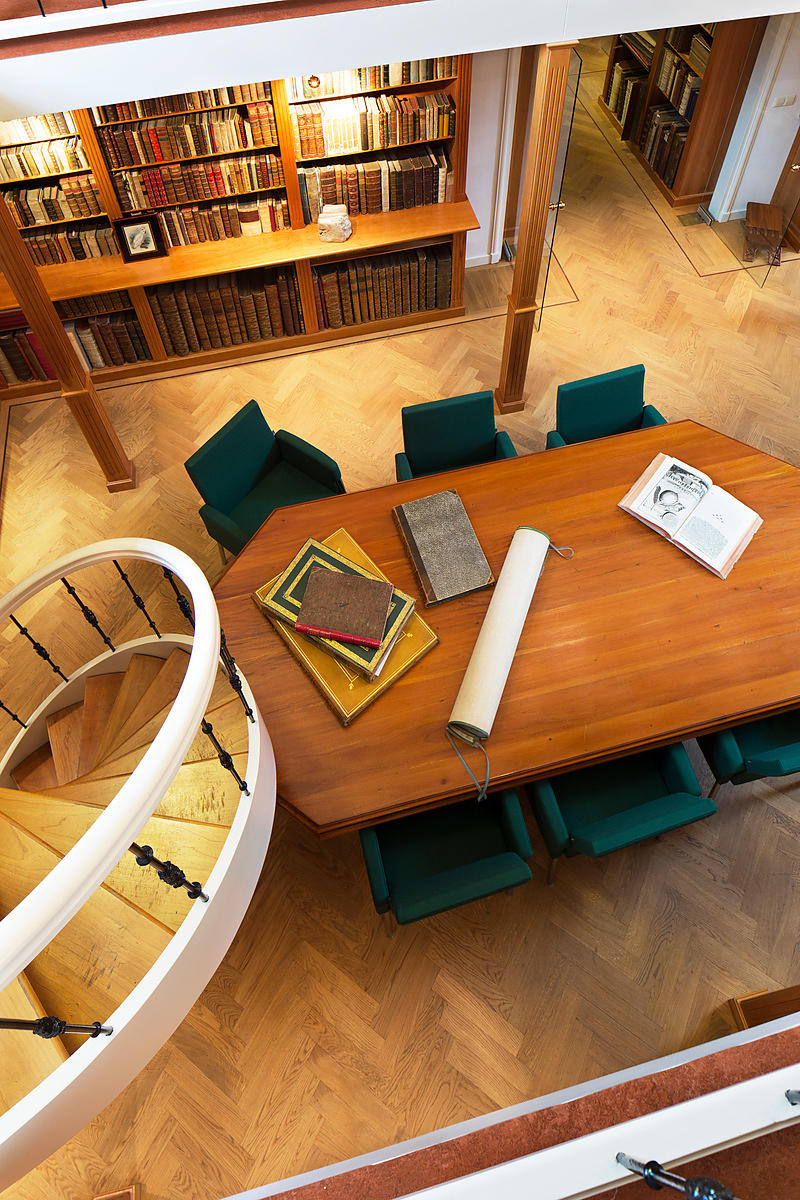 [MILITARY].
Plans deren Maneuvres der koenigl-spanischen Tropen[:] Plans deren Maneuvres[,] Formacionen und Colocacionen deren Officiers und Sergenten wie es bey dem löblichen Schweizer-Regiment Baron De Reding geübt wird.
Madrid, 1772. Oblong Imperial 4to (29.5 x 40 cm). Extensively illustrated manuscript on paper, written mostly in German in brown ink. With large armorial device on title-page, in colour, with the crowned impaled arms of Sicily (dexter) and Austria (sinister); a preliminary leaf with 2 rows of 6 colour pictures; and XVI numbered leaves with colour plans of battle-formations, with 37 numbered marginal drawings in brown ink with grey and yellow washes on 7 of these leaves showing details of gunlocks and tools; and some of the leaves with colour drawings of landscapes with mountains, lakes, etc. Contemporary tanned sheepskin, decorated paper sides. [2], XVI ll.
€ 6,950
Beautifully drawn and coloured complete manuscript on the manoeuvres and battle formations for rifle companies and battalions, based on the army manoeuvres taught by the famous Swiss Colonel, Baron Aloys De Reding, when he served in the Spanish army. The drawings of details of gunlocks and tools are more or less arbitrarily scattered over several leaves, wherever space allowed. The title-page and several other leaves have their titles on a banderole, sometimes with additional decoration.
With the early owner's inscription of Joannes Josephus Real. With two leaves deatched, but otherwise in good condition, with a couple leaves tattered at the edges and an occasional smudge, spot or small marginal stain. The binding is rubbed, has a couple holes in the backstrip and has come loose from the bookblock at the front hinge. Interesting unpublished manuscript on military formations, well illustrated.
Related Subjects: