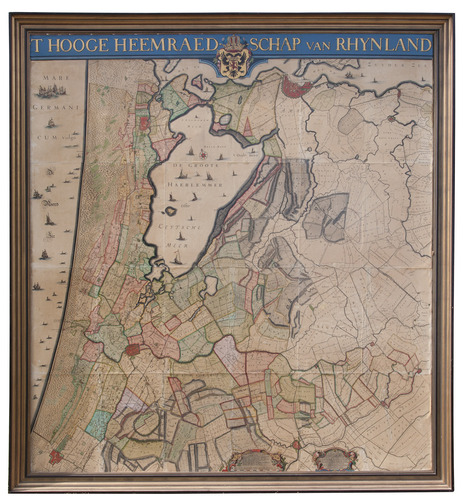 [MAP - NETHERLANDS - RIJNLAND]. [DOU, Jan Jansz., Steven van BROECKHUYSEN and Melchior BOLSTRA].
'T Hooge Heemraedschap van Rhynland.
[Amsterdam, Isaak Tirion], 1746. Very large engraved wall map of the Rijnland water district in 12 map sheets and 1 title-sheet, the title-sheet divided into 3 strips, the whole mounted on cloth (measuring 185 x 169 cm as assembled). Coloured and shellacked by a contemporary hand, with gold for the lettering of the title and the coat of arms. With the water board's coat of arms, and two decorative cartouches listing the members of the water board in 1687 and 1746. Framed.
€ 7,500
Third state (extensively corrected and updated) of a finely engraved wall map of the Rijnland water district in Holland, including the cities of Amsterdam, Haarlem, Leiden and (on the district border) The Hague. At a scale of about 1:30,000 it shows the entire district and some surrounding land in great detail, with the fortifications and (outside the cities) the individual houses, windmills, churches and other buildings shown, besides the roads, paths, waterways, and the individual parcels of land in the polders. In 1745 the Rijnland waterboard ordered the surveyor Melchior Bolstra to correct the outdated map of Dou and Broeckhuysen of 1647, which had been slightly revised in 1687. The results of Bolstra's new survey were engraved on the original plates by David Coster.
Evenly browned, except along the edges of the sheets, and some small smudges. Good copy of a large wall map of the Rijnland water district. Donkersloot-De Vrij 715.
Related Subjects: