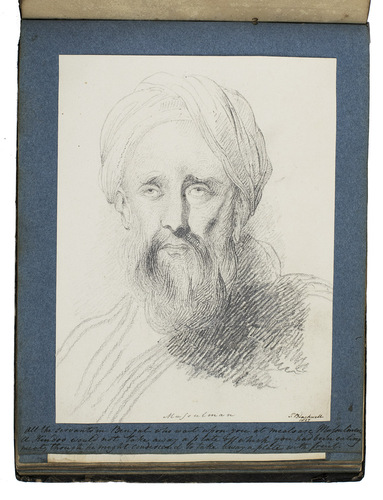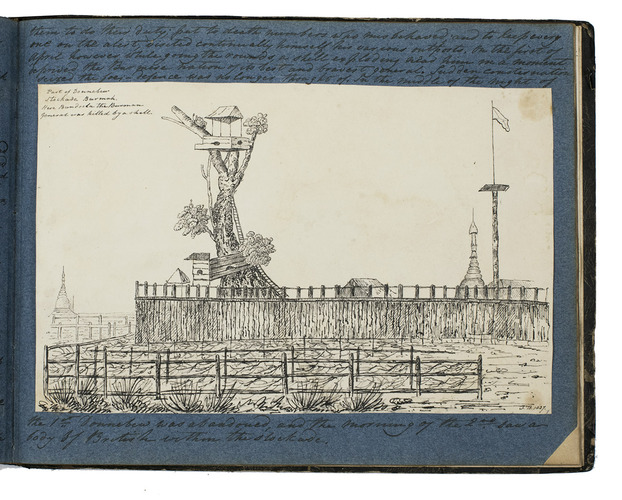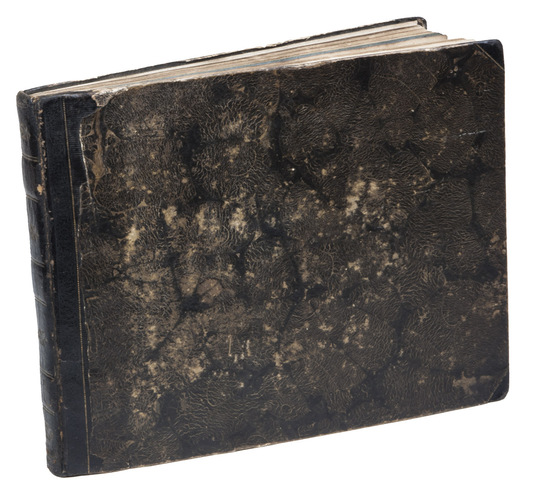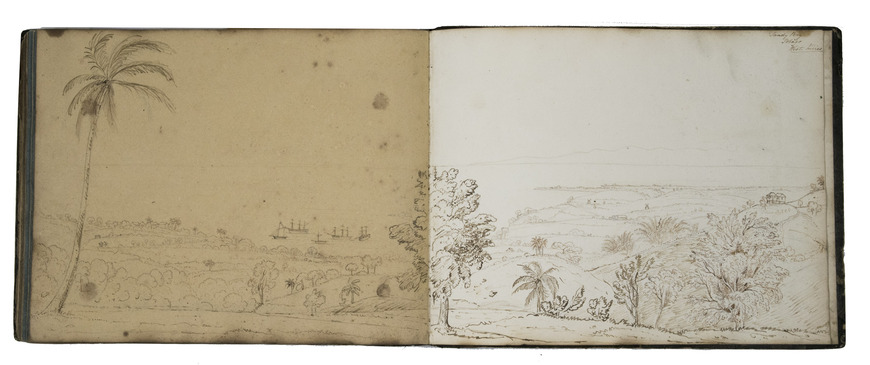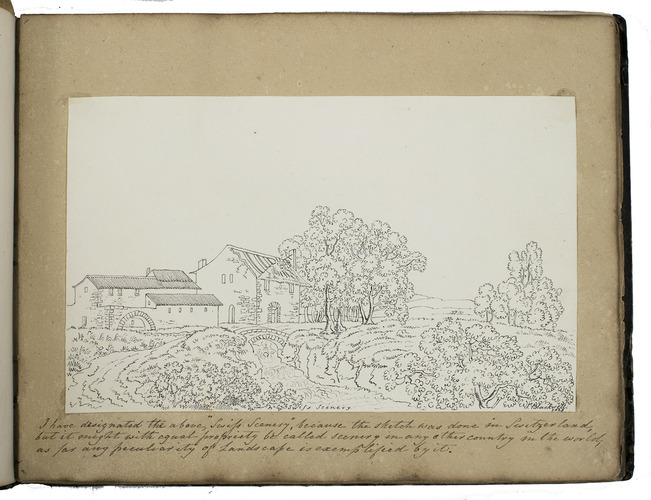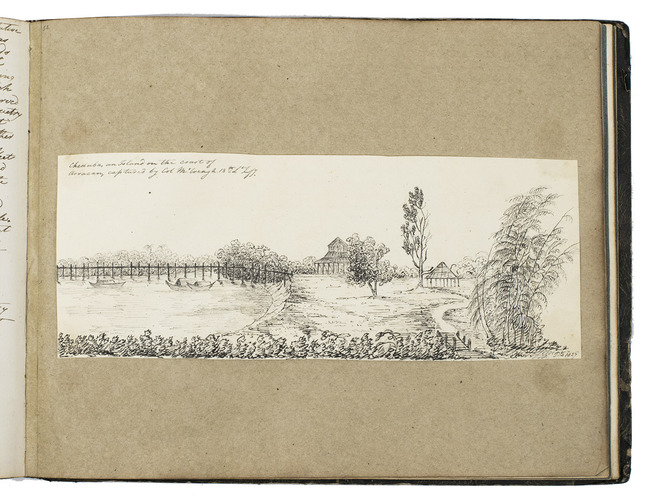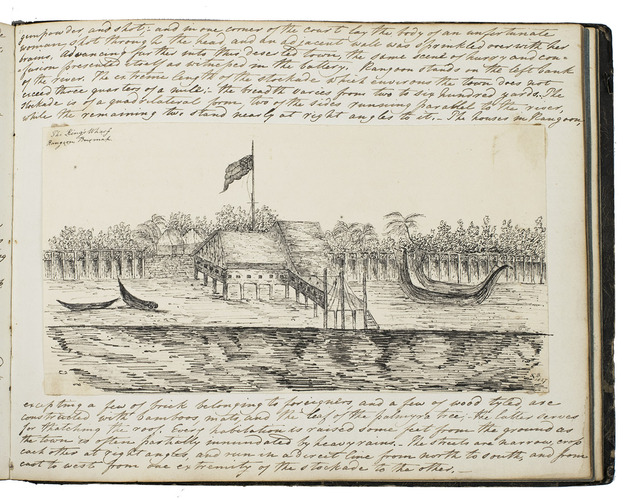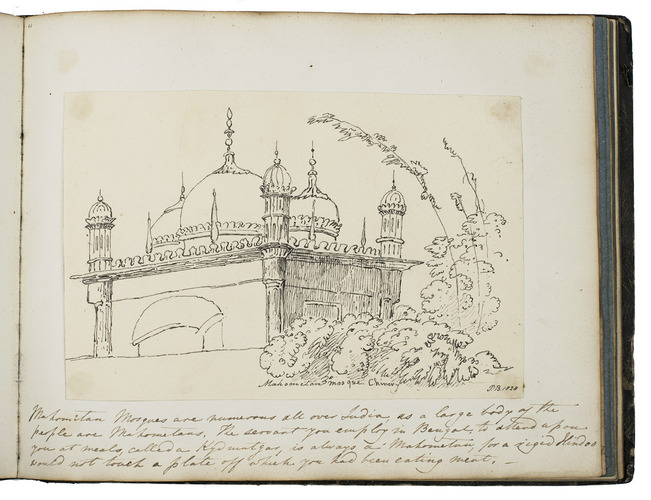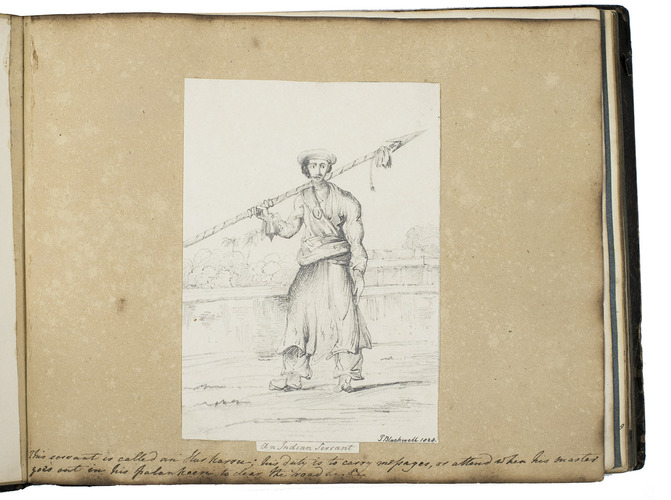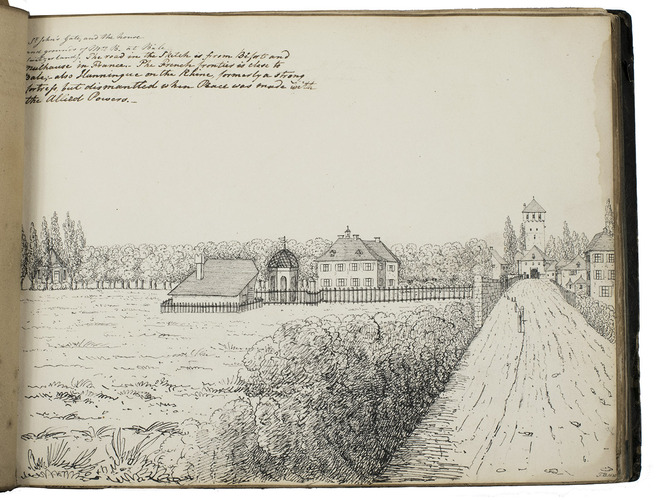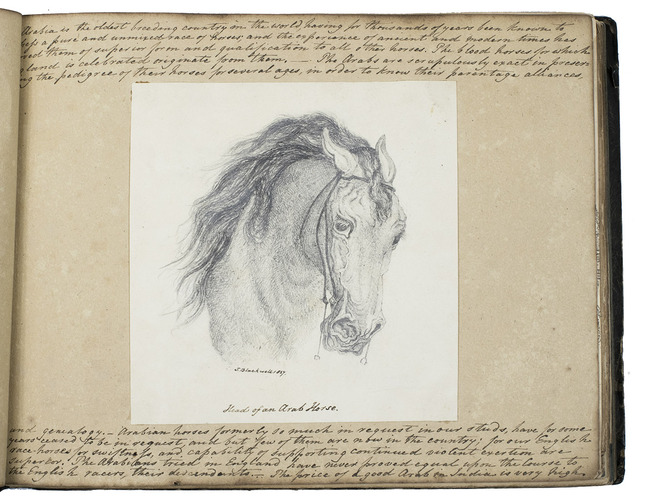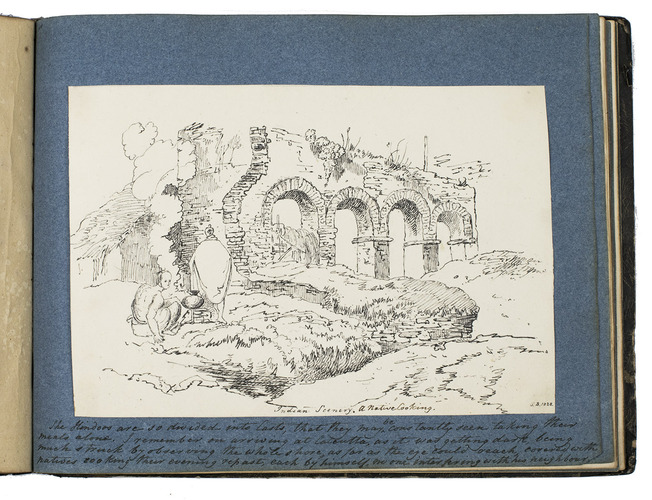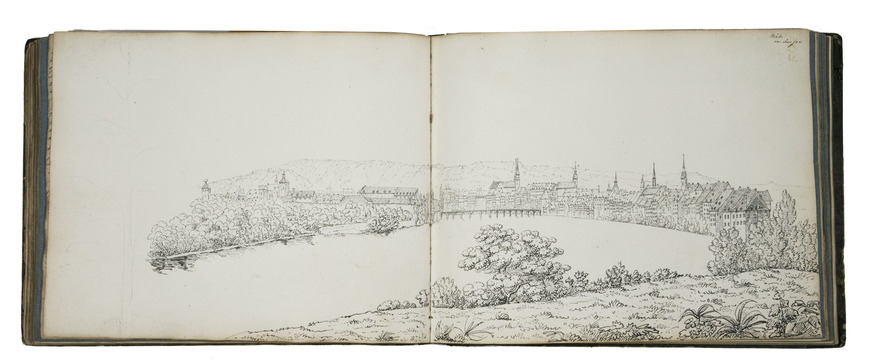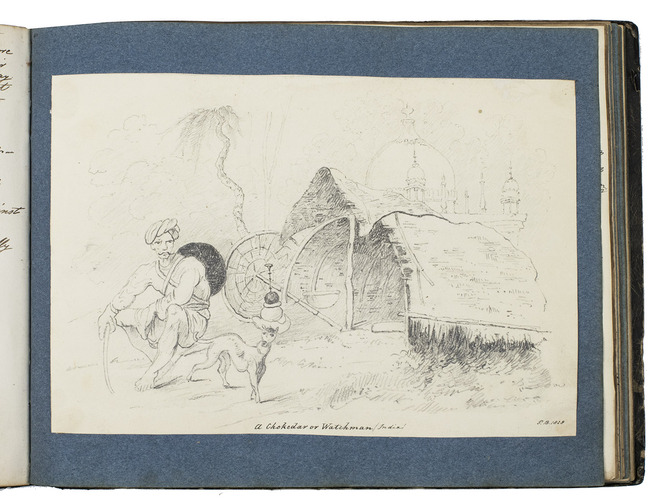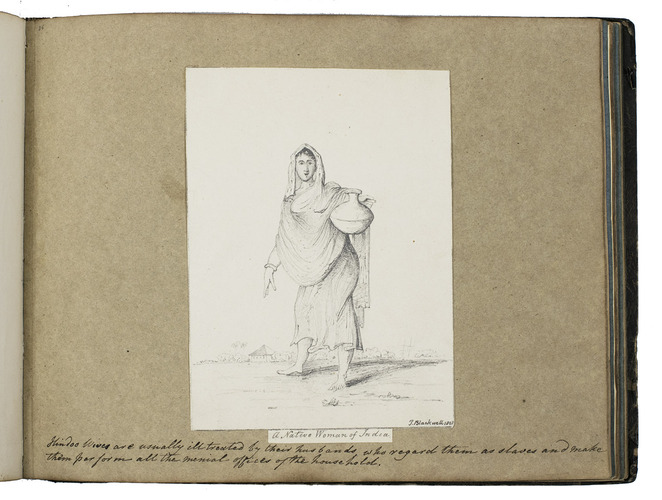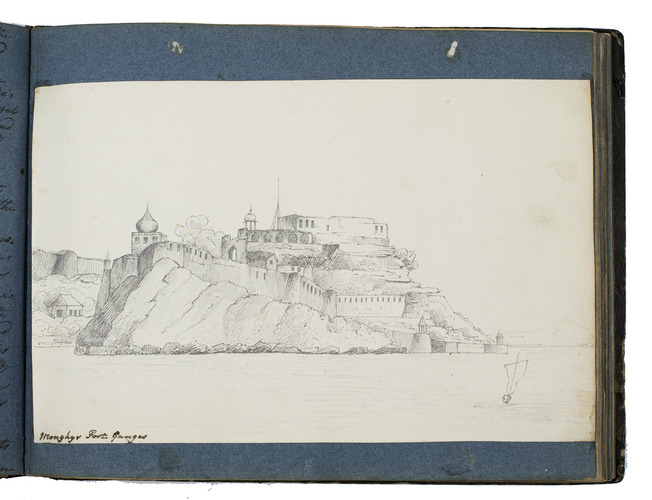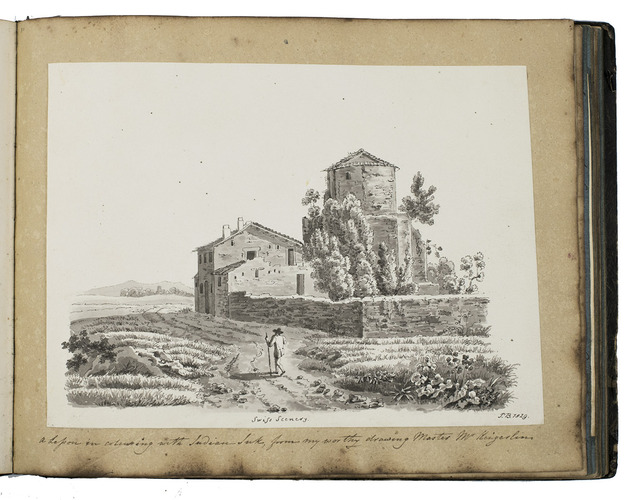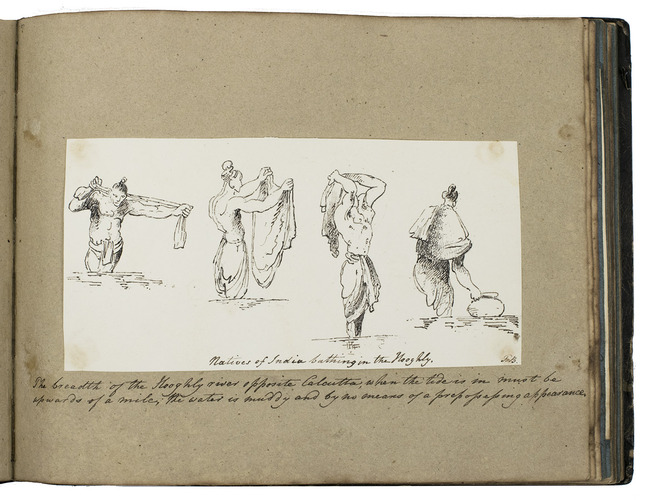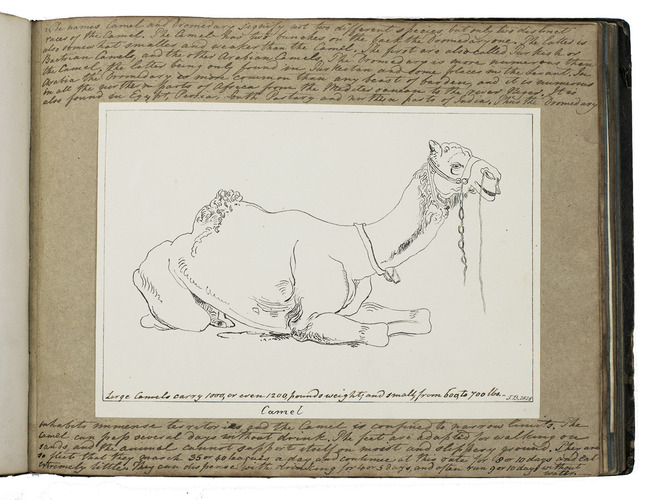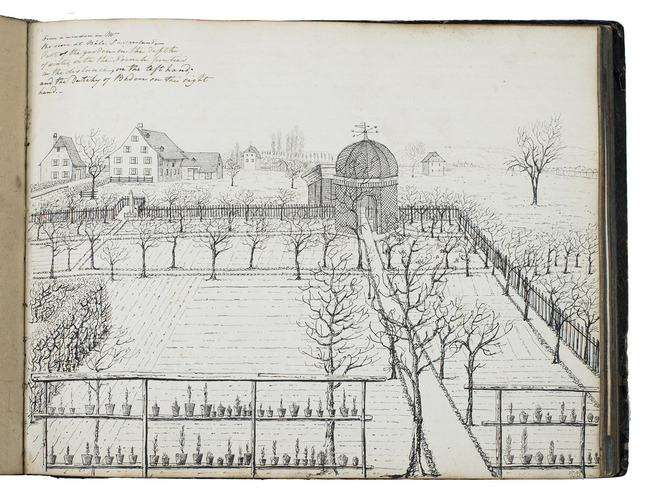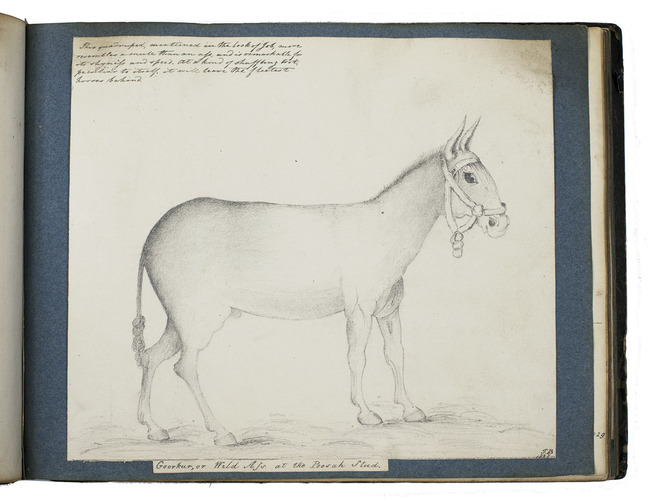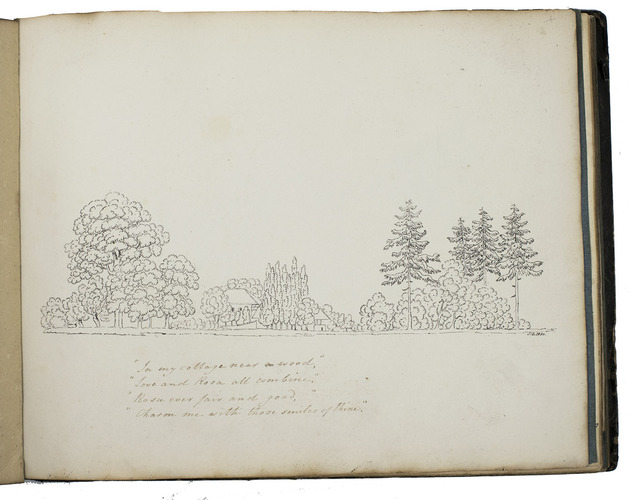 [INDIA, BURMA & SWITZERLAND - SKETCHBOOK]. BLACKWELL, Thomas Eden.
[Sketchbook containing several sketches of India, Burma and Switzerland, with an emphasis on their cultures].
[Various places, ca. 1826-1830]. Oblong 4to. With 66 sketches in pen & ink and pencil, mostly signed by Blackwell, mounted and bound in, with manuscript captions. There is also 1 print (ca. 1795/1800?) drawn by Singey Bey and engraved by Thomas Medland. Half black morocco, black decorated paper sides, gold-tooled ornaments on spine. [70] gray, white and blue album ll., containing 67 sketches and their accompanying manuscript captions and descriptions.
€ 18,000
Sketchbook by the English lieutenant Thomas Eden Blackwell (1803?-1845), showing views of India, Burma and Switzerland, made in the years 1826-1830, when India, which is the subject of about 30 of the sketches, and parts of Burma (nowadays Myanmar) were British colonies. The sketches, most signed and dated by Blackwell, are mounted on album leaves and accompanied by manuscript captions and descriptions, also by Blackwell and sometimes by a later hand. These descriptions explain the sketches in more detail. Some of these remarks are general or contain interesting facts, while others are very personal or describe an event that happened during Blackwells time as officer.
As noted, most of the sketches concern India. Blackwell drew some panoramic views and buildings (for example an Indian mosque or a narrow street in Calcutta), but he pays particular attention to the Indian culture in his sketches of India and the accompanying explanations. He sketched Indian inhabitants, animals and scenes representing the everyday life of Indian people.
For Burma (now Myanmar), for which not very many sketches were made, Blackwell made only a few sketches, but focussed mostly on the coasts and the city of Ragoons wharfs. The only exception is a sketch of the so-called great bell in Ragoon, which is representative for all the bells in Burma, which are often located near celestial buildings. The album also includes two views of Tobago in the West Indies.
Another large part of the sketchbook consists of sketches of Swiss landscapes and panoramas, especially of the region surrounding the Swiss city of Basel. This sketchbook, nearly a personal dairy of Lieutenant Blackwell, contains sketches outlining a variety of subjects. He gives us an insight into Indian habits, animals and inhabitants, in the breeding of Arabian horses, shows us Swiss and Burmese landscapes and also Indian architecture and culture. With his refined drawings, Blackwell offers the reader an interesting historical artefact that gives an insight into the life of an English officer in the first half of the 19th century and the cultures he encountered, including his remarks upon them.
With an owner's inscription on the front paste-down; "Lieut. Blackwell 13th Light Infantry. Indian, Burmese and Swiss Sketches". Binding a little worn, one quire loose, some occasional spots and somewhat browned, but not affecting the drawings. Otherwise in good condition.
Related Subjects: