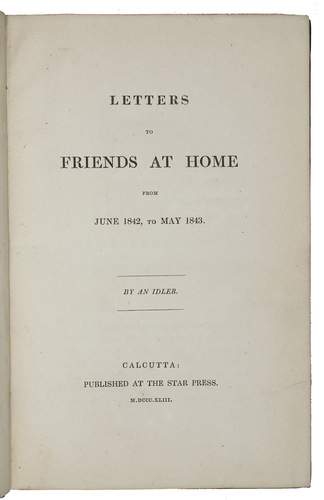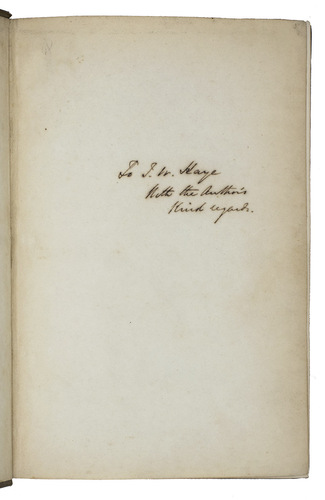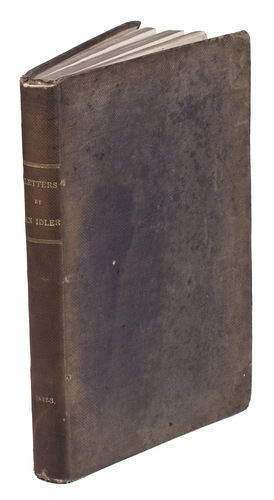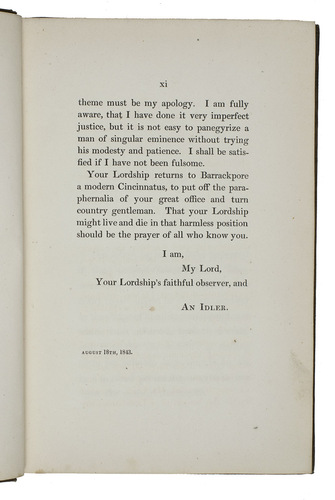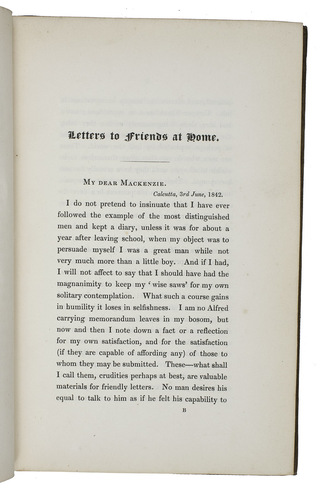 [HUME, James?].
Letters to friends at home from June 1842, to May 1843.
Calcutta, the Star Press, 1843. 8vo. Contemporary brown cloth, title in gold on spine. XIV, [2 blank], 232 pp.
€ 2,500
Rare first edition of the collected letters of an idler residing in Calcutta, which were separately published each month in the overland edition of the daily newspaper Calcutta star. We have found no other copy offered for sale in the past hundred years. The letters were very likely written by James Hume, editor of the Calcutta star, who arrived in Calcutta in 1839, also becoming a lawyer in the colonial Supreme Court there. The often long and humorous letters to various European friends contain his opinionated commentary on Indian news and on events in England, although the bulk of his writings are on Indian matters: almost every letter reports on unrest and fights in one or more parts of India, but he also comments on the habits of the Indian society. He continued to publish letters after this collection appeared. A highly interesting collection of letters written and printed in Calcutta, showing the immersion of a European in the Indian culture who wrote everything down in his letters. A "dairy" of colonial life in British India in the 1840s.
Good copy. Catalogue of printed books in the Library of the British Museum 25 (1889) , col. 79; cf. Jeffrey A. Auerbach, Imperial boredom: monotony and the British Empire (2018) , p. 172; Gary Simons, 'The Squab and the Idler: a cosmopolitan-colonial dialogue in the Calcutta Star between William Thackeray and James Hume', in: Victorian Literature and Culture 42 (2014), 3, pp. 387-406.
Related Subjects: