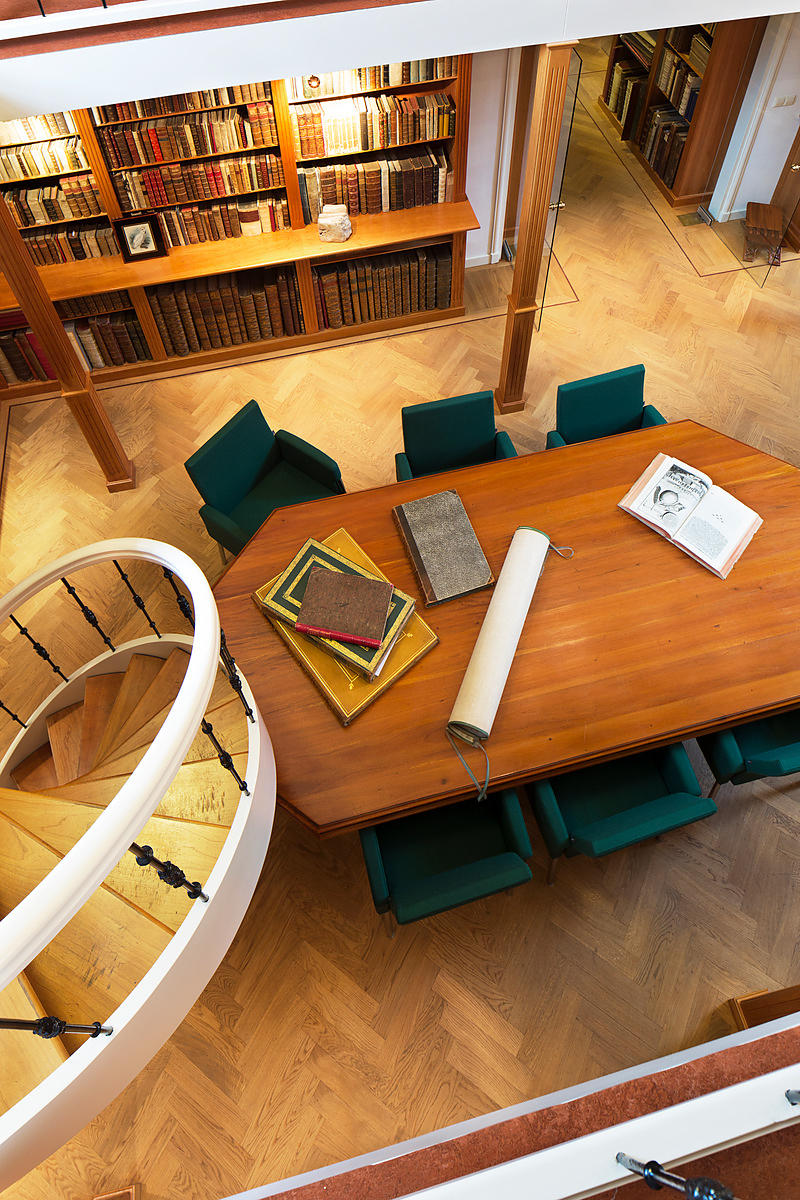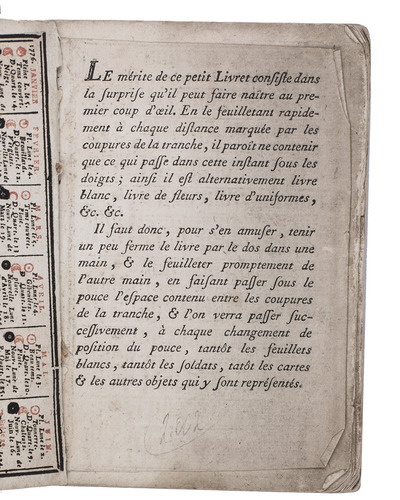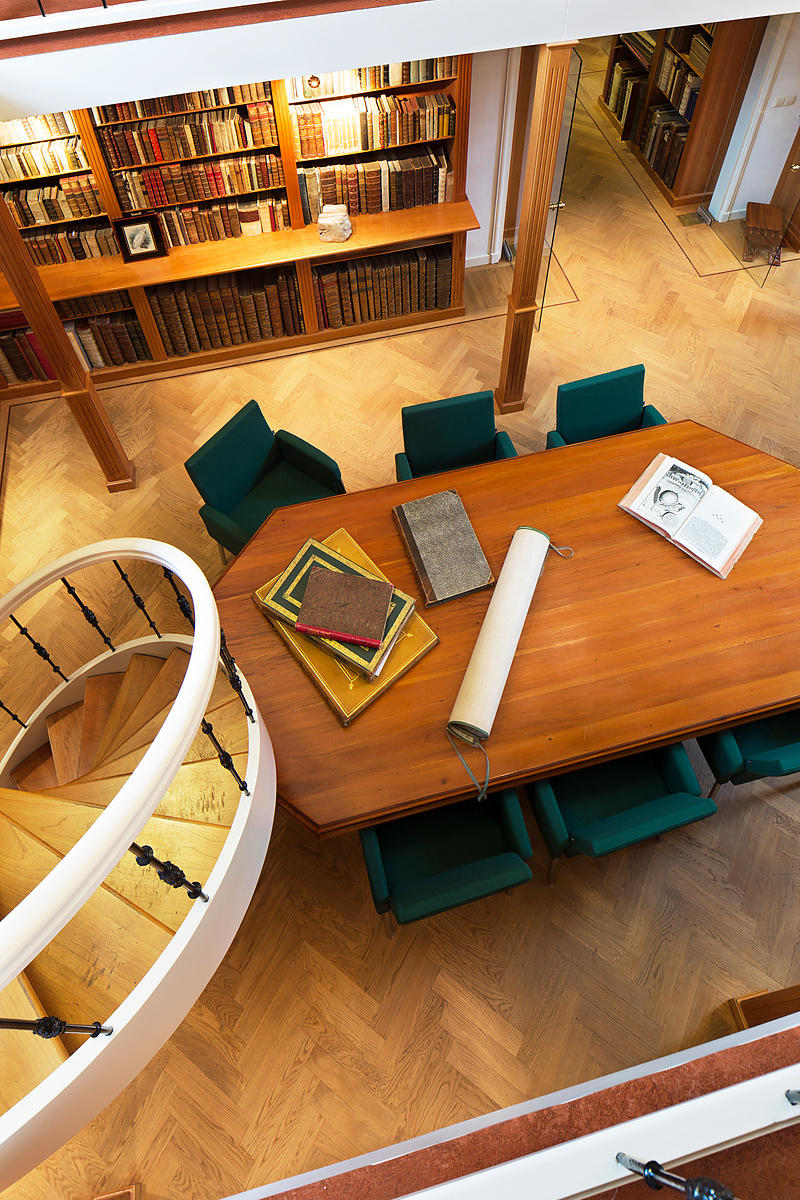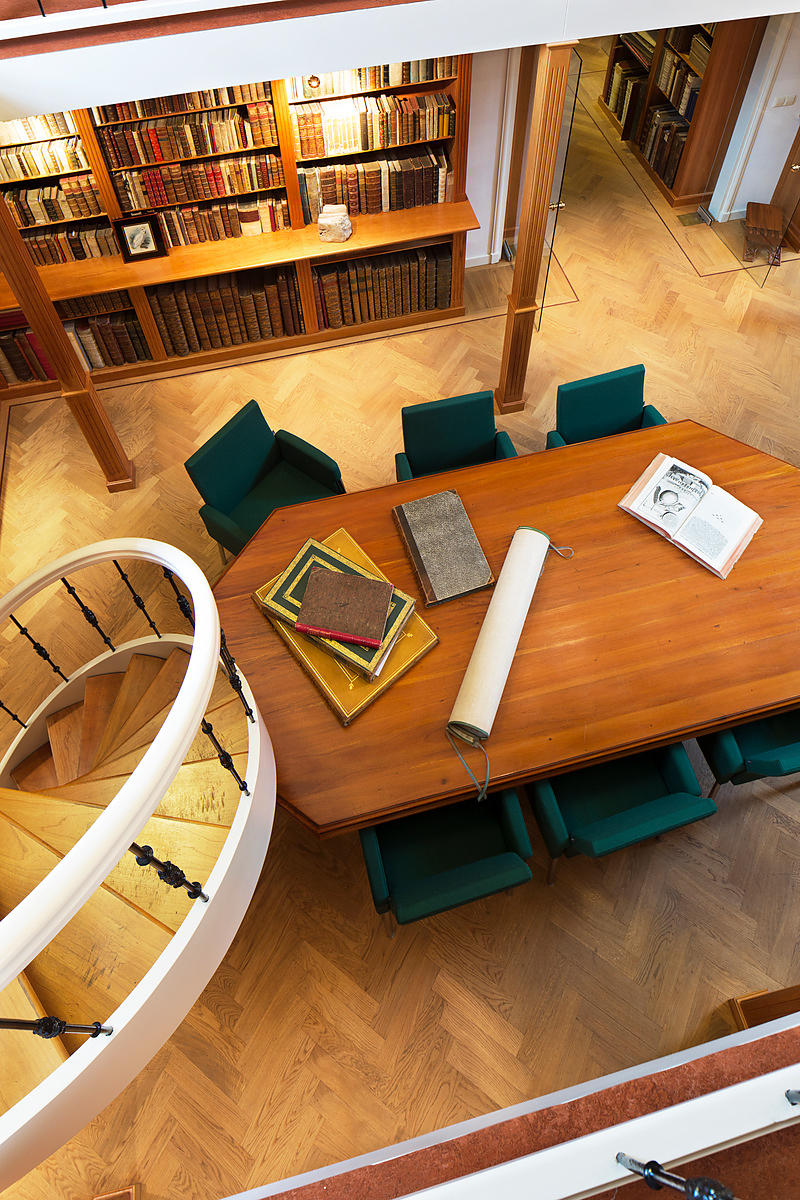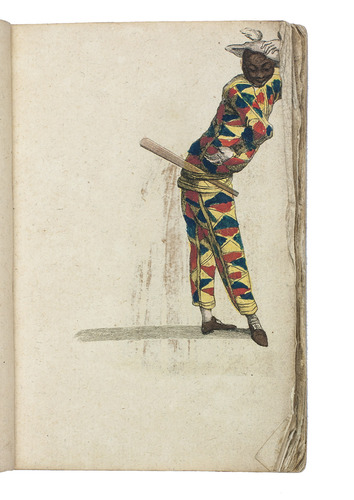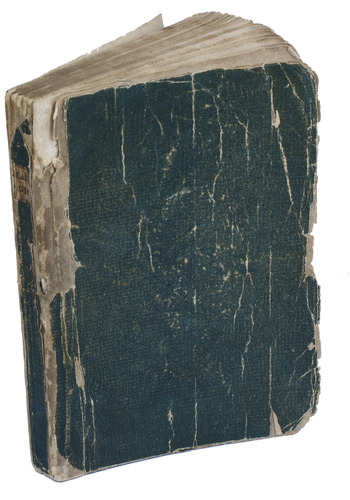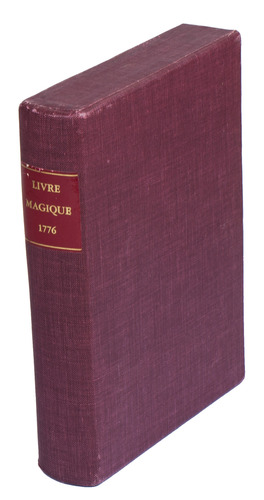 [FLIP BOOK - FRENCH].
Ambigué magique.
[Paris?, Jacques-François Chéreau?, 1775]. Large 16mo (15.5 x 11 cm). A conjuror's magic flip book (or blow book) with tabs in 5 positions, with 1 letterpress page of instructions, 168 full-page engravings (7 series of 4 prints each, each series printed 6 times) and 24 pages deliberately left blank. Contemporary dark green paper wrappers, with an engraved spine label and with a 2-page letterpress calendar for the year 1776 pasted to the inside front and back wrapper. [1], [1 blank], [1 blank], [190] [1 blank] pp. including 22 blank pp. within the 190.
€ 17,500
Extremely rare engraved conjuror's "magic book", also known as a flip book or blow book, displaying eight different series of pages, namely seven series of hand-coloured engravings plus a series of blank pages. Remarkably, it is here preserved with the single page explaining how to use the book tipped onto the first (blank) page and in its original wrappers as published. The fore-edge has tabs that vary from 1/5 to 4/5 of the length, sometimes from the head and sometimes from the foot, so that flipping through the book from back to front you can chose which series of engravings will appear by shifting your thumb between the five positions from head to foot with the book rightside up or upside down. The seven series of coloured engravings show playing cards, mother superiors, flowers, soldiers, abbots, priests and harlequins. So if you wish to perform a conjuring trick you can first flip through the book so that only the blank leaves appear and the audience thinks the book is blank. You can then tap it with a wand, blow on it or carry out some other magical action and flip through again so the a series of flowers magically appears in what seemed to be a blank book. You can then continue to magically change it to show each of the other series in turn.
On 4 pages the caption has been shaved. The fore-edge tabs of the first few and last few leaves are slightly tattered, the black pips on the cards occasionally show through on the other side of the leaf and a few pages show very faint offsetting, but the book is otherwise in very good condition (remarkable in this genre). The wrappers are damaged, with the back wrapper detached and part of the spine label lost. An extremely rare French flip book from 1775. Cf. Gumuchian 3843-3846, esp. 3843; KVK & WorldCat (1 copy of similar flip book); Stafford & Terpak, Devices of wonder, pp. 252-255.
Related Subjects: