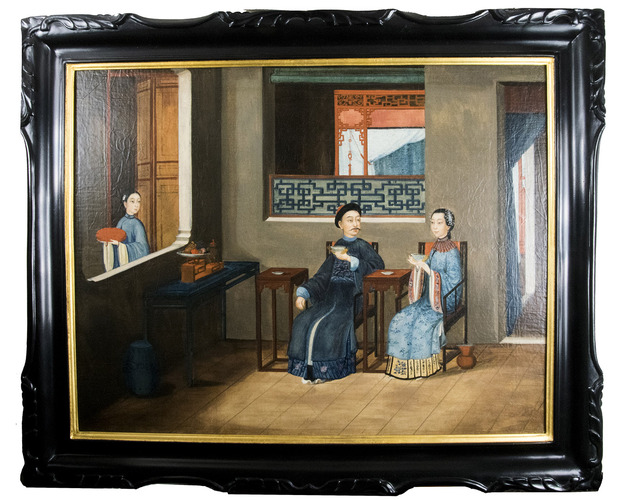 [CHINESE SCHOOL PAINTING]
[Interior tea drinking scene].
[China, ca. 1820]. 47 x 61 cm. (picture); 61 x 74.5 cm. (frame). Oil painting on canvas, in a black lacquered Chinese export frame.
€ 9,500
An elegant interior scene from a Chinese Mandarins home in the early nineteenth century: a Manchu Mandarin and his consort taking tea in a domestic setting. He wears non-official semi-formal winter attire including rank badge, sitting beside ahis beautiful Chinese lady, surrounded by fine furniture and fittings. The whole scene reflects his good taste and social standing.
Whilst tea had been the driving force of the China Trade since the early eighteenth century, giving rise to export paintings illustrating its cultivation and production process, the style and subject of the early export paintings was firmly rooted in traditional Chinese art and culture, as in this delightful painting. cf. Choi, Kee Il, "Tea and design in Chinese export painting", in: The Magazine Antiques, vol. 154, no. 4, October 1998.
Related Subjects: