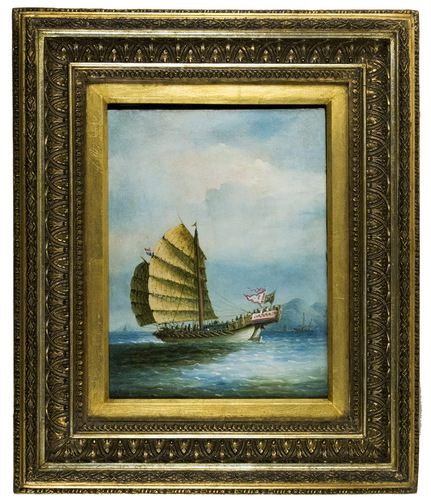 [CHINESE SCHOOL PAINTING].
[Chinese war junk ship at sea in strong winds].
[China, ca. 1860]. 25.5 x 19 cm. (image); 41.5 x 35 cm. (frame). Oil painting on canvas, in a hand-carved and gilt wooden frame.
€ 5,000
A Chinese export painting portraying a Chinese war junk. This is an official derivative of the smugglers "fast crabs" (fei xie) known in English either as a small war junk (kuai du, literally "fast ferry"), or as a large war junk (da bingchuan, literally "large soldier boat"). The difference usually comes down to the number of oars on each side, the armament and the size of the ships company. The junk in the present painting is illustrated with twelve oars a side. The smaller kuai du were generally manned by forty to fifty deckhands and were relatively lightly armed, in this case with a small calibre forard cannon mounted in the bow and a larger starboard cannon further aft. Similar vessels were also used to transport major officials like the Hoppo (hu bu), theres a small possibility that the two Chinese characters on the green right hand flag in the painting are such officials. As to location, the left background seems to show Nei Lingding Island in the Pearl Bay in the southeastern Chinese province of Guangdong, which would make the right middle ground Lantau (whose SW end looks much like this view).
We thank maritime historian Dr. Stephen Davis, former director of the Hong Kong Maritime Museum, for information.
In very good condition. Cf. Ivon A. Donnelly, Chinese junks and other native craft, Hong Kong, 2008; Stephen Davies, Coasting past: the last of South China coastal trading junks, photographed by William Heering, Hong Kong Maritime Museum, 2013.
Related Subjects: