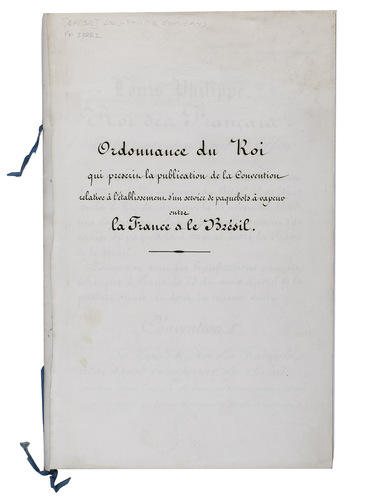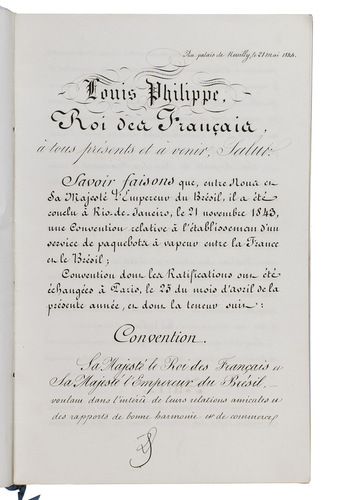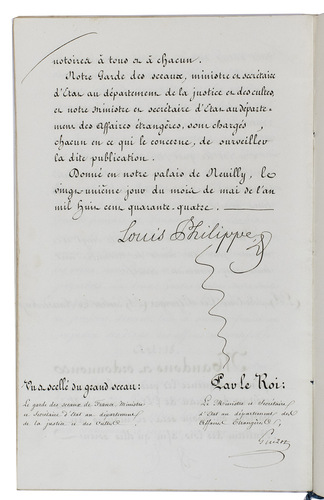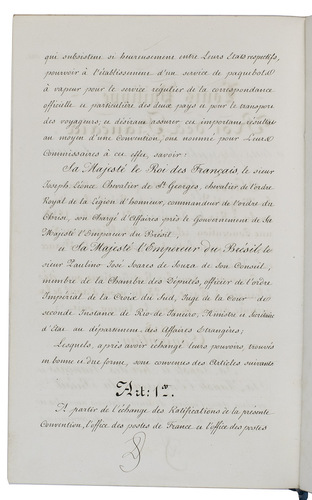 [BRAZIL]. D'ORLEANS, Louis-Philippe.
[MANUSCRIPT]. Ordonnance du Roi qui prescrit la publication de la convention relative à l'établissement d'un service de paquebots à vapeur entre la France et le Brésil.
Neuilly, 21 May 1844. Small folio (31.5 x 20 cm). Written in French in a very neat calligrapher's cursive. Sewn through 2 holes with a blue ribbon, gilt edges. [1], [1 blank], [14], [4 blank] pp.
€ 6,500
Signed manuscript ratification of an agreement between the Emperor of Brazil and the King of the French, regarding the establishment of an ocean liner service between France and Brazil. The present ratification is signed by the French King Louis Philippe I and the French Minister of Foreign Affairs François Guizot. The original ordinance - following a convention held in Rio de Janeiro on 21 November 1843 - was composed and signed by commissioners on behalf of both the King of the French and the Emperor of Brazil: Seigneur Joseph Leonce Chevalier de St. Georges and Paulino José Soares de Sousa. Unfortunately, not much is known about the French commissioner, except his titles: "le sieur Joseph Léonce Chevalier de St. Georges, chevalier de l'ordre Royal de la Légion d'honneur, commandeur de l'ordre du Christ". The commissioner acting on behalf of the Brazilian Emperor, Soares de Sousa, Viscount of Uruguay (1808-1866) was a French-born Brazilian magistrate, politician and diplomat, mainly working in Rio de Janeiro.
The ordinance concerns an ocean liner service between France and Brazil, with additional lines along the Brazilian coast to Rio de la Plata. Its establishment was meant to benefit a quick and clear correspondence between the two states, though the cooperation between the French and Brazilian post offices. The present document details in 18 articles the exact conditions of the establishment of the ocean liner service, even considering (among many other things) what to do in case of war between the two states.
The immediate effect of opening these services was to halve the price of freight on the lines served by English and American companies. We can judge by this first test of the immense benefit that will collect the French trade when the ocean liners transatlantic will be established and will open new and most powerful means of communication to the industrial activity of France. The appearance of the two steamers of the French Company, the Cadix and the Lyonnais, at Bahia and at Rio-Janeiro, produced a great sensation." (H. Carvallo, Études sur le Brésil (1858), pp. 2-9). Thus, the present ordinance supposedly predates the official establishment of an ocean liner connection between France and Brazil by approximately a decade.
The spine and edges of the title-page show very minor and light soiling, internally fine and clean. Overall in very good condition. cf. Carvallo, Études sur le Brésil (1858) https://digital.bbm.usp.br/bitstream/bbm/4949/1/003874_COMPLETO.pdf.
Related Subjects: