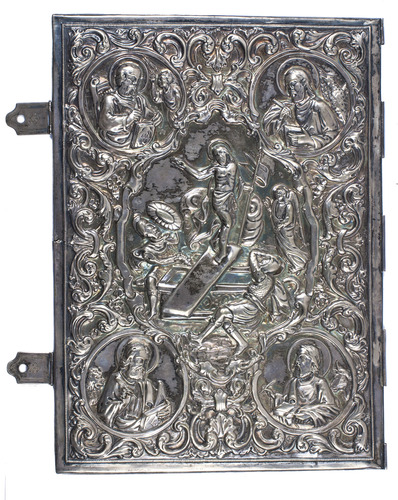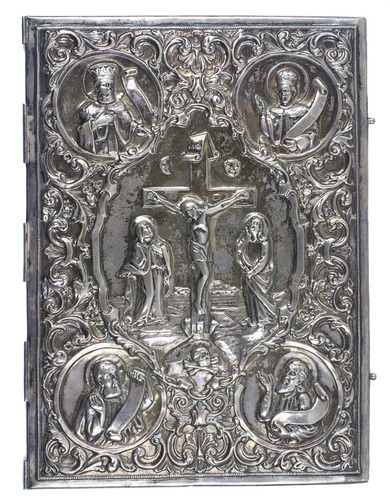 [BINDING - SILVER].
[Pair of embossed silver book covers, with two engraved silver clasps].
[Netherlands?, ca. 1725?]. Pair of embossed silver book covers (34 x 25 x 3 cm); each cover with a large scrollwork cartouche surrounded by extensive vine and flower decorations and with medallion portraits in each of the four corners, the front showing the crucifixion flanked by Mary and St. John (with an "INRI" scroll above, flanked by a crescent moon and a sun, and a skull and crossbones below), with portraits of four saints, each with a blank scroll (above left bearded with a regal crown; above right clean-shaven with a round-topped mitre; below left and right bare-headed and bearded), the back showing the resurrection with an angel and two astonished guards, with portraits of the four Evangelists.
€ 11,500
Beautiful, richly decorated early 18th-century Dutch silver binding. The large silver covers, together weighing about 750 grams, bear no silver marks. Although no spine is present, the clasps show that the binding was made for a book about 2 cm thick, suggesting 200 or 300 pages, so most likely made for a folio missal. The clasps are hinged to the back cover, each with a round hole that fastens to a round-headed pin on the fore-edge of the front cover.
With a 1 cm crack on the fore-edge of the back cover, another slightly affecting the arm of one guard and a few tiny holes where the tips of the noses of some figures have worn, but still generally in good condition. A lovely and unusually large pair of embossed silver book covers. Cf. J.W. Frederiks, Dutch silver, vol. 4 (1961), nos. 238-239 & plates 235-237 (vaguely similar silver bindings from 1732 & 1738); nothing similar in J.F. Hayward, Silver bindings from the J.R. Abbey collection.
Related Subjects: