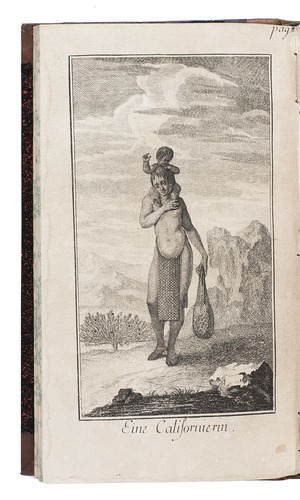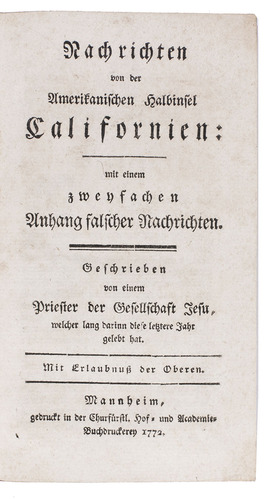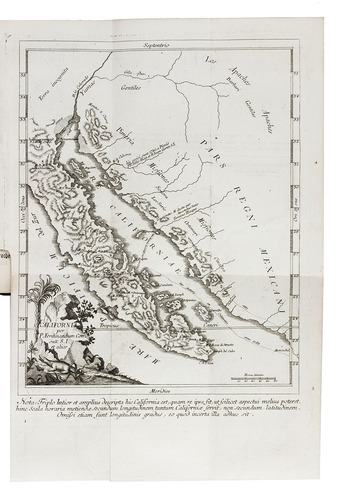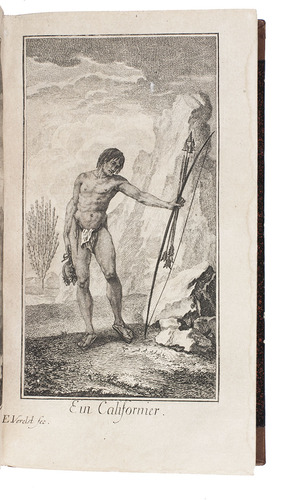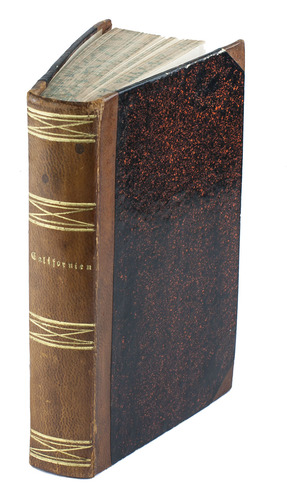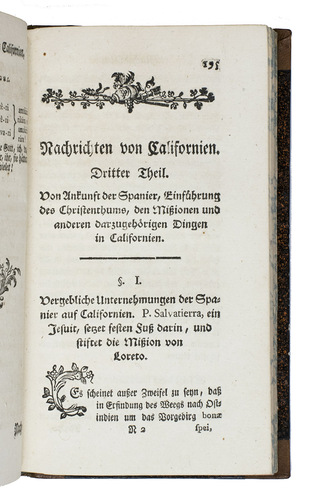 [BAEGERT, Jakob].
Nachrichten von der Amerikanische Halbinsel Californien: mit einem zweyfachen Anhang falscher Nachrichten. Geschrieben von einem Priester der Gesellschaft Jesu, welcher lang darinn diese letztere Jahr gelebt hat.
Mannheim, Churfürstliche Hof und Academie Buchdruckerey, 1772. 8vo. With an engraved folding map and two full-page plates engraved by E. Verelst, some woodcut pictorial frames for letters, and several nice woodcut head- and tailpieces. Contemporary half calf. [16], 358 pp.; [1] errata l.
€ 9,500
First edition of a rare Americanum. Jakob Baegert (1717-1772), a German Jesuit, wrote an interesting and by no means glowing account of the natives and the country "California" (the Baja Peninsula). Cowan comments in his note that, "according to his accounts the country was absolutely unfit for habitation; it was inhabited by wild and ferocious beasts; peopled by cruel and inhospitable savages; water was unfit to use; wood was scarce; the soil would not sustain life". It was written to disabuse the public mind as to the rumoured mineral riches and pearls from California, which had spread from Mexico to Madrid, and Germany. The book is nonetheless filled with valuable ethnographical and historical information. Chapter 20 is devoted to the Waicuri language of the California Indians. The map shows the location of the many Jesuit missions in the Baja, and shows Baegert's route along the west coast of Mexico in 1751 and his return route in 1768, after the expulsion of the Jesuits.
Library label on inside front cover; a few light manuscript pencil annotations. Very good copy with the two plates, not present in all copies, of a rare Americanum. De Backer & Sommervogel I, col. 760; Cowan, 1914, p. 9; JCB 1817; Sabin 4363; Wagner, Spanish Southwest 157.
Related Subjects: