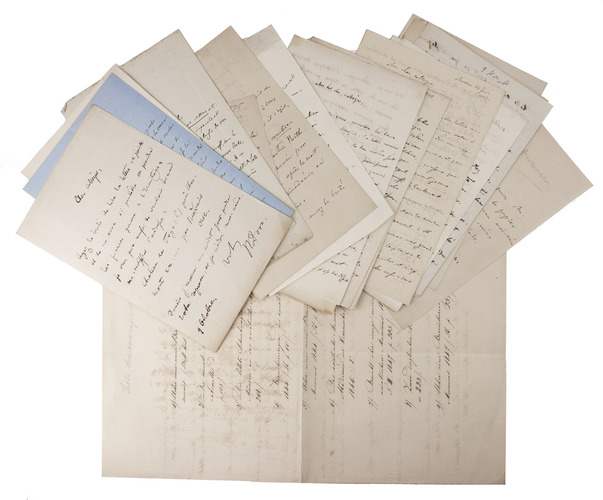 [AUTOGRAPHS]. DORN, Bernard.
[21 autograph letters, signed, to Marie-Félicité Brosset].
Saint Petersburg, ca. 1840-1879. 8vo (letters, mostly 21 x 13.5 cm) and folio (list of publications). Letters in French with an occasional (Persian?) word in Arabic script, written in black ink on paper, some with the address on the outside and one with Dorn's (Persian?) red wax seal in Arabic script.
With: (2) [Manuscript chronological numbered list of 34 publications by Dorn, 1843-1865].
[Saint Petersburg, ca. 1865]. 20 letters [4] pp. each (some including blanks); 1 letter [1, 1 blank] pp.; list of publications [4] pp.
€ 7,500
Signed autograph letters written over nearly 40 years by the German-born orientalist in Saint Petersburg, Bernard Dorn (1805-1881) to (or in one case for) his Paris-born colleague Marie-Félicité Brosset (1802-1880), mostly while Brosset was at the Hermitage Museum and Dorn at the Asiatic Museum, both in Saint Petersburg. The letters revolve around their mutual professional interest in oriental languages, particularly in Georgia (Tiflis is explicitly mentioned), and in numismatics. Dorn and Brosset were nearly the same age, came to Saint Petersburg at nearly the same time, and the present letters show that they also developed a close personal friendship, sometimes referring to their families.
Some letters with embossed stamps. Some of the letters were sealed and therefore have small tears where Brosset broke the seals, but all are in good or very good condition. In 3 letters the ink has bled through a bit.
Related Subjects: